Four languages to try instead of Spanish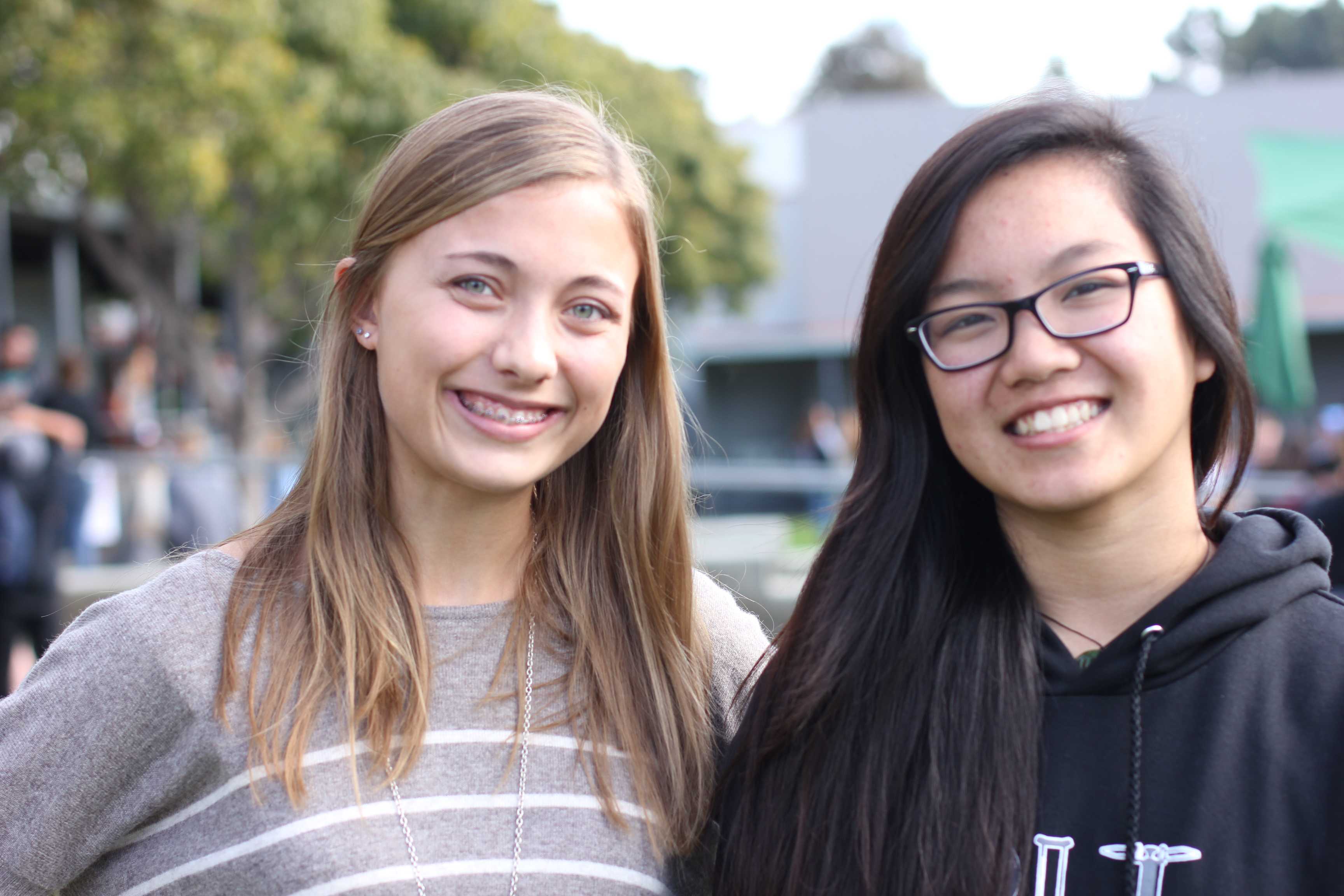 There's no doubt that learning another language is beneficial for the brain, and can even prevent or delay diseases like dementia. Learning a new language also involves learning about and experiencing different cultures.
High school students receive these benefits because they are required to take a foreign language class. Most Foothill students choose to learn Spanish, but there are a few students who choose to learn other languages at Ventura College (VC), online, or elsewhere. These students decide to take other languages for various reasons; but they all share a passion for learning new languages and cultures.
American Sign Language
A language designed for the deaf, American Sign Language (ASL) uses hand signals to communicate. There are classes offered at VC, which range from Sign Language 1 to Sign Language 4.
Junior Nina Urban is currently in Sign Language 2 at VC. "It would be harder to take Spanish with my hearing condition, so we wanted a language that could be easy for me to understand," she said.
Urban said that her current class is on Mondays for two and half hours. She has also taken ASL classes over the summer. Each class costs about $20.
During the summer, Urban not only learns ASL, but also puts it to use. She works with special needs kids, and communicates with ASL with those who are deaf.
"I go help a summer school for special needs kids throughout our community and [some] of the kids are deaf and sometimes they may be hard of hearing [….] Sign language can really help you communicate with them," she said.
"And sometimes they may become your best friend."
Urban added that ASL can be used not only by the deaf, but can also be taught to young children who are not able to speak yet.
"Sign language can help you with even your toddler or a baby because there's baby sign language," she said.
"Sometimes using even small signs like 'more' or 'food' or different signs, they can communicate with you saying, 'I want food' even if they're not able to speak yet."
"I just thought it was a really pretty language and it seemed more unique because everyone does Spanish," said junior Whitney Tice.
Urban added that ASL can help teens and adults communicate if they cannot talk due to illness.
"It's useful because say [you've had your] tonsils taken out. You can communicate with your family so that they know what you want or need throughout the time," she said.
"It can be useful to help you when you're sick too because if you can't really talk, you have sign language to back you up to communicate. "
Apart from the possible uses of ASL, Urban simply enjoys learning it.
"I love it a lot. It's been really fun to learn," she said.
French
A Romance language, meaning it is related to Spanish and Italian, French is not often heard in Southern
California. However, French is one of the most spoken languages in the world.
Junior Whitney Tice wanted to learn the language and has been taking an online class at Laurel Springs throughout high school.
"I started [taking French] right after I graduated from eighth grade, so I started that summer. And I just finished [through French 3] like two weeks ago," she said.
"I've always been attracted to the language and stuff, and so I just thought it was a really pretty language and it seemed more unique because everyone does Spanish."
Tice chose to learn French instead of Spanish because of her love for the language. This helped her to stay motivated while taking the classes.
"I've just always liked the idea of going to France and stuff, and it's a Romantic language. And it was something I actually wanted to learn, for some reason I didn't want to learn Spanish," she said.
"So that motivated me throughout taking it, because if you want to learn something, you'll do better than if you don't," she said.
Because the course was online, Tice was able to learn French independently and earn high school credits. Tice feels that she learned the language well, but that developing speaking skills was more difficult with an online class.
"I think [French will] come in handy every now and then," said junior Whitney Tice.
"[My speaking skills] are probably not as good as they would be if I had been talking to people, but I think even if I was taking it in a real classroom it wouldn't come until I actually live in France or am constantly talking to people in the language," she said.
"I can speak decently, my accent isn't very good, but I can speak it, but when people speak to me and they expect me to respond, that's when I most struggle."
Tice hopes to visit France in college in order to improve her French and immerse herself in the culture.
"I've gone [to France] before, but I had just started speaking French, and so like I didn't know anything," she said.
In the meantime, Tice plans on using Rosetta Stone to continue learning and practicing the language. Although this won't count as high school credit, Tice looks forward to using it simply because she enjoys French.
"I'm glad [that I'm learning it]," she said. "I mean, I'm sure Spanish is probably more useful for living where we do, but I think it'll come in handy every now and then, like it already did when I went on that trip [to Montreal]."
Mandarin Chinese
With nearly two billion speakers, Mandarin Chinese is the most spoken language in the world. While, languages like Spanish and French have words that resemble English, Chinese is completely different, and is often regarded as difficult to learn.
Still, Mandarin is a useful language to know. Junior Asia Moore takes a class twice a week for approximately two hours, at a class called Young Bamboo. She said that there were about twelve or thirteen students altogether in the class.
Moore has been taking the language since she was four years old, but has only recently started learning extended vocabulary.
[soundcloud url="https://api.soundcloud.com/tracks/180877400″ params="color=ff5500&auto_play=false&hide_related=false&show_comments=true&show_user=true&show_reposts=false" width="100%" height="166″ iframe="true" /]
"I can speak numbers really well, I can pronounce things well, I have the tones down, but I didn't really learn any vocab until recently," she said.
"So I don't speak with an accent or anything, but my vocab is not that great so I'm not fluent."
Moore believes that Mandarin is more consistent than English but has its own difficulties.
"It's easier [than English] in the fact that it's more consistent and there's not like 'i before e' things, and then you have words that break those rules," she said.
"So they follow the rules, but it's more difficult because you have tones you have to follow and you have different words [that] can mean different things, and you have different dialects," she said.
"I think there's easily 400 dialects that are widely spoken in China, so depending on where you're at, it could be different."
Moore described the difficulties of learning Mandarin.
"[I don't like] all the characters you have to memorize and mispronouncing things, because there's four different tones, and if you choose the wrong tone, it could mean a different word," she said.
Nevertheless, Moore enjoys learning the language because of her connection with the culture.
"I was adopted from China, so it's cool for me to kind of like get in touch with my roots," she said.
Moore also enjoys learning Mandarin because of its usefulness. She believes that, although Spanish is important in Southern California, Mandarin is a great skill to have because China's economy and influence is growing.
Even as a high schooler, Moore has been offered work because of her knowledge of Mandarin.
"I was offered [a trip] to China at […]like $2000 a month to teach this rich guy's kids English. It was expense-paid to go over there, it was paid for your fooding and your housing, and anything you wanted to do there," she said.
"So, if you don't have that ability to get like a good degree or whatever, and you know Mandarin, you can still go over [to China] and babysit some kids."
German
Like French and Mandarin, German is not often heard in Southern California, but is spoken throughout Europe. For students looking to learn German in Ventura, Buena High School and VC offers classes.
Sophomore Tristan Long is currently taking his second year of German at VC. Since he went to Buena last year, he also took German there.
His current German 1 class at VC is two days a week for two hours. Next semester, Long will take German 2.
Foothill's Spanish classes are unique because of a storytelling approach. Long said that his German class does not use stories as much.
"Our [class] is somewhat structured, so at the very start of the class we learn how to say, 'hello, my name is' and then we moved onto more complex sentences, how to use specific words, just basic words, basic word order, and other things of that nature," he said.
"We learn stories along the way, only two of them so far. Aside from that [we have learned] just specific words, basic sentences, and sentence structure."
[soundcloud url="https://api.soundcloud.com/tracks/180877734″ params="color=ff5500&auto_play=false&hide_related=false&show_comments=true&show_user=true&show_reposts=false" width="100%" height="166″ iframe="true" /]
Long said that he enjoys the experience of taking a college class. Many other high school students are also in the class with him, mostly from El Camino High School.
Although Long hopes to learn five languages, Spanish included, German is his first choice. He enjoys learning the language and hopes to travel to Germany soon, where he can practice even more.
"I love the language. There's a certain fluidity to it that's just really nice to me," he said.
"When I speak, people just get scared when I speak it because it's such an affirmative, masculine language. It's just fantastic."