ASB president Evan Askar and ASB vice president Nick Vaughan addressed the Foothill Dragon Press in its first "State of School Address," this Friday, covering topics such as athletic recognition, fundraising, and renaissance.
In his campaign platform last year, Askar stated that he wanted to devise a program that recognized athletic achievements for Foothill's new athletes. As of this year, Askar said that these efforts are under way, with ASB publicity directors creating posters to advertise and support athletic events and teams.
However, Askar also added that he wanted to do more to celebrate sports at Foothill. He and Vaughan are excited about creating a "booster club," which they heard about in a conference. They were inspired by the BBC Bronco Bleacher Creatures club from Vista Murrieta High school.
Booster clubs, Askar explained, encourage students to show their school spirit on game days by "dressing crazy," among other things. Vaughan also stated that booster clubs encourage students to attend games.
"So what the BBC [Bronco Bleacher] program [did was] it would make one shirt per year, and it would change the design of the shirt every year. [Students] would buy the shirt, and that's all [a student] needed to be apart of the club," he said. "So if you got a shirt, you would get into some of the games for free, you would get some prizes, and you'd help the athletic booster club in the process."
Plans for Foothill's future booster club are still under way. ASB is also supportive of Foothill's speech and debate team and plans to congratulate the team after its tournament at Cal State Fullerton.
Recently, ASB was notified that it would no longer be allowed to charge students for parking spaces on campus, leaving it about $8000 short of funds. There has also been a change in fundraising. In the years prior, ASB distributed coupon books for fundraising, but as of this year, they decided to switch to Great American catalogues.
"[This] catalogue fundraiser [is] filled with things such as wrapping paper and re-usable bags. We take this fundraiser on in great hopes of it being better received and more successful than the coupon books," Askar said.
Askar and Vaughan are also interested in getting involved with School Cents to help with fundraising. Vaughan said they would  announce his plan to the student council soon.
"So basically what it is is you're gonna take your receipts from wherever you shop, like the mall, so it works for Traders Joes and anywhere in the mall. If you  return your receipts to the customer service booth, they stamp them and we get five points for every dollar you spend," he said.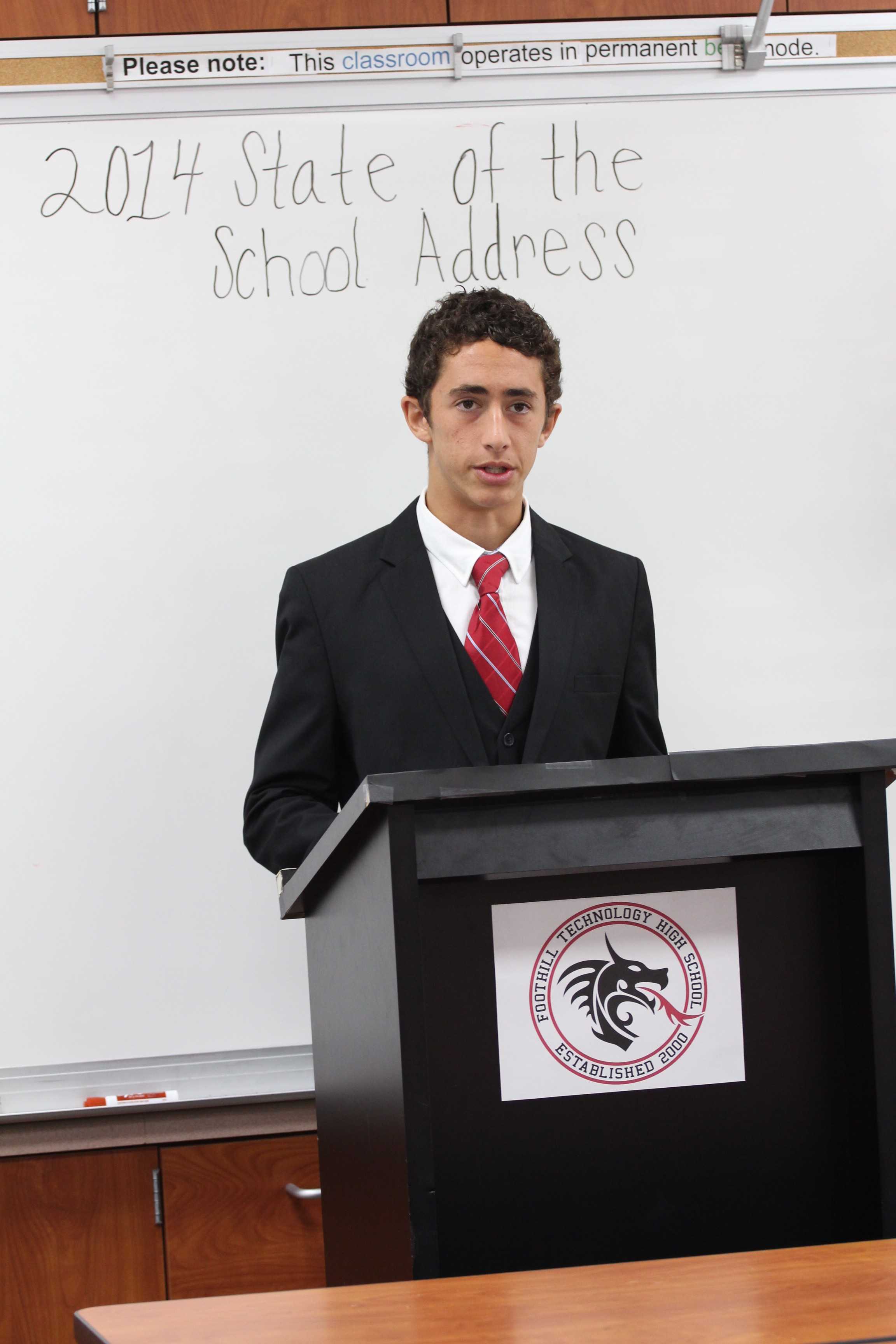 True to his campaign promise, Askar has focused on building transparency between ASB and the student body. Besides conducting open business meetings once a month, ASB has also released surveys on Edmodo regarding rallies, such as the survey on the Lemon Festival earlier this year. However, they recognize that not all students are checking Edmodo frequently.
"Edmodo is what "Captain" [Melanie Lindsey] uses a lot, but I don't think people are checking it," Vaughan said. "So just an easy way I'm going to ask people, is when I'm on the stage next time, [I'll ask them] to go on their phones and check their Edmodo [accounts.]"
Askar announced that a new survey regarding the senior pride lunch will be released shortly. Students are strongly encouraged to take part in surveys.
The ASB Renaissance Action Team is working hard to motivate students of all grades, including sophomores and juniors, with "the installation of  'be strong' and 'stay strong' programs." As of this year, the team has directed the freshman rally, the senior kickoff rally, and the senior pride lunch. Vaughan, who is also the Renaissance president, stated that it was important that students feel represented and part of the "high school experience."
"In the weeks leading up to the lemon festival, tickets redeemable for snacks and games were distributed to teachers with the plan that they distribute the tickets to any students showing hard work in the classroom, allowing kids not originally on renaissance to be rewarded for their work," Askar said.
He also stated that new additions to Renaissance were being made to recognize students who were working hard, even if they didn't meet the GPA criteria.