Girls tennis team conquers in historic first match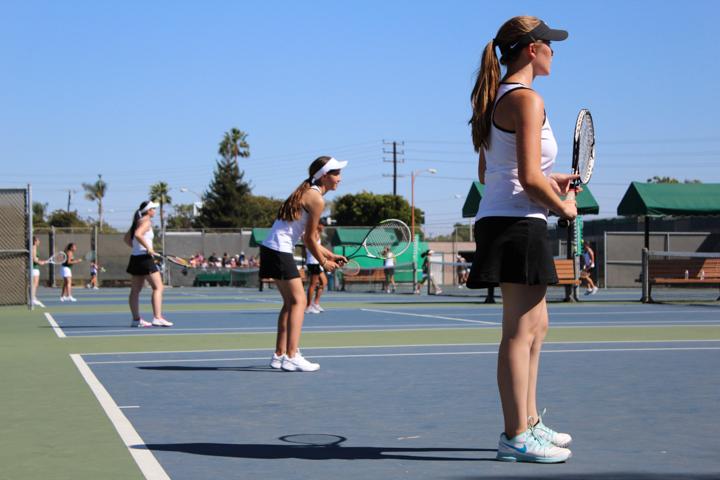 [dropcap size=dropcap]T[/dropcap]he Foothill girls tennis team won their first match against St. Bonaventure High School on Tuesday, marking the first-ever victory for the school's new athletics program and an invigorating start to the tennis season.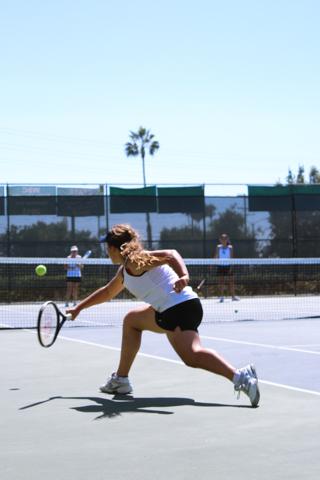 The top nine of the 17 girls on the team were chosen to play. The eight remaining players posed as substitutes or cheered from the sidelines due to the CIF-mandated 30 day sit-out period.
All three of the singles players, sophomore Anna-Kate Levesque, junior Lea Menesklou, and freshman Enkela Qoshlli, wiped out their opponents, winning 6-0 in all three sets.
In tennis, the highest score without tying in a set is six points. There are three sets within a match.
Levesque said "it [felt] pretty cool" to be representing Foothill at its first tennis match and noted that "we're making school history."
Partner players senior Chrystal Guzman and sophomore Laina Feath won all three of their sets, with freshman Cayla Clark substituting for Feath in the second set. Sophomore Emma Kolesnik and freshman Sherlyn Khouvilay won two of their sets 6-0 and substitutes Emily Ward and Sarafina McClain, freshmen, won the third set 6-1. Senior Amanda English and freshman Katlyn Urick lost their first set at 2-6, with senior Sarah Cameron substituting, or "subbing," for Urick, but won the last two sets, each at 6-3.
The final score was 17-1 in matches.
Coach Brad McClain said winning their first victory "always takes a little monkey off the back" and is excited for the team's future.
"I'm excited for them, it's new for everybody. We have some players that have some tennis experience and we have several players that we're [teaching] as we go. We're pretty green and that's okay. This is a good match because St. Bonaventure is green as well," said McClain. "Overall I'm very happy […] and it's always nice to get the season started with a victory."
[soundcloud url="https://api.soundcloud.com/tracks/167171229″ params="color=b31212&auto_play=false&hide_related=false&show_comments=true&show_user=true&show_reposts=false" width="100%" height="166″ iframe="true" /]
…………………..
The coach was also very impressed with the level of support the players showed each other.
"They did great. They supported each other out there on the court which is mandatory because even if you're having a tough day, if your partner in doubles is supporting you, that's all you can ask for because you never know when it's going to be your turn," said McClain. "The singles players did a very good job of staying positive, not showing a lot of negative energy, [not] giving their opponents anything to feed off of."
Principal Joe Bova is looking forward to see the team progress even further throughout the year and to also gain a solid reputation amongst other teams.
"We have a really good group of young girls and also some experienced players who don't get a chance to play for about another three weeks or so," said Bova. "I'm just excited to see how they do in league in the first year and I know their goal is probably to try to qualify for the play-offs, and we'll see if that happens in the first year."
Athletics Director Emily Stevens has high expectations for this season.
"They're just keep going to get better and better. We have such a great coach, he's working really hard with them. They're having a lot of fun, they're going to do great," said Stevens.
While freshman Sherlyn Khouvilay enjoys spending time on the court, her main focus is victory.
"I want to win, yes I do," said Khouvilay. "[I] just [want] to do my best and win as many games as I can to show [that] Foothill is just starting athletics but we've still got what it takes to beat other teams."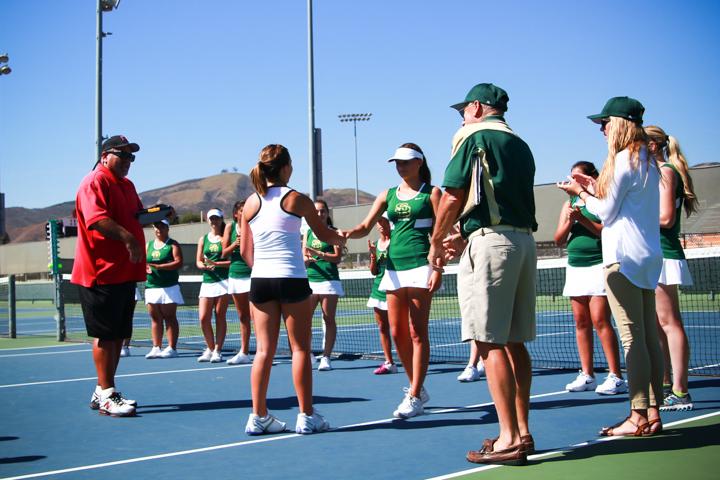 Background Photo Credit: Carrie Coonan/The Foothill Dragon Press