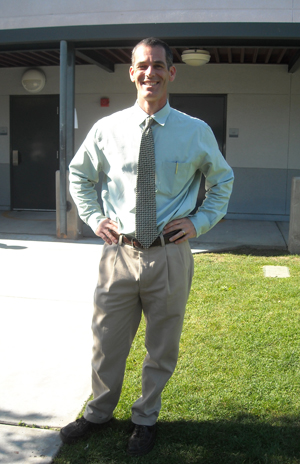 During the long school hours, the way of staying fit is not the furthest thing from this teacher's mind. This teacher enjoys staying in shape and most of all, to keep him healthy.
Jason Dinkler, English and AVID teacher is preparing himself by running a marathon in Texas. It will be a 26.2 mile marathon known as the Dallas White Rock Marathon on December 13, 2009.
Though he has a busy life, he takes the time to run in the week and train hard to build up the strength and endurance he will need to run this event.
"I run 5 days a week, running up to 40 to 50 miles a week, I do long runs on Sundays which are about 18 to 19 miles," Jason Dinkler said.
Dinkler explained how he changed his way of eating to really prepare himself for this running event, "I eat pretty healthy. I eat a lot and always try to keep my carbs up along with the protein."
Dinkler said this motivates him because he likes the challenge.
"I really like the challenge. I like the way it keeps me focus on what I need to do."
Dinkler mentioned that he has made a goal he wishes to accomplish during the marathon.
"My goal is to be shooting a 3 hours and 40 minutes."
This marathon will not be the first challenge or competition Jason Dinkler will be participating in- it will actually be his 4th marathon he will be running. He has been in a competition similar to this and knows what kind of competition will be standing there the day of the event.
"I used to swim, do water polo, and run track as a kid."
Dinkler likes being part of the world of sports and running is definitely the one he enjoys as clearly depicted in his comment, "I love running."
Photo: Jason Dinkler poses in the sun, nearly ready to run his marathon. Photo by Nelly Figueroa, The Foothill Dragon Press.