Huffman keeping Foothill kids fit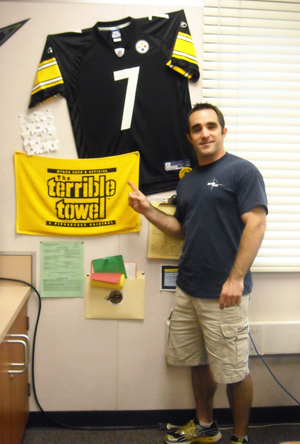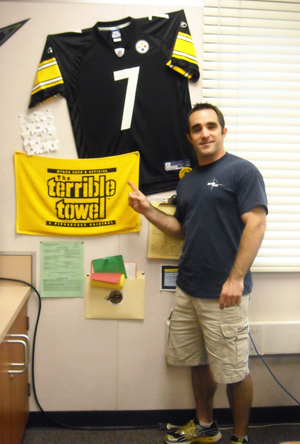 Bill Huffman, one of the math teachers here at Foothill and a huge Steelers fan, is part of the Foothill physical education  program.
He hopes to prepare the students by keeping them active, and discipline them for an active lifestyle in the future. Not only does he keeps the minds of Foothill students sharp, he also keeps them physically fit. Mr. Huffman was kind enough to take the time in having me interview him.
Nelly Figueroa: What are your top goals of your physical education program?
Bill Huffman: My goal is to increase their work capacity across broad times.
NF: Can you briefly detail what a lesson would look like in your P.E. class?
BH: You go through a warm-up as a team, go through skill review, prepare the class for the workout of the day, and the craziness starts.
NF: What are the components of a good physical education?
BH: Expose students an inclusive  fitness.
NF: How do you change your activities for the students with various disabilities?
BH: Every single movement and workout can be scaled to the individual's scale of performance like adjust an activity.
NF: What do you want your students to take with them after finishing a year?
BH: To get the students to enjoy moving and appreciate fitness, so they can be fit for life.
NF: How do you think physical education contributes to other areas of education?
BH: It instills discipline which transfers across all academic areas, it increases focus and mental alertness.
NF: How has your program changed over the years?
BH: Its been pretty much the same, but in the two years that I've taught I have created more of an environmental team this year.
NF: What do you enjoy most about your physical education career?
BH: I enjoyed the physical tests, I was always competitive and always wanted to improve to be able to beat school records.
Photo: Mr. Huffman poses in front of Steelers memorabilia in his room. Photo by Nelly Figueroa, The Foothill Dragon Press.