Dirt-biking grandfather helps students stay safe on Day Road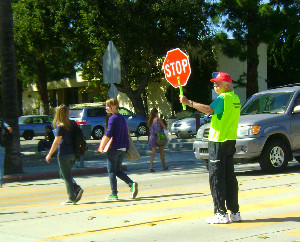 Dragon Press Editorial Board
October 6, 2009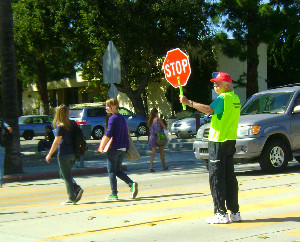 The most that many Foothill students have heard from the school's crossing guard are the words "wait at the curb, until I call you." But there is a lot more to the man in the bright vest than those eight simple words.
His name is Mike Babcock, and he makes sure all Foothill Students make it across Day Road to get to and away from school every day. Babcock has been a crossing guard for two years and he chose this job for a pretty interesting reason.
"I was hearing all of these bad things about teenagers and I thought to myself, 'they can't really be that bad.' So I saw an ad in the newspaper for a cross guard." Lucky enough for Foothill, Babcock took the job.
He started working at an elementary school and later came to Foothill where he has been ever since. For the most part he has been impressed with the students here at Foothill.
"The kids are wonderful; they say thank you and sir. They are really respectful."
When Babcock isn't helping students cross he likes to spend time dirt biking in the desert with his family. "I raised my children dirt biking," he said. "And now we have gatherings in the desert. We ride, build fires, and enjoy the grandchildren."
General consensus around the school seems to be that a crossing guard is necessary for the students of Foothill.
"I think it's a good thing," says Teryn Sargosa, a junior at Foothill. "And it's better for traffic so the cars don't have to stop and go."
The traffic on Day road can get hectic before and after school, but even during lunch when there isn't a crossing guard, there is still a stream of cars.
"I usually walk across that street at lunch," says Emily Furlong, a Foothill junior. "We should be old enough to get across ourselves, but I've seen kids texting, just not paying attention and people go up and down that street pretty fast."
Foothill's crossing guard has worked to make the street safer for the students. He had been at Foothill for six months without any major problems, but one day a car started backing up into the cross walk while students were walking across the street/
"I had to blow the whistle," he said. "It was loud and everyone looked up at me; everyone was surprised."
That wasn't the only instance where problems arose on Day Rd. Only two days into the job, Babcock witnessed an accident, but there was nothing he could to do to prevent it. Every day he tries to make getting across the street safer for the students.
"I try and make eye contact with the driver," he said. "Sometimes people are daydreaming while they are driving, and they don't see anybody."
Foothill students' parents who drop off their kids and pick them up from school have to deal the most with the traffic out on Day Road, and a few gave their opinion on the crossing guard as well.
"I think it's a good idea," said Inga Miller a Foothill parent. "As far as traffic goes, it bunches up when they cross but if the kids were constantly going there would be no break for cars. There would be more congestion without a crossing guard."
The traffic issues are one thing that Babcock has to handle but his focus is the safety of Foothill students.
Hannah Israel, an older sibling of a Foothill student, often drops her sister off in the mornings. "I think there should be a crossing guard. It's safer for the kids sometimes it blocks traffic but safety first," she said.
The pros of having a crossing guard seem to outweigh the cons, but there is a downfall to having a crossing guard at school that many might not think of.
"I think it gives the students a false sense of security," said Mr. Dana Eaton, Foothill security guard. "They need to think for themselves not depend too much on the crossing guard."
Babcock does all he can to make students get to and from school safely, but some responsibility still lies on the students, especially at lunch when he isn't there.
Babcock had some words of advice for Foothill students that didn't have to do with the street he makes sure they can cross.
When asked if he had anything he wanted to tell Foothill students he said, "I think it's important to mix work and play, have a good sense of humor and try to understand people who are different from yourself. When you get older, the less regrets you have, the happier you are."
Babcock also enjoys hearing about the ambitions of the students here at Foothill and finding out what they want to do later in life. Thanks to him, with every safe step across Day Road, they get a little closer to achieving those dreams.