.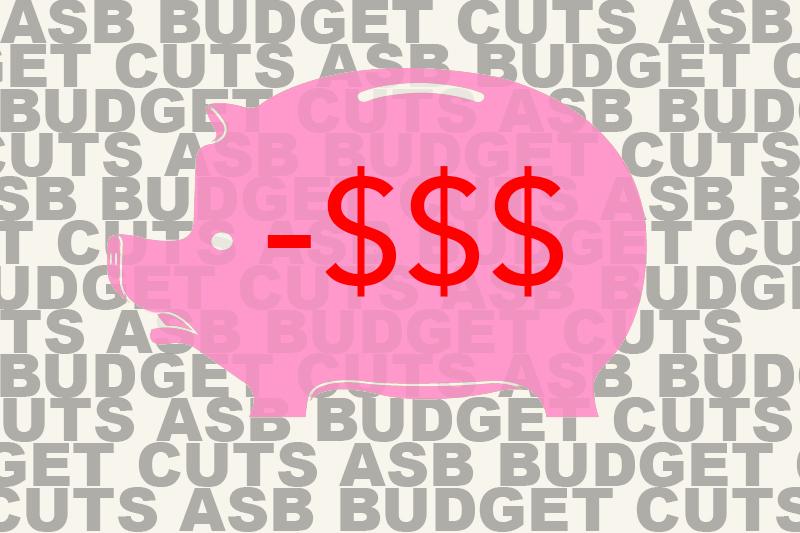 [dropcap size=dropcap]D[/dropcap]ue to a lack of student participation and profits from last week's coupon book fundraiser and last May's Starry Starry Night gala, Foothill's Associated Student Body (ASB) likely will be forced to make significant cuts to student activities in coming weeks.
First-year ASB director Melanie "Captain" Lindsey has projected that this year's coupon book fundraiser will raise only a quarter of the anticipated $10,000 profit to meet the proposed ASB budget. As of Thursday, the end of the fundraising window, students had raised only $2,550.
Foothill's coupon book fundraisers have declined in participation and profits for the past three years, providing profits to ASB of:
$12,980  in 2011-2012

$9, 530 in 2012-2013

$2,550  in 2013-2014 so far.  ($5,980 in obligations are pending.)
"I was a little upset and a little surprised because usually people are very involved with the fundraisers, but people just weren't this year," said Cody Clark, a sophomore ASB representative.
Some students attribute the drop in participation to the repetition of the same fundraiser for nearly a decade and to the dislike of the product being sold. "We have done the coupon book fundraiser for every single year, and I'm just kind of bored with it. … It's really hard to get excited about coupon books," said junior June Pederson.
Lindsey said the coupon book fundraiser is outdated and old fashioned.
"I pull up a coupon on my phone if I want to go somewhere, so does everybody else. I don't want a book," Lindsey said.
When Lindsey saw the low profits raised from last week's coupon book sales, she described her reaction as "unpublishable." 
"I haven't slept in two nights… Something's got to go," Lindsey said of ASB's budget.
Due to the drop in sales, low student participation and declining student enthusiasm, Lindsey said she has decided to cancel the annual coupon book fundraiser after it's ninth year.
"This is not constructive, unifying, or lucrative in any way, shape, or form for this school… We're not doing this ever again," Lindsey said.
Lindsey received feedback from English teacher Karen Rodrigues's first, fourth, and sixth-period classes on a possible switch to a coupon card. The feedback was negative, she said.
"According to the seniors, kids just don't want to sell the books," Lindsey said. "They say that they are lazy and apathetic."
.
"I think people are really starting to feel the effects of the economic downturn. More people are being affected by job loss, savings are running out and people don't have as much money to give," Principal Joe Bova said. 
.
Other recent fundraisers at Foothill have also seen a profit drop. 
Profits from Starry Starry Night, a dinner and silent auction event held each May off campus, dropped significantly last year. The event produced $17,788.79 for ASB two years ago.
Last year's event, however, dropped ASB's share to just $7,000 dollars, a decrease of $10,788. Starry Starry Night proceeds are also shared with Foothill's Parent Faculty Student Organization (PFSO), which also made significant cuts this year to its operating budget.
Principal Joe Bova believes that some of the profit decline can be attributed to the economy. "I think people are really starting to feel the effects of the economic downturn. More people are being affected by job loss, savings are running out and people don't have as much money to give," said Bova.
Assistant Principal Katie Tedford said there was a decrease in large donations and silent auction gift basket content, and that previously lucrative items sold for less.
"I think some of it is student enthusiasm, and I think some of it is we've been doing the same types of activities for a while," Tedford said.
Another Foothill fundraiser, Dining With Dragons, has seen a slight profit increase. Dining with Dragons raised $1,074.32 for ASB in 2011-2012. The profit to ASB grew to $1,669.19 in 2012-2013; a more than $600 increase.
The ASB class now must decide what to cut after the significant profit drops.
ASB's estimated expenses under its current budget are $42,980. This includes the "wish list" of activities and incentives created last year, Lindsey said.
If all future fundraisers planned for this year meet their goals, then ASB projects to raise $39,692.50, which means at least $3,000 needs to be cut immediately to balance the budget.
This is on top of a $5,000 decrease already saved when ASB voted not to fund first-semester Renaissance shirts for the first time in years.
Additionally, ASB should reserve at least 3 to 5 percent of its general fund to carry over to the next year, according to Darcy Duffy, Foothill's previous ASB adviser. This would be about $1,300 – $2,000 that would need also to be cut from planned expenses.
This year, ASB carried $19,970 over from the 2012-2013 school year, which is one reason the cuts are not as severe as they might have been.
Legally, ASB students make all budget decisions, and the class will vote on what to cut. Lindsey hopes to survey the Foothill student body to assess what students are most willing to live without.
Some ASB members are unhappy with the cut of first-semester Renaissance shirts.
"I think that having Renaissance shirts is a really big rallying force, especially at the rally," said Senior Class President Anna Cogswell. "You look around and see a sea of red, and it's just kind of like a unity thing. Like, I will look around and be like, 'Wow, that's a dragon!' It's like, we're at Foothill today. But if you don't have shirts, it's just like, 'Why are we doing this? What is the point?' "
Cogswell is hoping to make small cuts across the board, rather than get rid of one important event or incentive.
"[I'd take out]a little bit from everywhere. I wouldn't take away one big thing," said Cogswell.
Some of the more expensive activities that ASB funds include:
Renaissance shirts and brag tags ($5,000)

Supplement to Magic Mountain trip donations ($3,000)

Spring Renaissance Rally ($2,500)

Renaissance Fridays ($2,000)

Air Guitar ($1,500)

Student of the Month lunch ($1,000)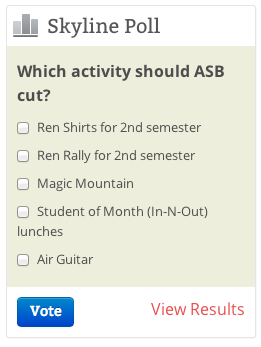 ASB members hope that the cuts might serve as an incentive for students to participate in more fundraisers.
"The point of cutting shirts was to say 'Ok, we don't have money. We are serious when we say you really need to participate,'" Cogswell said.
Lauren Dalmatoff expressed disappointment that students didn't participate in the coupon book sales, since ASB announced the fundraiser multiple times. As the 11th grade Renaissance Incentives Director, she said some students believe the activities will continue no matter what money comes in.
"We've heard a lot of people say ASB will make it happen even if they [the students] don't try, which is actually not true. We do need money and I think everyone is just kind of used to seeing stuff happen, but they don't understand that they're what helps make it happen," Dalmatoff said
To make up for the loss in funds, Lindsey speculates she may offer to no longer attend the annual CADA Conference, saving $1,000, and that she might advise ASB to cut Earth Day funds, incentives for the holiday canned food drive and rewards for classes with no tardies. She also may advise them to cut $400 that would have gone toward rewarding the student body for API scores, since California students will no longer  be taking STAR exams next year.
.
"We've heard a lot of people say ASB will make it happen even if they [the students] don't try, which is actually not true," Lauren Dalmatoff said.
.
Above all, Lindsey said she wants to maintain events that fall under ASB's three main goals.
"Our goals are to connect kids to each other, to the campus, and to the staff… Those are three major goals this year within Renaissance. Anything that works within those three major goals needs to stay, and needs to be funded. I don't know what that looks like," Lindsey said.
ASB may look into new so-called "passive fundraisers." For example, a speaker from Friar Tux, a Tuxedo renting company, spoke to the ASB class last Wednesday about a new fundraising possibility. The company would give $10 to Foothill for every student who rented a Friar Tux tuxedo for Winter Formal.
"We're going to have to find other ways to raise money to keep things going," Clark said.
Advisers at Ventura and Buena high schools would not be specific about their fundraising proceeds. Ventura High School bookkeeper Tiffany Ceja said fundraiser profits have risen over the last five years, while Buena High School ASB Advisor Ben Takeda said Buena's profits have dropped.
"We don't really track the number of people/students that are involved, and each activity yields different amounts of profit," said Takeda in an email, "The net profits, however, have decreased because of our present economy."
Senior Mallory McPherson-Wehan, a Foothill ASB representative, said she wished students would support fundraisers as budget cuts come closer.
"If you really cared about the school, I would strongly recommend that people would take books and try," McPherson-Wehan said. "If they complain about not being able to go to Magic Mountain or having to pay for Air Guitar, then I hope that they took coupon books."
.
ASB Operating Budget (Oct. 3, 2013)