Wrap-Up: Cross country races at county championships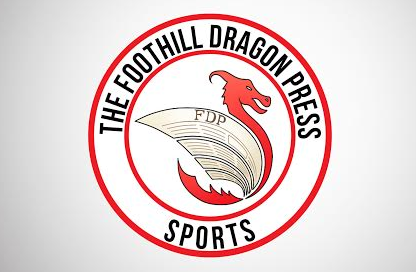 Rugile Pekinas
November 8, 2015
Hang on for a minute...we're trying to find some more stories you might like.
The cross country team raced "very well," according to Coach Ken Reeves, at the Ventura County Championships at Lake Casitas on Oct. 30.
In the boys' freshman race, Henry Pick came in fourth place out of 160 runners with a time of 17:41. Foothill took an overall fifth place out of 13 teams with a total time of 1:36:47.
In the girls' frosh/soph race, freshman Sophie Kirkegaard was the first Dragon to finish in fifth place with a time of 21:08 out of 164 competitors. The team took third place overall out of 22 schools with a combined time of 1:51:04.
Sophomores Chris Kuchta, Alex Llamas, and Daniel Guzman each came in sixth, seventh, and eighth place in the boys' sophomore race. Their times were 17:28, 17:34, and 17:37 and they raced a total of 153 runners.
According to Coach Reeves, Kuchta "ran a lifetime best," and the runners' times helped lead the boys' sophomore team to second place overall out of 14 teams, with a combined time of 1:29:13.86.
The girls' junior varsity race saw sophomore Isabella Egbert finishing first for the Dragons, taking 31st place out of 265 racers. Egbert had a time of 23:08, and the girls' junior varsity team took eighth place overall, with a combined time of 1:58:01.40, and an average time of 23:36.28 per runner.
In the boys' junior varsity race, junior Brodie Shore came in 14th place out of 233 runners with a time of 18:02. With a total time of 1:37:50, the team scored an overall tenth place out of 17.
Senior Moses Bojorquez was the first Foothill runner across the finish line in the boys' varsity race, his time of 15:26 giving him sixth place out of 155 runners. Overall, the boys' varsity team took seventh out of 23 teams, with a total time of 1:22:18.38, and an average time of 16:27.68 per runner.
In the girls' varsity race, freshman Lauren Kearney was the first Dragon to finish, taking 28th place out of 148 racers with a time of 19:53. The girls' varsity team took ninth place overall out of 20 teams, with each runner averaging 20:26.00 for a total combined time of 1:42:09.97.
Bojorquez felt that the race was a representation of how hard the team worked all season and had high expectations going into the championships.
"The expectations were to run our hearts out. We as a team have been working so hard [at] this […] we expected to win in all the races as a team," he said.
This season was his "favorite […] out of all the cross country seasons in [his] high school career," but Bojorquez knows that it's not over yet.
"The season is far from over, [it's] CIF time," he said.