Liking Facebook's lack of dislike button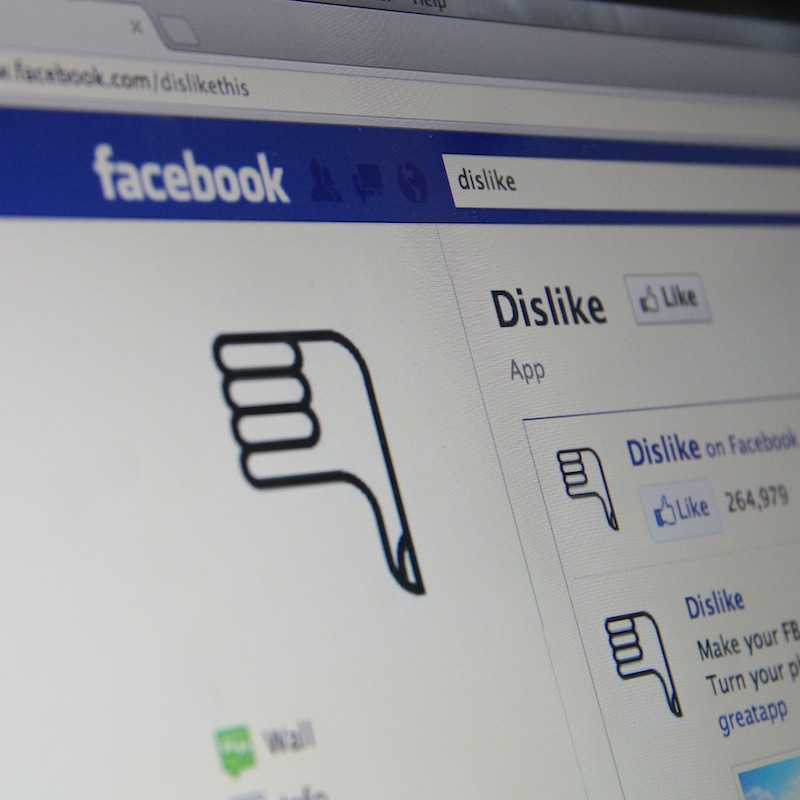 They'll change the format of the home screen, give you a timeline format for your profile page, and give you a ticker to satisfy your super-stalking Facebook needs, but when it comes to wanting to press a simple "dislike" button as a means of sympathizing with your friend whose status reads a sad faced emoticon, no can do.
I've seen the countless support pages in favor of a dislike feature. Some go by the title of "We asked for a dislike button, and you gave us ANOTHER like button?" or perhaps you've seen the ones that read "Get 1,000,000 People to Join and We Will Put Dislike Button in Facebook." I don't know about you, but that last one practically screams "Spam!"
But it seems like an innocent enough request, doesn't it? Your pal totaled his car, and you wish to send your condolences in the form of a "dislike."
Well, consider this scenario instead: a popular but highly insecure seventh-grade female has just posted a nice profile picture of herself on Facebook. Seven minutes later when she logs back in, she gets a myriad of notifications, all reading that fourteen people dislike her brand spankin' new profile.
Face it – middle school students (girls in particular) can be sadistic to each other. And it is not necessarily much better in high school, though of course, depending on the student. "But surely goodhearted kids exist!" you may counter. Without a doubt, but it only takes a few ugly situations for the cons to outweigh the pros.
The kids with maliciousness surging through their veins would have a dislike spree of it, disliking a relationship status between a new couple, disliking one's achievements, or even their views. As time progresses, the situations will become more extreme, more unnecessary back-and-forth arguing on Facebook statuses will take over, all leading up to more cyber bullying.
One of the primary goals that humans strive to achieve in this lifetime is acceptance. While it is impossible to make everyone play nice and protect everyone's online endeavors, a dislike feature would certainly become another outlet for potential online abuse. Programs such as Formspring and Facebook's Honesty Box – both breeding grounds for cyber bullying – have done that already.
According to the iSAFE Foundation, over half of adolescents and teens have been bullied online, and the same amount have admitted to participating in cyber bullying. The adolescent and teenage years are when self-esteem and a need for belonging sit on high pedestals. The comment box on Facebook already exists for those bold enough to say how they really feel about another person; the dislike button would make it easier to initiate online abuse for those too lazy or those without the guts to type a full sentence .
Also keep in mind that major businesses and companies would be affected by the ceaseless disliking on their Facebook pages with the dislike addition. Popular brands such as Hollister or the latest fad help drive traffic to Facebook, and in turn, increase revenue for themselves. Should the dislike feature exist, these brands may be less likely to advertise on Facebook due to negative response or "dislikes" from Facebook users.
Do Lady Gaga's producers really want it to be made public that despite her 48 million-plus fan base on Facebook, a good number "dislikes" her? Does the Coca-Cola company want the entire cyber world to know how many people "dislike" the taste of their classic beverage? This could go in Pepsi's favor – or not.
For those who are still not convinced, tough luck for now. To express a dislike, your options narrow down to a) going through the laborious effort of typing the word "dislike" into the comment box, or b) cleverly creating a new Facebook account named "Nobody" and "liking" a certain post so that it reads "Nobody likes this." Or better yet, be a courteous lady or gent and simply click "hide" on a post you'd rather not see.