Election campaigning reaches an aggravating highpoint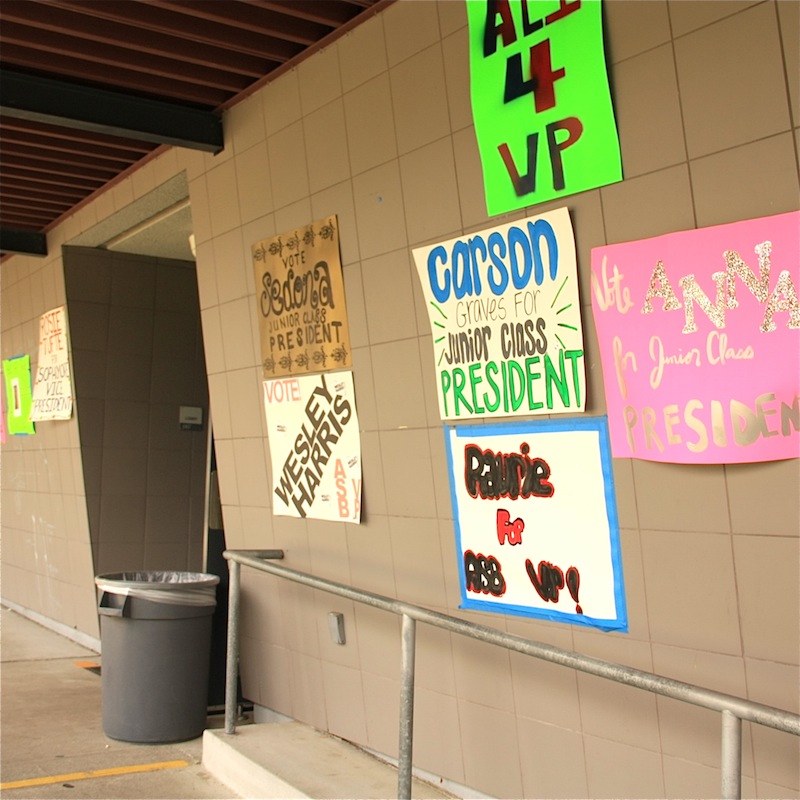 Extravagant posters, embellished stickers, and skin-staining stamps were widely distributed across Foothill's campus last week when a half-dozen juniors attempted to fill two of the most coveted offices in the Associated Student Body government.
Now we're entering the second week of intense campaigning, and upper and underclassman will ring the halls with their platforms as they attempt to seize the remaining handful of leadership positions. But upon reflection on previous years, it becomes obvious that this year's presidential hopefuls have gone above and beyond in their efforts to secure votes. 
Beginning last Monday morning, students ran around campus posting their propaganda. Some were accompanied by determined friends and others by supportive parents; it was an all out war as candidates eagerly sought to post their posters in the parts of campus that receive the most traffic. Shocked by all of the morning madness, I brushed this off as fellow peers trying to inform students over elections.
But the campaigning didn't stop there. Day after day the amount of advertising escalated until the consensus on campus was that all of the campaigning was just too much. 
The thing that made these elections ridiculous wasn't just the posters; it was the stickers plastered on the urinals, the countless Facebook "vote for me" statuses, and the people dressed in formal attire going around and shaking hands as if they were in the 2012 presidential elections.
And now that class presidential elections are taking place, I can't help but shudder at the incoming storm of additional campaigning. Aside from delivering the typical speech, I have heard that some candidates have even gone as far as to agreeing to participate in a public debate.
In my three years of attending Foothill, I have never seen any type of political debate take place. The main reason probably being that there is nothing to debate. Our school has no economy, immigration problem, or foreign policy. So unless Foothill is recognized as its own country, I see no reason for why students should be partaking in public debates. After all, the only things they can promise are better school dances and even grander senior wishes.
A piece of advice to all of those running for leadership positions: don't annoy your voters. The more you annoy your voters, the lesser the possibility of them voting for you.
In the 2010 California governor elections, former eBay Chief Executive Officer, Meg Whitman, thought it smart if she began campaigning months before any sort of voting took place. To her dismay, her efforts had the opposite effect. Constantly bombarding potential voters with radio and television advertisements only leads to them being annoyed and more inclined to vote for the advertisers' opponent. In the end, Meg Whitman lost with more than a 10 percent difference.
So remember presidential hopefuls, you are running for offices here at Foothill Technology High School, not at the nation's capital. Don't act like you're a 45-year-old running for public office, and the votes will stack up.