Opinion: All Ventura high schools should be on the same schedule
February 14, 2023
To give all students an equal opportunity to pursue their unique passions and interests, Foothill Technology High School (Foothill Tech), Ventura High School (Ventura) and Buena High School (Buena) should be on the same schedule. 
Currently, all three schools operate on different bell schedules, which makes it nearly impossible for Foothill Tech students to participate in extracurricular activities that are not offered on campus, specifically music. As a student at Foothill Tech and musician at Ventura, I can attest to the immense difficulties that the conflicting schedules pose. 
As of the 2022-23 school year, Ventura is on a different block schedule than Foothill Tech. Ventura has periods one, three and five on the days that Foothill Tech has periods two, four and six, and vice versa. To make matters worse, Ventura has all six periods on Wednesdays, whereas Foothill Tech has all six periods on Mondays. In the meantime, music at Buena is even more challenging to coordinate because they aren't even on a block schedule.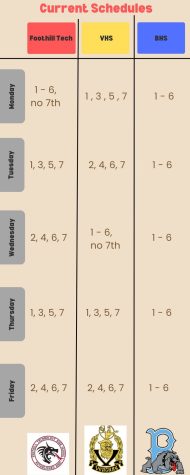 As portrayed by the visual to the right, it's an absolute scheduling nightmare for any Dragons attempting to participate in the music department at Ventura or Buena, and most miss out on the programs that attracted them to Foothill Tech in the first place. By enrolling in just one music class, students miss two periods at Foothill Tech because of scheduling complications. This forces many students, myself included,  to choose between continuing music or fully participating in pathways such as Bioscience, DTech or Journalism. 
The Bioscience Academy was one of the main reasons I decided to attend Foothill Tech my freshman year. I have always been interested in a career in the medical field, so I figured the program would be a great fit. What I didn't realize is that I'd have to give up music to participate. Playing french horn has been my passion and creative outlet for the past five years, and abandoning that aspect of my life was unfathomable. 
Mackenzie Kraus '26, a Foothill Tech student enrolled in Honors Wind Ensemble at Ventura, has had a similar experience. Kraus shares how she "wanted to attend [Foothill Tech] for the academic opportunities and a nice, controlled classroom environment," but upon going forth with the decision to simultaneously continue music, explains that her schedule is "limiting because of my two periods I have to take off to go to band." 
Due to missing not only one, but two periods, most music students are unable to enroll in special pathways, which displays the inequity created by the current system. Students in full time attendance at Foothill Tech have the ability to, for example, do Bioscience and Journalism, so music students should have access to an additional elective as well. 
Aligning the schedules would not be difficult, but if the proposition isn't implemented soon, students like Kraus are considering leaving Foothill Tech. Kraus explains that she has "considered switching to VHS because [she] … would have more options," but goes on to say, "if [Foothill Tech and Ventura] were on the same schedule, I would definitely stay at [Foothill Tech]." 
Music students should not be forced to make the difficult decision of whether to continue with music or take advantage of the academic pathways at Foothill Tech. Reflecting on how heartbreaking it was to stop playing music at Ventura, Lila Rosenthal '25 expressed that, "Music is everything to me, so many emotions can be expressed through music. Band was also a place where many people could connect." She goes on to say, "If I didn't have to miss two periods [at Foothill Tech] I feel like I would be able to continue with band at VHS." 
Making music easily accessible is also crucial because, according to the New York Times, research shows that students who take music classes "have significantly higher scores on the math and verbal sections of the SAT." Playing an instrument has the potential to not only improve academic performance, but it is also an important creative outlet that can lead to better mental health. When I'm having a rough day, disappearing into a melody on my horn is my favorite way to relax and clear my mind. Furthermore, playing with others in an ensemble induces an inexplicably powerful sense of belonging and inspiration. 
Some may argue that if a student has the desire to pursue music and attend Foothill Tech, they should simply take private lessons for their specific instrument or join a Youth Orchestra. First of all, the closest Youth Orchestra in the area is located in Santa Barbara, California, which is an unrealistic driving distance for many families from Ventura. Secondly, no private lesson can compare to the remarkable music education offered at Buena or Ventura. For many years, the Honors String Orchestra and Honors Wind Ensemble at Ventura have earned unanimous Superior ratings at the most competitive music festivals across the nation, most recently in 2022 at the Grand National Adjudicators Invitational hosted in Chicago. This year, 12 Ventura musicians were accepted into a California All-State Ensemble, a four day conference in Fresno where the best high school musicians in the state come together to create magnificent music and learn from prestigious directors. Under the direction of Paul Hunt, these groups routinely make masterpieces out of extremely challenging and exhilarating professional level music. But the tight knit communities of both music departments are far more important than the awards and recognition of excellence that they routinely receive. Through the power of collaborative artistic expression, fellow musicians become like family to one another.
No student at Foothill Tech should miss out on these incredible programs because of easily resolvable scheduling conflicts, and this inequity has a simple solution that must be prioritized: a common schedule for Foothill Tech, Ventura and Buena.