"How to Get Away with Murder" cast discusses black women in the media during LA Times' Envelope Series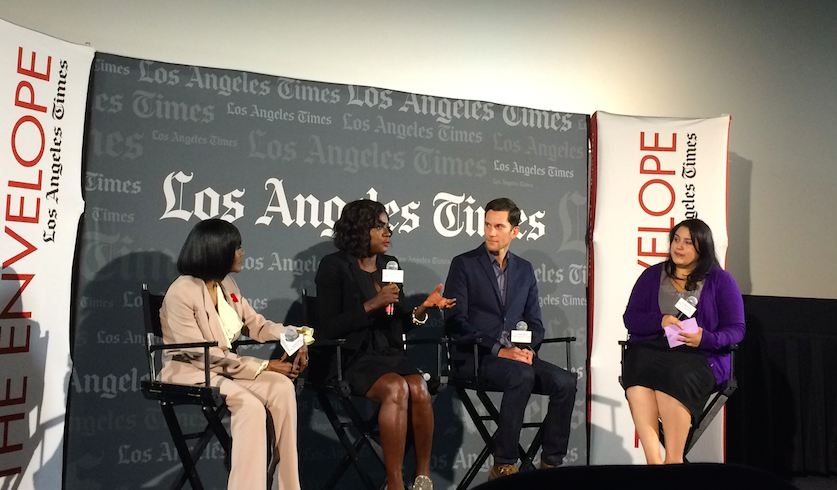 Emma Kolesnik
May 29, 2015
After waiting in a quick line to get their reserved tickets, the audience members were pleased to enter the Arclight Theatre in Sherman Oaks on Tuesday for the Envelope Series, put on by the Los Angeles Times. For the series, there is a screening of a popular episode, followed with a "Q and A" by important cast and crew members. Tuesday's show was the popular ABC drama "How to Get Away with Murder."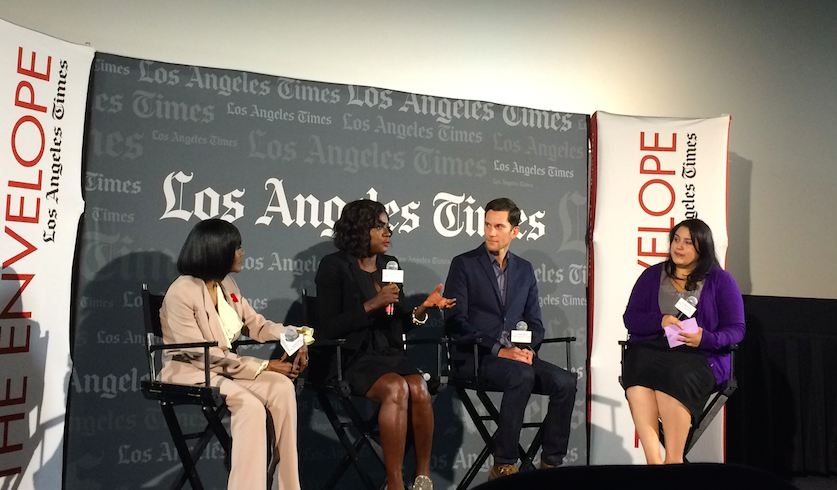 After waiting in a quick line to get their reserved tickets, the audience members were pleased to enter the Arclight Theatre in Sherman Oaks on Tuesday for the Envelope Series, put on by the Los Angeles Times.
For the series, there is a screening of a popular episode, followed with a "Q and A" by important cast and crew members. Tuesday's show was the popular ABC drama "How to Get Away with Murder."
To begin, there was a screening of Season One, Episode 13 called "Mama's Here Now." The main focus of the episode was the relationship between main character Annalise Keating, played by Viola Davis, and the character's mother Ophelia Hartness, played by Cicely Tyson.
After the end of the screening came the much anticipated question and answer period. Being interviewed was the creator of the show Peter "Pete" Nowalk, and actresses Viola Davis and Cicely Tyson.
Davis and Tyson are arguably the most well known and respected black actresses for their generations. They both had much to say about black women in film and television.
[Fotos] LA Times' Envelope Screening Of "HTGAWM": http://t.co/kwLf9JJfOn @violadavis @IAmCicelyTyson @petenowa pic.twitter.com/EUje7Wia60

— HTGAWM Spain (@HTGAWMSpain) May 27, 2015
One of the most talked about scenes of the episode was near at the end. The character of Ophelia combed her daughter Annalise's (natural) hair, as they talked about their past family dynamics. The importance of this scene could easily be overlooked, but it shows a new phenomena for black women in the media.
When black women are portrayed in movies and television, they are almost always "done up." Their makeup is perfectly applied, and their wigs are consistently kept on. This scene did not follow any of the practiced "rules" for black women on screen. Annalise was without makeup, or anything except her natural self.
Around 55 years ago, Tyson was in a television show called East Side/ West Side. In the show, instead of a wig, she wore her hair natural. In the Q and A, she described the "bushels" of mail she received. The feedback to her hairstyle was overwhelmingly negative. Many women wrote her saying that she was "degrading" the black woman by wearing her hair in that way.
Davis and Tyson described why they felt the natural hair produced such a great impact. It was because from a young age, they (and many other black women) had been taught that their "nappy, kinky" hair was unattractive.
According to Davis, this is just one of many struggles black women and men have faced in film. She named a long list of fellow non-white actors who had never had a lead role. No matter how good they were, they always remained the "third girl from the left."
Davis is determined not to be another amazing actress who is ultimately forgettable because she never got a break through role.
Film and media has a long history of a racial bias. Traditionally, shows were "black" or "white." The mainstream movies and TV shows had an all white cast, with maybe one or two side actors of a different race. Other shows were targeted only to blacks, and were the opposite of the mainstream shows.
"How to Get Away with Murder" has many things that should not be "bold" moves, yet are. From having a mainstream show with a black lead, to showing the characters as they are in private, this show is seen by many as a breakthrough for broadcast television.