Shave It: Taking traditional shave ice to the next level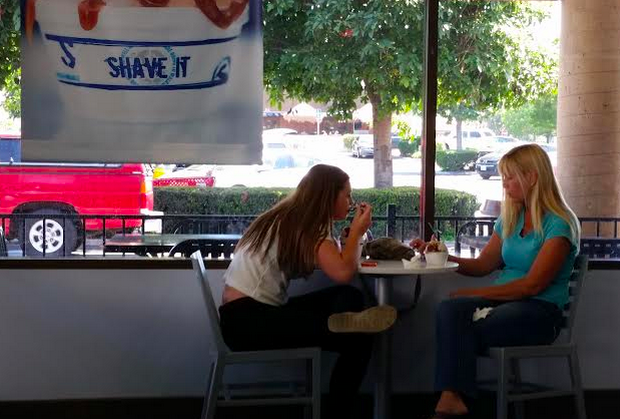 If you're in the Camarillo area and are in the mood for a sweet treat, head over to Shave It and you won't be disappointed.
Shave It has been all the rave since its original opening in 2006, and has expanded quite a bit since then. The restaurant has established locations throughout Southern California, including in Camarillo, Thousand Oaks, Valencia, Norwalk and Tarzana.
Essentially, a "Shave It" isn't a very complex dessert, as it is created with few ingredients, but it is fluffed to perfection. With your first bite, your taste buds are immediately triggered, and you feel as if you are scooping up a handful of freshly fallen snow and letting it melt gradually upon your tongue. The business tells you to "imagine that same white snow drenched with your favorite flavor," and that's what a Shave It is.
The phrase "melt in your mouth" is definitely accurate when describing a Shave It.
Shave It's flavors are undoubtedly out of the box and original; they put a spin on the typical shaved ice syrups. From refreshing watermelon to exotic jungle juice, Shave It has it all. It uses over 20 flavors, allowing all customers to find one they like, as well as try something new each time they visit. All the highest quality syrups are flown in from around the world, placing Shave It above the typical shaved ice stands throughout the county.
What ultimately distinguishes Shave It from the rest of its competitors is that it adds ice cream into shaved ice. With this option, one could order Hawaiian punch syrup with rainbow sherbert ice cream, or any other combination of syrups and ice creams. Shave It also provides its customers with pre-chosen combos in case you aren't feeling creative and don't know what syrups would taste well with certain ice cream flavors. The company also offers fat-free and sugar-free flavors, as well as changes its combos each month.      
Shave It welcomes a diverse range of people, and appeals to those young and old, offering a contagious vibe. The store claims that "Shave It doesn't just sell ice; they sell an atmosphere. An atmosphere of people gathered together and talking and laughing and forgetting about everything else. The feel of a vacation."  
However, the various stores successes wouldn't be where they are today without their owners Karen Bain and Lisa Kudirka. These two women shared the same passion for shaved ice, and aimed to make shaved ice hip and trendy. They started small at school fundraisers where their creations were such an overwhelming hit that they decided to "jump in" and "Go Big or Go Home." Their concept has flourished ever since and continues to take shaved ice to the next level.
Each cup is relatively inexpensive, ranging from $3.75 for a small to $4.25 for a large (these prices cover two flavors), plus the additional fee of $1.25 for an additive of ice cream. The total for one ranges anywhere from $5.00 to $5.50 depending on what size you order.
I ordered three of their most popular flavors: bubble gum, cotton candy, and watermelon/coconut with high hopes in my mind because of the status Shave It holds. After trying these flavors, I was by no means disappointed. The ice was light and airy, without any hard chunks of ice, and the flavors were spot on.
Shave It is hands down a delicious sweet treat that can make anyone feel better on a hot day. The restaurant has excellent customer service, with the exception of the lines. The store tends to have lines out the door which is inconvenient, yet understandable.  
You can't go wrong with Shave It, no matter what combinations you try!
Best decision I made all day. #rootbeerfloat @ShaveIt in Camarillo – awesome customer service! pic.twitter.com/00mKtvM5Am

— RosaLinda Diaz (@GitanaRosa) August 29, 2014