Recognized as a framework for individual high school graduation requirements, as well as applicant eligibility for California State Universities (CSU) and Universities of California (UC), California's high schools are bound by what are known as the A-G requirements. As of October of 2021, these graduation requirements are changing as California's State Legislature and Governor Gavin Newsom passed Assembly Bill 101, requiring all California high schools to have an operating ethnic studies and social justice (ESSJ) curriculum. This new requirement is planned to start with the freshmen classes for the 2025/26 school year, and will be required for the graduating class of 2030. It will include a new one-semester Ethnic Studies and Social Justice requirement, which will be appended to the seven current A-G subject areas.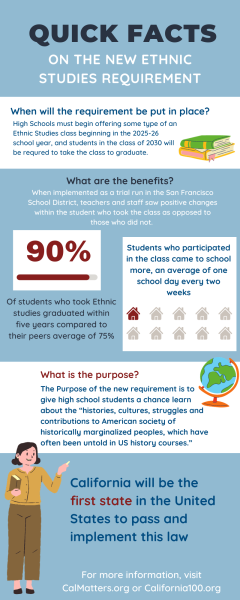 District curriculum development
Ventura Unified School District (VUSD) employees have been working to incorporate a stronger ESSJ curriculum since before the COVID-19 pandemic in response to student families. "The standalone elective course has been offered for several years now, on [secondary] campuses district wide" said Sarah Gluck-Perez, a VUSD Teacher On Special Assignment (TOSA) tasked with developing the upcoming curriculum and overseeing its rollout. While the official A-G requirement is to take effect for the class of 2030, VUSD is working ahead of the state to require it for the current graduating class of 2026. With this being said, district leaders have been conducting comprehensive research across communities and providing teachers with various resources for the specific course. "Teachers get extensive in-depth training [in] various ways through the county, through people that our district brings in to train them. There's an ethnic studies steering committee of community members to help guide that learning as well," reported Gluck-Perez. 
History classes
While VUSD United States (U.S.) History courses already provide some ESSJ education, VUSD is preparing additional guidelines and standards for them as well. Analyzing ESSJ is essential to the Advanced Placement (AP) U.S. History (APUSH) course, especially for students taking the May AP College Board exam. "Utilizing primary sources … to write the [Document Based Questions] and to understand the multiple choice [questions]" are ways Foothill Technology High School (Foothill Tech) APUSH teacher Dan Fitzpatrick incorporates ESSJ curriculum into pertinent assignments for students preparing for the AP exam. However, as the main purpose of APUSH is to offer high school students the opportunity to earn transferable college credit from the May exam, its coursework is contingent upon timely learning standards created by the College Board, and does not offer as in-depth of a learning experience as the separate ESSJ elective class. "I think Foothill [Tech] is lucky to have a separate [ESSJ] course where you can shine a brighter light on those groups that are often skipped over or passed through because of [course] speed. A student can get the rigor and the challenges from those people who teach standalone ethnic studies," stated Fitzpatrick.
VUSD's holistic approach to integrating ESSJ learning, from providing a robust one-semester "survey" class, strengthening existing curriculums in U.S. history classes and continuing to support individual ESSJ programs across schools, will provide students a wide variety of opportunities to pursue ESSJ at different academic levels. 
Ethnic Studies and Social Justice elective
Despite the new addition to the A-G requirements, Foothill Tech already offers its students a two semester ESSJ elective class taught by Claire Adams. Adams, who teaches both Honors and College Prep (CP) World History and Geography in addition, teaches the class through multiple units identifiable by their specific themes such as "Identity and Narrative," "Hegemony" and "Dehumanization," allowing those enrolled to learn a variety of perspectives and experiences through numerous complex lenses. Adams frequently emphasizes the importance of the Ethnic Studies class among the student body, sharing that  there are "a lot of gaps in our history, particularly when it comes to marginalized people," and that ESSJ is hoped to fill a gap where groups of students are not always represented in the classroom, as that can lead to them feeling disconnected with their school, society or community as a whole. 
The implementation of an ESSJ curriculum into the AP and CP U.S. History classes are generally seen as positive as more students will be given the opportunity to learn about underrepresented groups in a new and unique way. However, Adams begs the question as to how another unit of schooling will be introduced into an already rigorous curriculum, stating, "In practical terms, [US History teachers] couldn't incorporate a year's worth of Ethnic Studies into an already existing … curriculum." She continued, explaining how  the AP classes are specifically geared towards the testing date in May, "APUSH teachers …[have] the curriculum planned to reach the day when you have the AP test, and they will have to carve out a big chunk of time to get ethnic studies curriculum in there." Adams also explained, however, how she hopes that with the integration more students will become interested in learning more about ESSJ and possibly elect the standalone class to satisfy any further curiosities they may have after learning a portion of the material in their History class.
Although a requirement for an ESSJ curriculum is relatively new for VUSD, other school districts such as Oxnard Union High School District (OUHSD) and Santa Barbara Unified School District (SBUSD) have both already implemented an Ethnic Studies graduation requirement beginning with the Class of 2024. Besides being beneficial to students as they learn new perspectives and history, Ethnic Studies can also allow students to be better prepared for courses later in their high school career such as AP Government (AP Gov). Adams shared that when the AP Gov classes look at cases that specifically deal with subjects such as race, poverty and education, those who have taken the ESSJ course are generally able to grasp such subjects easier having previously studied similar course material. 
Despite the potential caveats to implementing an Ethnic Studies curriculum into an already existing class, Adams shared that she is "excited that everyone has an opportunity to learn … broader history," but she would also encourage students to "sign up for the standalone Ethnic Studies class" as there is much more course material that is delved into, allowing students to become fully immersed in Ethnic Studies and Social Justice. 
A new era of A-G requirements are upon students, and the implementation of ESSJ within the U.S. History courses will pave the way for the collective student body to learn and acknowledge new perspectives and new history. While the requirement will not be in formal place until the class of 2030 steps foot onto Foothill Tech's campus, both the student body and teachers have begun to discuss how the new course will be integrated into our existing curriculum, and how that will affect the timelines and course content of both AP and CP classes.     
A new era of A-G requirements are upon us, and with the new requirement comes new knowledge, new curriculum and new processes for how our classes are being taught. This substantial change in the college readiness requirements signify a shift in what California and its state universities consider essential for their forthcoming students. Gluck-Perez concluded, "From an academic framework perspective, I'm really hoping that ethnic studies in the standalone course and integrated in US history creates opportunities for inquiry, [for] students to discover and learn about not only their own stories and narratives [but] elevate stories of those marginalized groups. And for students to engage in those kinds of critical conversations, improving literacy and critical thinking, those are all things that will and can really be possible along with the content."