Buena performs "The Little Mermaid Jr."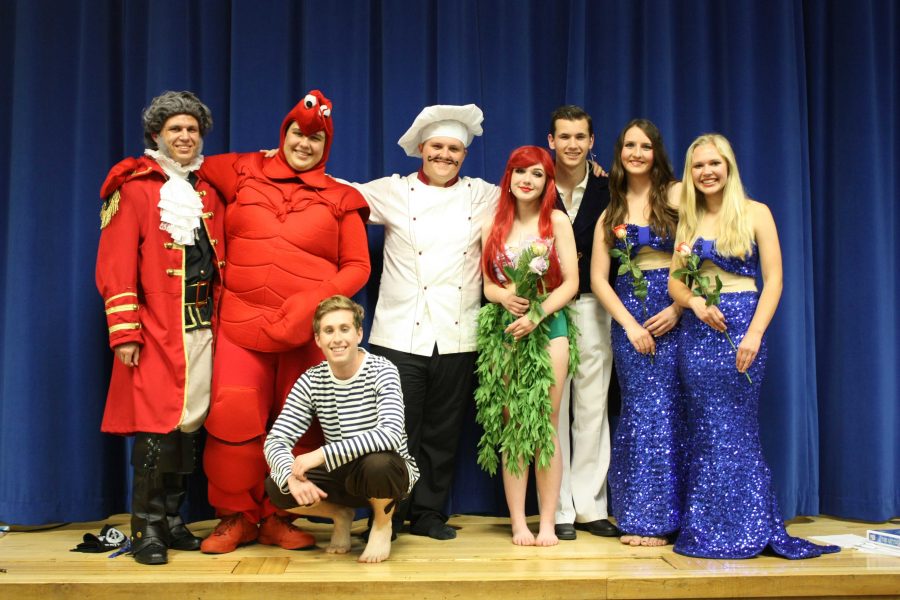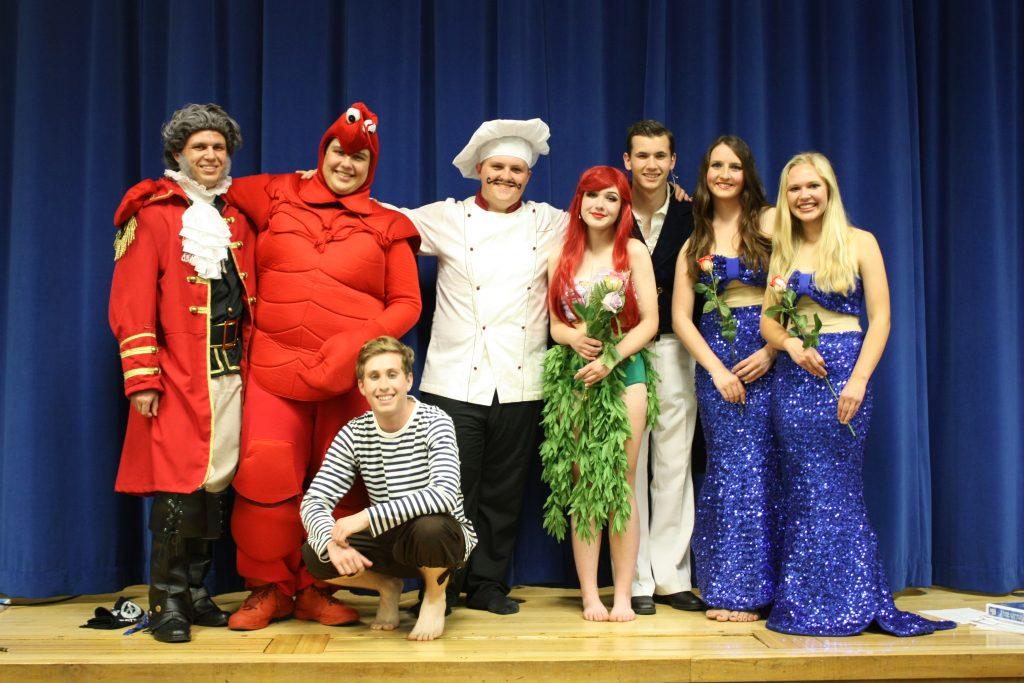 Buena put on their version of the classic Disney movie "The Little Mermaid" on Thursday night. Due to copyright reasons, they had to rename the show "The Little Mermaid Jr." and change some of the storyline. Even with the changes, the play came together seamlessly.
"The Little Mermaid Jr." tells the tale of a young mermaid princess named Ariel, played by Buena freshman Cat Parkes, who is fascinated with life above the water. Her father King Triton knows this and does not approve, so Ariel must swim to the surface in private.
One day when Ariel swims to the surface, she spots a boat caught in a storm. On the boat is a young handsome human prince named Eric, played by Buena senior Tyler Capritto, who in the chaos of the storm gets thrown off the boat.
Ariel sees this and swims off to save him. She takes him to shore and sings to him. When Eric wakes up, there is no one around, but all he can think about is the voice he heard. Eric's father is forcing him to get married by his next birthday, which is three days after he has been rescued. Eric is set on finding the girl who belongs to that voice and marrying her.
Once Ariel gets back home, she is madly in love with Prince Eric and everyone can tell. Her father asks her best friend which merman she is in love with, and he tells him it isn't a merman, it's actually a human.
King Triton immediately goes to find her and tell her that she is never allowed to see him. Once she hears this, Ariel becomes very upset, until two eels tell her about a sea witch who can solve all her problems.
[soundcloud url="https://api.soundcloud.com/tracks/203505025″ params="color=ff0000&auto_play=false&hide_related=false&show_comments=true&show_user=true&show_reposts=false" width="100%" height="166″ iframe="true" /]
The eels lead Ariel to the sea witch Ursula, played by Buena senior Hannah Martin, who offers to give Ariel legs, in return for her voice. She also has to get Prince Eric to kiss her by sunset on the third day, or she will turn back into a mermaid and her soul will be Ursula's. Ariel thinks it all over and eventually agrees to these conditions.
Ariel races to shore and washes up a human. While adjusting to her new legs, Prince Eric finds her laying on the beach. He recognizes her face, and immediately runs to her. He asks her a question and discovers she has no voice. He becomes upset because it seems that she isn't the woman who saved him.
Eric takes her into his home and gives her food, clothes, and a place to stay. Over the next couple of days Eric begins to develop feelings for Ariel, but never gets the chance to kiss her. On the third day, which also happens to be Eric's birthday, Eric's father has gathered a group of girls in hopes of finding the voice Eric is looking for.
None of the girls are the right ones and Eric realizes that even if Ariel doesn't have a voice, he still loves her. He asks Ariel to marry him, but it's too late and Ursula's magic is wearing off.  This is when Eric discovers she truly is a mermaid, and that her father is King Triton.
During a battle between Ursula and King Triton, Ariel gets her voice back, and she and Eric live happily ever after.
The cast said that they enjoyed performing and preparing for the production.
"I'm so happy with the choice of play, it's my favorite musical ever and I'm so glad I got the part," Parkes said.
The cast and crew had been rehearsing for about a month and a half.
"My favorite part of the play is not getting yelled at anymore," Capritto said, tongue-in-cheek. 
As it was a musical, most scenes had both signing and dancing in them. There were two choreographers working with the cast to make sure they were stage ready.
Abby Cluster and Lindsey Shield, the choreographers, have known about this play for about a year now, and started preparing with the two of them around the holiday season.
Capritto said one of his favorite parts of the play was the "One Step Closer" dance.
"Our choreographers are so good and I would like to thank them for that," he said.
Overall, the dancing came together very well, and the singing was phenomenal. Parkes has an incredible voice, and it was evident the crowd thought so too. After she was done with a number, the entire crowd burst into applause.
"The Little Mermaid Jr." is playing at Buena until May 9, and it is a must-see.