In the early morning of Sept. 23, 2023, hundreds of people gathered together at The Collection in Oxnard, Calif. to participate in the annual Walk to End Alzheimer's event put on by the Alzheimer's Association. With volunteers, including Buena High School (Buena) cheerleaders, getting there as early as 6 a.m. to set up, the event was a wonderful reminder of the power of the community.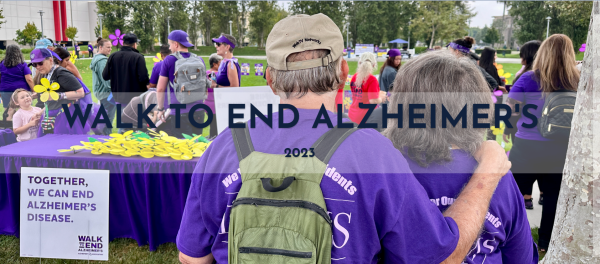 If participants earned more than $100 for the cause, they got a free shirt to wear during the event, and if they raised over $500, they got a VIP pass and were called "Champions." With 529 participants and 115 teams, over $107,000 was raised for the Alzheimer's Association. The money raised is donated to various Alzheimer's treatment projects along with being used to fund research, awareness and advocacy towards Alzheimer's as a whole.
Every participant in the walk was encouraged to decorate a colorful flower representing their beliefs or experience with Alzheimer's. Blue flowers represent someone living with Alzheimer's or another type of dementia. Purple flowers were for those who had lost someone to the disease. Yellow flowers represent someone who is currently supporting or caring for a person living with Alzheimer's. Finally, orange represents those who support the use and the Association's vision of a world without Alzheimer's and all other forms of dementia. The flowers were gathered together into a garden, and their vibrant colors illustrated the shared experiences with Alzheimer's, further connecting the people. 
At 9:30 a.m. the walk officially started and everyone joyfully gathered together to begin the two mile trek around The Collection. With signs littered along the waking path, displaying facts about Alzheimer's while simultaneously helping participants go in the right direction, everyone walked to support the cause. There were even people who suffer from Alzheimer's participating in the walk, gladly holding their blue flowers with huge grins on their faces. 
As everyone finished the walk, there was a giant balloon arch with Buena cheerleaders cheering on both sides. With the event technically over, everyone stayed longer enjoying food, games, face painting and balloon animals. The Walk to End Alzheimer's was a huge success to help support Alzheimer's treatments along with rallying together the community to support an important cause.