On Sept. 20, 2023, Foothill Technology High School (Foothill Tech) hosted a Senior Picnic, in which the Class of 2024 celebrated their last year together, and connected over In-N-Out Burger.
Senior Picnic is one of the bonding activities exclusively for seniors, meant to bring a class together in their final year of high school.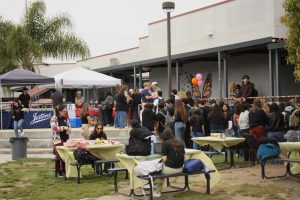 Teachers Justin Frazier, Melanie "Captain" Lindsey and Cameron Crouch organized the senior photo before the event started, working with the grumbling crowd who grew increasingly impatient as they kneeled on concrete. After the photo was snapped, the students rushed towards the quad.
Senior Picnic was hosted during FIRE and Lunch, set up by the Associated Student Body (ASB). The quad was decorated with tables, most with a yellow covering, some with small baskets of chips on them. On the stage, the food and beverages were set up, with dragons forming a long line to get to their burgers.
During the event, the seniors ate their In-N-Out Burger, celebrating their last year together with their peers. Music played throughout the quad, in the background of chatter, where the Class of 2024 were all in one place, a rare occurrence.
Zac Crist '24 described the effect of Senior Picnic, saying, "I think it brings us together, I didn't know how many of us there were, so it's good to see how many other seniors we have here at Foothill [Tech]."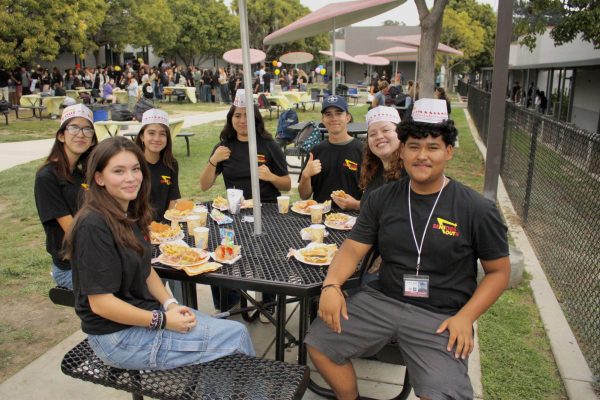 Ben Llano '24 added on, "I feel like it was pretty unifying being able to sit with my friends and just hangout."
Angelina Hernandez '24 spoke on the process of organizing the event and getting so much food ready, "[It was] pretty stressful cause we wanted to avoid getting a truck, so we ended up going to two separate In N Out [Burger]s, and it was really difficult. I'm really glad it worked out. I hope everyone is happy with it."
As the trash filled with burger wraps and the seniors left with their In-N-Out Burger hats, the inevitable goodbye to Foothill Tech every senior class must make began to form, an indication of what the school year will bring.