When you first step into the Pacific View Mall in Ventura, Calif., you are met with chain retail sellers or empty storefronts. These days, fast fashion is the most popular way to shop for the average American consumer. But what's often forgotten about is the importance of local, handmade goods. Thankfully, there are more shops opening locally that handmake goods, even as online shopping and fast fashion becomes more prevalent. The store Hey! Friends has recently opened in the Pacific View Mall, located on the second floor. When entering this store, you are met with all sorts of eye-catching things made by many unique vendors in Ventura County.
"
I think it's cool to support and shop local.
— Debbie Dickson
In this hidden gem, there's something for every shopper, ranging from house plants and succulents to crocheted hats or hand-stitched jackets. Scattered around the store are various signs displaying the different vendors' websites and names next to their products, making community support easily accessible. Debbie Dickson a returning customer to the store voiced, "I think we bought more when we found out that there were artists and locals, and we were willing to pay a little bit more." Prices for handmade goods can be more expensive than online or chain retailers, so not everyone can afford to support local, but it's worth it for those who can like Dickson. "You know, some people can't [afford it], and we can."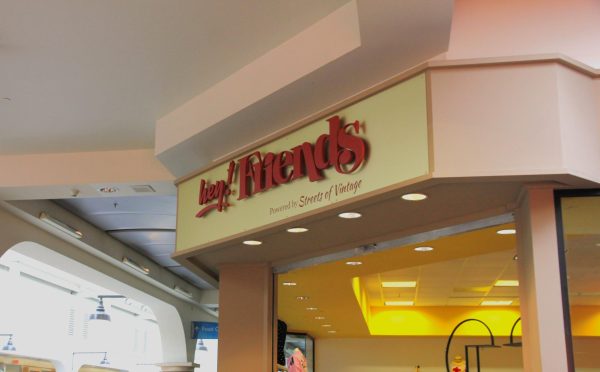 Supporting local fashion also promotes art and culture in the Ventura community. Rather than mass-produced products, everything in Hey! Friends is locally sourced and a display of the vendors' different art styles. When asked to choose between locally made and fast fashion products, Bob Dickson, husband of Debbie Dickson, says, "I mean there's both, you're gonna have both. But if I can get local, I'd prefer local because of two reasons: one, it's usually unique, which is a lot more fun, and two, it tends to be better quality. And [if] someone … pours their heart and soul into [something], I'll call it art because fashion is art [and] usually the quality is really good." Unfortunately, many consumers still choose cheap, convenient products instead of local art.
"People still continue to shop from large stores rather than shopping locally just because it's convenient, which I feel like is what a lot of people look for," Foothill Technology High School student Naomi Schwartz '26 stated, bringing up a prevalent issue in the local vs fast fashion discussion. Hopefully, increasing shopping local art in our communities can lessen the impacts of fast fashion. "Wherever we spend our money, that's what's [going to] be on demand," Debbie Dickson noted.
"
I think if we don't support local art, we lose a little bit of who we are as a culture.
— Bob Dickson
With online shopping and fast fashion becoming more popular and accessible, it's crucial to support local businesses, art and talent. "If we all just run toward the cheap, fast solution then someday we're all gonna go, 'Where's the artistry?'" Bob Dickson adds.
Overall, Hey! Friends has a variety of items and prices, big and small, for everyone to go and support the Ventura community instead of constantly choosing corporate retailers.
Hey! Friends is located in the Pacific View Mall in Ventura, Calif., at 3301 E Main St. Unit 2101, 93003.