For the rest of the world, the fall solstice lands on Sep. 23, every year; but Starbucks says otherwise. On Aug. 24, 2023, the remains of mint java chips and cursed Bumblebee Cake Pops came crashing down and in their place rose a fan favorite — the long-awaited fall seasonal menu. With the official return of the beloved Pumpkin Spice Latte (PSL) our sense of time is restored and autumn begins.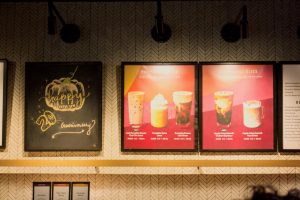 When you walk into any Starbucks from Aug. 24, until Nov. 1, it is legally fall. Throw away those tired old calendars of dogs playing poker and embrace modernity: the calendar known as the Starbucks seasonal menu. Months and days are replaced by sips and bites of our favorite fall foods, like the brand new Baked Apple Croissant or a classic Pumpkin Cream Cold Brew.
Gone are the days of wildly flipping through your pocket schedule, sweating bullets when you see the distance between the present and the annual "fall dates." Gone are the Halloween countdowns or watching '80s horror movies to manifest its arrival. Let your mind be free and entrust your sense of time to the Starbucks marketing team.
Even in digital form, on the Starbucks mobile app, what was once a boring green lockscreen has been updated to cool blues and comforting shades of orange. In physical store locations, glass door decorations of "welcome back fall flavors," blackboard menu slogans like "pumpkin forever" and "crisp apple bliss," as well as a very lovingly crafted "20th anniversary" chalk art have made their annual debut. Where would our lives be without these mass produced marketing schemes?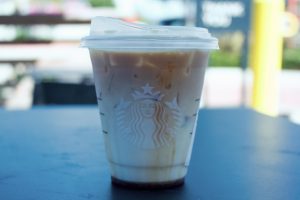 Thanks to our coffee corporate overlords, the changing and switching of the Starbucks menu is the only timeline of the seasons we need to follow. Without the sound of blackboard chalk held by an underpaid employee meticulously drawing autumn leaves, snowflakes, flowers and bumblebees, our seasonal agenda would be in complete ruins. No longer is the world stuck in the gray space between summer and autumn, which always feels like forever. For here comes Starbucks to the rescue, ready with pumpkin spice to formally announce, it is officially fall.
Not sponsored.