The EECCOA competition: Reducing Foothill's carbon footprint one piece of trash at a time
The Energy Efficiency to Mitigate Climate Change and Ocean Acidification (EECCOA) challenge is a STEAM (science, technology, engineering, arts and mathematics) based competition aimed towards high school and middle school students to set a specific goal pertaining to reducing their schools' carbon footprint or supporting the removal of the Matilija Dam. The competition, annually held by the MERITO (Multicultural Education for Resource Issues Threatening Oceans) organization, was won by a group of four Foothill Technology High School (Foothill Tech) students: Lynna Nguyen '24, Lola Tennison '24, Jaslyn Shirk '24 and Nathan Turner '24.
The four students are all enrolled in the Advanced Placement Environmental Science (APES) class taught by Emily Hunt, who makes the competition a requirement for all of her Environmental Science students. "We all had to submit a project to [Hunt], but she selected 15 [of them] out of all of her periods to move on and actually be entered into the EECCOA challenge," Tennison reflected.
After collecting data from multiple campus trash audits, the team decided to create a system to encourage proper waste disposal at Foothill Tech. A trash audit is the process of tracking the amount and type of waste being produced in a given community. After the first school trash audit, "we noticed that there were disproportionate rates of trash [being] sorted incorrectly," Shirk explained. The team knew that they needed to provide support for students to put their waste in its proper bin because they "already [had] the bins, [they] just [needed] to put the effort in," Shirk continued. Material that could be composted or recycled was ending up in the landfill and the team's goal was to prevent that. 
In April 2023, they decided to put up infographic posters around Foothill Tech to help students properly dispose of their trash. These posters clearly explain whether to put your waste in the trash, recycle or compost bin; they are conveniently located near the bins themselves. In addition to designing and displaying the posters, the team also created various prototype boards and posters, which they presented to a panel of judges at the Poinsettia Pavilion on May 22, 2023.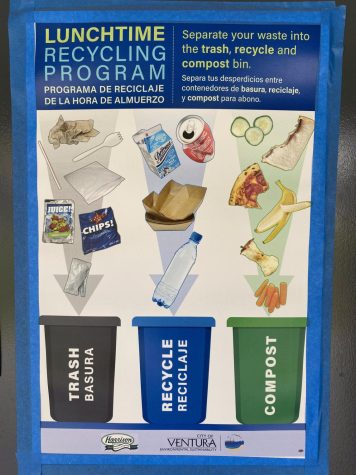 At the event itself, volunteer judges included local environmental experts, such as representatives from the Port of Hueneme, Ventura Water, the Clean Power Alliance and the University of Southern California (USC). The judges were looking for an outstanding and impactful project that fell within the four categories of the competition — energy reduction, water conservation, waste reduction and creating a campaign to raise awareness for the removal of Ojai's Matilija Dam. The group also got the opportunity to meet California State Senator Monique Limón. Out of over 90 teams that participated in the annual EECCOA challenge, only 16 finalists presented their projects at the May 22 convention. Of these 16 finalists, Foothill's own students impressively came out on top, winning a $500 cash prize. 
Despite this, winning money was not the team's main incentive. After going through a year of APES curriculum and participating in many hands-on experiences, including a MERITO funded field trip to the Matilija Dam, this group of individuals gained an important perspective on preserving the environment. Turner reflected on going to the dam, expressing both his gratitude as well as the value of the trip, by stating it was, "enjoyable to be hands-on" as APES students did water testing and were given a chance to see what tangible goals each of their groups were working towards. 
Although some students may have viewed the project as just another grade, this group found both the fun in it as well as realized how much of an impact they could truly make. "While we did submit it for our final, I actually had a fun time just bonding with my friends," Nguyen said. Turner reflected similarly, "having fun was a big part of it." In terms of goals for their project, they "wanted to clean up [Foothill Tech's] campus and make it better" as well as "inspire like-minded people […] to raise awareness about cleaning [the] city and […] campus." 
While their success is largely due to their hard work and innovative ideas, Tennison also provided some words of wisdom for future APES students hoping to compete. "Be bold and choose an idea that isn't super costly," while continuing to share that many other groups had ideas that could cost an upwards of "$60,000 to 70,000" while their groups' project was a far lower cost to implement. Tennison ended with a parting note stating, "if you do something cheap, but still impactful, I think that's the way to go." Part of their low cost plan was to implement posters around the Foothill Tech campus throughout the beginning of the 2023-2024 school year to encourage students to properly dispose of their trash. 
The EECCOA challenge is a beneficial learning experience for students all throughout Foothill Tech as those in it actively learn how they can  make a valuable impact on their community and those not can watch their peers and possibly follow in their footsteps. Despite the fact that their project proposals are graded, many still find the experience both rewarding and fun as those in their community who benefit from the initiatives can look forward every year to seeing new improvements on the Foothill Tech campus.