The death of the American mall
It is a Sunday afternoon and the atmosphere of the Pacific View Mall is dead. Empty halls, empty stores, empty food court, save for a few people here and there. The once bustling site is now deserted and sleepy. This isn't an uncommon sight; the mall that was once a well-favored hang out spot is now unfrequented.
This is not just an experience seen in Ventura, Calif., but malls have been dying all over the country. As online sales boom, there are currently only 700 malls in the U.S., down from 2,500 in the 1980s. The popularity of malls is estimated to rapidly decrease within the next few years. A study done by Coresight Research in 2020 projected that 25% of the country's malls will close in the next 3-5 years and by 2027, 40,000-50,000 retail stores may shut down.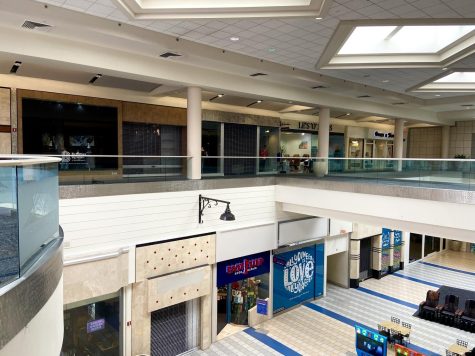 You don't have to look very deep to notice the cause of this anomaly. The COVID-19 pandemic, beginning in early 2020, left a substantial impact on the essence of malls. In the early months of the pandemic, many states mandated that only essential stores could stay open. To adapt to these drastic changes, many found themselves shopping online from popular online stores such as Amazon and Shein. In fact, an Annual Retail Trade Survey (ARTS) showed that there was a 43% increase of e-commerce sales from 2019 to 2020, rising from $571.2 billion to $815.4 billion. 
As the necessity for retail stores in malls decreases, many stores have been lost. The Pacific View Mall that once had GAP, Express, H&M, Forever 21, Foot Locker and even Build-A-Bear is now filled with empty spaces. Emma Flores '25, a student who spends time at the mall, shared her thoughts on this. "A couple of store spaces are just taken up purely by ads, like Trader Joe's and other stores that aren't in the mall," she said. Due to the fact that many of the bigger companies are leaving the mall, small businesses are losing customers as well because of the decreased foot traffic. "I feel like they're prioritizing getting paid to do ads more than actual customer wants and needs," Flores said.
Breanna Velasco, a worker at California Pizza Kitchen and Journeys in the Pacific View Mall, has noticed this as well. "I've always thought that malls, especially the one in Ventura, are extremely dead," she said. With her experience of working in the mall for around eight months, it has become clear to her.
"
All of my memories from [when I was younger] are full of people and it felt like everyone would go to the mall then, but even when I started working, it never got packed like how I remembered it.
— Breanna Velasco
While the mall struggles to gain a crowd, other locations with a more diverse variety of entertainment options are thriving. In Oxnard, Calif., The Collection Riverpark has seen much more popularity in recent years. "At the collection, [people] have other things to do. There's The Annex, there's the park and there's the movie theater. I think when you bring it all together, the environment that it creates is really nice," Rhea Gill '25 stated. Seeing as the Pacific View Mall is largely limited to clothing stores and the few dining options, many teens are naturally drawn to The Collection instead. With many more food and entertainment options, it has thrived despite the rise of e-commerce. 
On a wider scale, this has been happening around the country. The mall, once an important facet of American culture, is being reduced to a place that many are reluctant to go to. With the rise of online shopping and crowds of teens heading in the other direction, our mall as well as malls around the country are being threatened. We are facing a huge change in shopping  patterns and preferences. If our mall does not step up and fill the empty spaces with a new variety of stores as well as entertainment and food, it will only continue to lose business.