Culinary haven: Discovering delights at The Annex Food Hall
April 6, 2023
Love Pho Cafe
Love Pho Cafe is one of the original restaurants in The Annex. Although pho is their signature item, the restaurant offers a great range of Vietnamese foods. From spring rolls to vermicelli noodles, Love Pho Cafe is great to visit for a quick bite or a full meal. 
Ruby: I chose to try out the cafe's signature pho. The rice noodle soup came with a light broth, slices of beef and various veggies. The broth in this pho is spicy but even people with the lowest spice tolerance can enjoy it. Every soup dish is served with a little bag of basil, jalapeños, lime and bean sprouts; these fresh additions are great inside their soups. When eaten with the provided hoisin sauce and sriracha, it is simply perfect. The pho at this cafe is a hidden gem and is nothing short of perfection. Restaurants like Love Pho Cafe don't typically have a great take-out system, but something about their quick and attentive service proves this wrong. They offer so many different foods, but each is given a high level of attention. You can't go wrong with anything from their menu. I've tried most places in The Annex Food Hall and I have found that Love Pho cafe is one of, if not the, best. Love Pho Cafe is the perfect addition to The Annex. I would give this restaurant a 10/10 rating. 
Maggie: While eating at Love Pho Cafe, I ordered the grilled tofu plate. In addition to the many flavorful bone broths and meat options you can get at Love Pho Cafe, they also offer a variety of choices for a vegan or vegetarian diet. The grilled tofu is a perfect example of its variety. If you choose to dine in you are welcomed by an inviting presentation: the flavorful tofu, grilled to perfection, by a mountain of steamy white rice, and a colorful salad available as a side dish. The food is perfect, as you take your first bite you taste the delicious, slightly crispy tofu paired with the fluffy white rice to balance the flavors; the taste is amazing. For additional flavors, the meal comes with an optional fish sauce. The tofu imitates grilled meat, giving customers a good alternative to meat options, while still tasting delicious. Overall, I give the dish a 9.55/10.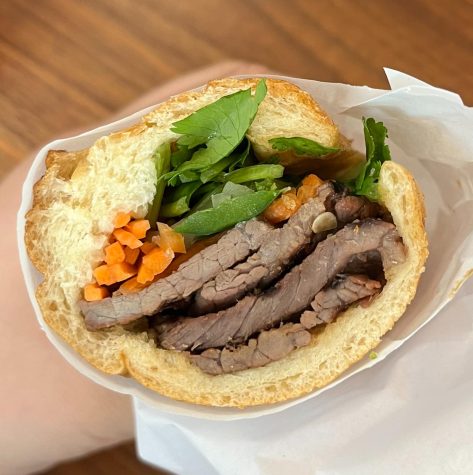 The grilled tofu is not limited to the rice plate — it is also used in Banh Mi, sold individually as an appetizer and used in other dishes, never disappointing its consumer with its flavorful taste and crispy texture. To perfect my meal I also ordered a flavorful fruit and tea drink. Love Pho Cafe sells a variety of teas, jellies and bobas that customers can mix and match. My personal favorite is Lychee green tea with rainbow jelly; their drink variety is truly impressive. My only complaint would be the seating at Love Pho Cafe: when the weekend comes around the establishment is packed and crowded, and there is limited seating. Sometimes, the wait can be a struggle. 
Julia: I ordered the Grilled Beef Banh Mi, which featured grilled marinated lemongrass beef, cilantro, pickled carrots, onion and more, all wrapped in a crispy French roll. The beef was savory and flavorful, however I personally thought that it was a little bit dry and rough to chew through. Despite that, the refreshing cilantro was definitely a great contrast to beef and it pulled the sandwich together. This sandwich was a refreshing and satisfying meal that I would rate a 6.5/10. 
I also tried the Grilled Pork Fried Rice, which is easily my favorite item on the menu at Love Pho Cafe. I am a huge fan of fried rice and I've tried it at many different places. The fried rice at Love Pho Cafe may not be particularly outstanding in my opinion, but it is definitely worth trying. The rice was aromatic and mouth watering, complemented by vegetables like carrots and peas. In comparison to other meat options at this restaurant like chicken and shrimp, the grilled pork is by far my favorite due to it being very flavorful and juicy. This dish is something that I get almost every single time I come to The Annex, and I rate it a 9.5/10.
Silverlake Ramen
Silverlake Ramen is an essential restaurant to stop by when exploring The Annex. Their diverse menu, ranging from sushi, appetizers and ramen, lures in guests with inviting smells as soon as you walk through the doors of The Annex. When ordering, the staff is welcoming and kind, making small talk and suggesting different additions to each and every dish. As one could imagine, sometimes The Annex can get too crowded, making it difficult to find a table to enjoy your food. Silverlake Ramen cleverly avoids this problem by providing reserved seating for their customers. While the seating may be more accessible, the pricing is not, with their ramen bowls starting around $15 — we found ourselves wincing at the receipt after ordering only two bowls. While the price may be slightly higher than one may expect, Silverlake Ramen's carefully crafted flavors deliver.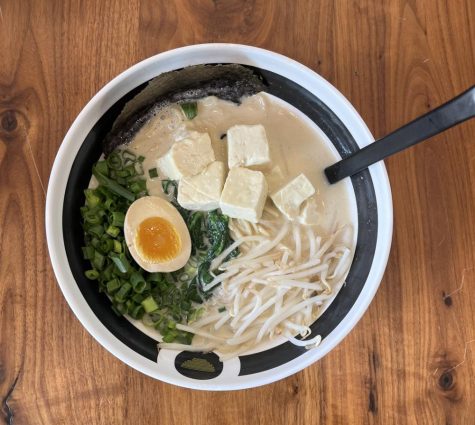 Camilla: When first served, the appetizing presentation and the rich smell alone of The Classic Ramen is enough to paint a mouthwatering picture for the taste buds. Upon dissecting the construction of this ramen, it starts off with a base of creamy pork broth, black garlic oil, spinach, seasoned egg, green onion, bean sprouts and seaweed. Last but not least, customers get to choose either the addition of chicken, pork or tofu to their ramen. I went with tofu because the ramen's creamy pork broth is so rich and heavy, that a lighter choice of toppings is beneficial for the stomach in order to enjoy the ramen to the fullest extent. With that being said, the combination of the creamy pork broth and the soft tofu chunks brought heaven to my mouth. The tofu was cooked to perfection, as its texture reminded me of a cloud and practically disintegrated in my mouth, releasing any broth that it had absorbed. I also loved the crunch of the bean sprouts, as they brought a good balance of texture to the meal. All together, I would rate this dish a 9/10, as it is great to get on a cold and foggy day to warm the soul.
Amber: I chose to order the Shoyu Ramen with Pork, and this delicious Ramen Bowl is the perfect thing to soothe your hunger during the rainy season. It was a little pricey at $15.75, but it went beyond just satisfying hunger. The pork was tender and flavorful, providing the perfect balance to the warm and rich soup broth the noodles sat in. Presentation-wise, this was aesthetically pleasing and looked almost as delicious as it tasted. Planted on top of the soup were scallions, spinach, a soft boiled egg and a piece of seaweed. The egg was jammy and complimentary to the spinach, which was earthy and slightly sweet. While the seaweed provided mostly aesthetic appeal, it was pleasant nonetheless. The scallions, piled into the side of the bowl, were then mixed into every bite to provide a slightly spicy flavor. Overall, this dish was delightful, supplying enjoyable flavors with every bite which complimented each other in a flawless way. I give it a rating of 9/10.
Two Hands Korean Corn Dogs
Ruby: I ordered one of their most popular items, the Spicy Dog. Maybe I didn't order the right thing, but this restaurant is nothing to write home about. The popularity of Korean corn dogs certainly garnered my interest, but I didn't find that this restaurant did them justice. Why would anyone ever top a corn dog with crushed-up Hot Cheetos? Not even lime-flavored Hot Cheetos, for that matter. I enjoyed the choices of filling — rather than just a classic hot dog, you can also get cheese or  half hot dog, half cheese, but that was about it for my pros. I can't imagine anyone is going to this restaurant for the taste. Sure, maybe it looks good for a photo, but this was a one-and-done place for me. The only reason I would eat at this restaurant again is to relive the cheese pull that each corn dog had. This proves that people only eat at this restaurant for the looks of the food. There is a chance that Two Hands Corn Dogs has better dishes to offer, but if their main offering of corn dogs isn't good, I truly wonder if this restaurant will stand the test of time in The Annex Food Hall. 
Julia: I ordered one of their most popular items: the Potato Dog with half meat and half mozzarella. Surprisingly, I thoroughly enjoyed my experience at this restaurant. I have never tried Korean corn dogs before, so I was particularly excited for this restaurant and it did not disappoint me. The first thing that caught my eye about the restaurant was the ordering system, where you order from a tablet rather than a cashier or waiter. I personally liked this aspect because it prevented the hassle of speaking to a stranger. When the Potato Dog actually arrived, I was quite surprised by its appearance, but nonetheless it tasted fantastic. The flavor was very different from an American corn dog because of the sweetness, and I liked that difference. The cheese was savory and stretchy and the potatoes were a fantastic addition to this item. Overall, I would rate it an 8/10. 
Another item that I ordered were the Kimchi Seasoning Fries. These fries were by far the best thing I tried while I was at The Annex. The fries had a crispy and crunchy outside while also being soft on the inside. Although it got my hands a little messy, the seasoning was fantastic. It was flavorful, but not overwhelming. It wasn't too spicy, but it was just enough flavor to make these better than your average french fries. Overall, I would give them a 9/10. 
Afters Ice Cream
While eating in The Annex you might start craving something sweet, and nothing is better than finishing up a meal with a nice scoop of ice cream. As you walk into Afters you are welcomed by a very modern, aesthetically pleasing room, decorated with LED lights and a black-and-white theme. Walking up to the glass-guarded ice creams, the variety is wild. Afters is known for their unique and strange flavors, giving its consumer an opportunity to taste combinations they might have never thought of. 
Camilla: The Mint Monster flavor may be one of the brightest ice creams that I have ever seen. The green color was deeply saturated, and also had chocolate chip cookie chunks, as well as crushed Oreo pieces mixed into it. While the idea of it may have been cool, the bright green color wasn't appetizing for the eyes and almost made me hold off on ordering it. I ended up going through with it, hoping that it would exceed my expectations, but it did not. Once I bit into it, I realized I liked everything about it — the cone, the chocolate chip cookie chunks and crushed Oreo pieces — except for the flavor of the ice cream itself. The mint tasted fake rather than fresh, and wasn't super strong. Overall, I would rate this ice cream a 3/10. 
The Blend Superfood Bar
Ella: I ordered the Hawaiian Bowl and it did not disappoint. This bowl combines the best textures of smooth and crunchy with delicious elements of sweet and salty. The base contains acai, mango, banana and coconut-pineapple juice. Additionally, it is topped with strawberries, mango, granola, coconut and banana — however, I substituted the bananas out. Hidden under the fresh fruit and nutty granola lies a creamy, smooth, perfectly blended acai smoothie. The visual representation was on point. I was a little nervous that the taste wasn't going to beat the aesthetic of the bowl, but I was wrong. As this was one of the very few acai bowls I've had, its taste exceeded my expectations and I was soon in a tropical paradise. The ratio of base to toppings was mostly well-balanced. However, it was kind of hard to get to the smoothie portion at first due to the amount of toppings. Nonetheless, the delicious Hawaiian taste quickly made up for it. The price of the bowl was $11.95 for a small, which I think is a little pricey for what you're getting. Overall, this bowl was delicious and satisfied my palate. I would rate this bowl an 8/10.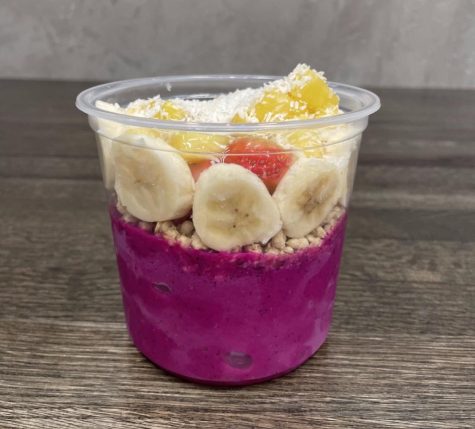 Julia: I ordered the Paradise Bowl, which was a vibrant pitaya bowl bursting with flavor. The base consisted of pitaya, strawberry, pineapple, banana and coconut-pineapple juice, which all blended together to create a bright, tropical taste. To compliment the base, it was topped with granola, banana, strawberry, pineapple, coconut shreds and honey. Personally, I'm not the biggest fan of granola, but the concentration of granola in this bowl was perfect. It was not overwhelming; just enough to add some crunch. The base itself was flavorful and tart, which was wonderfully contrasted by the creamy banana. Although this was the first pitaya bowl I've ever eaten, it was outstanding in terms of presentation as well as flavor. Overall, this is a perfect sweet treat to order on a hot day, or whenever you're craving something bright and flavorful. I would rate the Paradise Bowl an 8.5/10. The Blend Superfood Bar, although somewhat pricey, is definitely worth your time. 
Pizza Man Dan's
Located in The Annex, Pizza Man Dan's serves pizza by the slice and contains a full bar. The service was immediate and trouble-free. Usually, their pizza is already made and ready to be eaten. If not, you only have to wait a short while to dig into your delicious meal. Dining at Pizza Man Dan's is a great way to satisfy your appetite while looking at others, possibly waiting in long lines for their food. 
Ella: I bought a slice of pepperoni pizza and my mouth instantly watered as soon as I opened the box. The pizza was still warm, as it had just come out of the oven, and I was ready to devour it. The cheese was melted to perfection. Unlike other pizzas, there was only a small amount of grease, making it more appealing to look at and easier on the digestive tract. There was a perfect amount of pepperoni to savor in every bite: it had just the right amount of spice to not overwhelm the other flavors in the pizza. The sauce to cheese ratio was excellent. There's very little crust, maximizing the bites of cheese and pepperoni. The slice isn't that filling so if you're looking for a small meal, this is perfect for you. I would rate this delicious slice a 9/10.