The Ojai Farmers Market: a local community of support
Just north of Ventura's sandy beaches and surf spots is the infamous small town of Ojai, Calif. Known primarily for its downtown area featuring boutique shops and restaurants, tourists and residents alike are met with the bustling of people and live music as soon as they arrive. Located within these not-so-quiet streets of downtown  is the weekly Ojai Farmers Market: a small, local market encompassing a variety of vendors who sell anything from fresh produce, flowers, local honey and olive oil.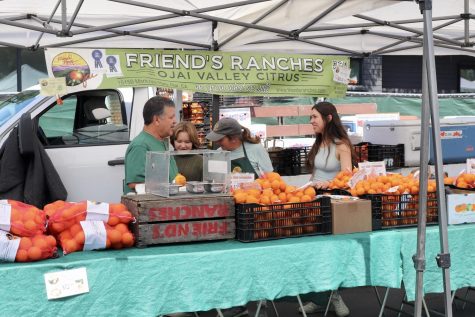 When you ask any of the vendors if the farmers market is operational every Sunday, they all respond the same: every Sunday, rain or shine. The catchphrase is plastered across their website and everyone seems to know it by heart, telling stories of persevering at booths during rainstorms, heatwaves and earthquakes. Whether the vendor is brand new to selling at farmers markets or they've been doing it for decades, it seems as though there's a strong sense of community felt in Ojai. "[We're] like a family," says Cynthia Korman, who's been the manager of the farmers market since 1991. When asked what she does at the Market, she half-jokingly replies, "everything."
The Market is "intimate" and has a "great community," according to B.D. Dautch of Earthtrine Farms. Earthtrine Farms started originally as the result of an overgrown garden, a simple problem really: too much product, not enough people. Dautch began selling his extra vegetables at the local co-op and to nearby restaurants in his neighborhood of Ilsa Vista, Calif. His small garden quickly expanded, "next thing you know, the garden became a small farm and then a medium sized farm." The garden continued to grow as it developed into the over 40-year-old business it is today. Dautch started doing the Farmers Market in Santa Barbara throughout the late 70s and 80s, but was later hinted towards the Ojai market by the manager at the time and began selling there once he moved to Ojai in 1999. 
Between the "great selection" of organic products and overwhelming sense of community, each vendor can't run out of positive things to say about the Market. Dautch also adds that the day and time play a factor in its success. "On Sunday morning people are in a good mood," calling the positive energy shoppers bring "contagious", adding last minute "the good contagious." 
"
If you've lived near the ocean, it's like going to the beach: if you live in Ojai you go to the farmers market.
— B.D. Dautch of Earthtrine Farms
Even as a brand new seller, Leslie Miller of Wagg'n Tails Fresh Dog Food feels similarly, stating that people drive "three hours to get here," coming from all over the county to experience the uniqueness that Ojai has to offer. Miller, who started selling at the Market just two months ago, began her booth as a self-project when she "started getting into health and longevity for [herself]." She quickly realized how much junk food she was putting into her body and as she began to switch her lifestyle she thought, "Why haven't I been doing this for my dog?" and thus her fresh dog food business was born. When reflecting on why Ojai specifically is so special, she said, "I think it must be the people that are actually selling it to others," noting her fellow vendors and their popularity. A  particular cherry stand was mentioned as a prime example of the popularity. "They're here almost every year and then they run out and don't come back for another season," sharing just how quickly even your favorite fresh produce can be gone for the year.
Although shoppers at the Farmers Market will find a surplus of fresh produce or organic flowers, there are also some very unique stands hidden within the thicket of fruit and vegetables. For example, one may find a small table with a sign simply reading, "Send a lil' postcard to someone you love." The small station features a simplistic set-up: a table with a typewriter, chair, a box of postcards and stamps. The owner and creator himself, Richard Barnitz, has been "typing" at farmers markets for almost two years now, and thought of the idea during the Covid-19 pandemic as it, "seemed like a cool way to get out of my town and meet some people." Over the years, Barnitz's business has evolved as he now sells at numerous markets including ones in Santa Barbara and Ojai.
The business that Barnitz has cultivated is specifically touching, as it "thrives on people that are willing to come up and say hello," those who are "brave enough to make that connection happen." Ojai is a terrific place for a business like this to flourish, as Barnitz points out that "people are very willing to engage" in the sunny streets of Downtown Ojai. As a whole, Barnitz truly enjoys the numerous facets of his business, but specifically revels in the fact that he has "the best customers." Explaining that "anyone that's rude isn't going to stop and send a postcard, so it's just all friendly, wonderful [and] kind people" that he gets to engage with people all day. 
On the flip side, the Farmers Market also features businesses that are far from new and have been successfully growing for decades in the Southern California (SoCal) region. Friends Ranches Ojai Valley Citrus has been selling products for almost 150 years in SoCal. Tony Ayala, a seller and retired fireman illustrated Friends Ranches colorful history, "I married into this, […] it was my wifes great, great, great grandfather's friend who started it." Friends Ranches sells at a variety of Markets in Ojai, Santa Barbara, and Santa Monica. They even sell their products in local grocery stores like Westridge if you can't make it to a Farmers Market.
The busy crowds of the Farmers Market may seem daunting to both sellers and buyers, but not for Ayala who says his favorite part of the Market is "talking to the people." Interested shoppers will walk up and ask about the oranges or the different seasons they can get their favorite variety, but Ayala says, "I've really enjoyed talking to folks and educating folks" and that it's "so easy to talk about it." When asked if he enjoys helping run this family business, Ayala stated, "It's fun doing a fruit that you know, something you believe in."
Whether you're a first time novice or a seasoned shopper who integrates the Farmers Market into your weekly routine, the Ojai Farmers Market is a welcoming and diverse space with a vibrant community that just keeps growing. So be sure to stop by for your favorite local produce, a thoughtful postcard or even for a fresh Ojai Pixie.