Teens and their new love for vinyl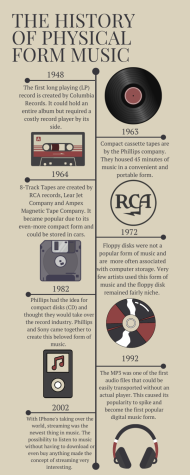 Vinyl sales are up and it's not because older generations are trying to relive their teenage years. From discographies of Harry Styles to Metallica, vinyl sales are up 22% in 2022, thanks to the revival of physical forms of music listening and their trends. 
The evolution of music has currently found its way to a digital form of listening known as streaming. But like any decades-old trend, vinyl has found itself back on the shelves. For the first time in many years, vinyl records (vinyl) have outsold compact discs (CDs). Vinyls now make up over 50% of all physical album sales, while other forms such as CDs, cassette tapes and 8-track tapes make up the other half. This begs the question: who is the new demographic of these vinyls? It turns out that today's teens have started the resurgence of vinyl in pop culture. 
Avid music enthusiast Aiden Connelly '23 described, "Usually we go into record stores and we'd be the only ones in the shop, we could be in there for hours. Now we go in there and there's like 15 people." This ever-growing popularity has brought a wave of new customers to usually smaller businesses. Ventura's record stores like Grady's Record Refuge, Salzer's and Jockamo Records have also seen this rise. While long-time vinyl fans may not enjoy the new wave of teens in local record stores, these same stores were struggling to keep their doors open just a few years ago. Now, listeners can count on smaller places to have popular albums on hand. 
An important factor to take into consideration about the surge in sales is that some vinyl collectors don't even own record players; many simply buy the records to support their favorite artists or display them as decorations around their homes. According to a study by Luminate in 2022, only 50% of those buying vinyl are actually playing them on a record player. Are younger people just buying vinyl for the aesthetic? 
The romanticization of eras when vinyl records were significantly more common has given vinyl even more popularity. Both the "grunge" and "vintage" aesthetics that were popular in the 1970s and 1980s have led teens and other generation z'ers in an attempt to construct their lives around these trends. These old fads have made physical forms of music come back into society today. Aadhya Bavkar '25 emphasizes, "I think they're a really cool collector's item and they are also vintage, yet can be used to listen to many different types of music." 
Artists have taken note of fans willing to buy their vinyl for the look, with many of them having taken advantage of this. Taylor Swift's "Midnights" has six color options ranging from moonstone blue to jade green. Even the Red Hot Chili Peppers made 17 different vinyls of different colors for their latest album, "Unlimited Love." "Midnights" was the highest-selling vinyl in 2022 and critics have noted that this may be imparted to their labels, suggesting fans should collect the various colors. Each of these artists promote their vinyls by adding a "collectors edition" or "special pressing" sticker, although they are simply pleasing to the eye—but twice the price. 
"
I've always loved music and I thought I would be closer to the actual art of music by getting physical copies.
— Angelina Hernandez '24
Whether the prices are affected by inflation or just flat-out price gouging, there has definitely been a boost in the costs of vinyl. Many fans that have been purchasing records since before the boost in sales aren't happy with it. "I think there has definitely been a rise in the prices of vinyl," explained Hernandez, "Even before COVID-19, I would say that they were $15 to $17 each whereas now they can range from $30 to $40, even $50, which is unfortunate for me, but it has definitely gotten more popular." Connelly had a broader approach, taking into account other forms of physical music as well. "Analog everything has gone up in the past few years which sucks but I think it's worth it." 
Next time listeners are looking for music to enjoy, vinyl should not be ruled out. Although digital music may be easier to stream than turning over a record every few songs, there's still a myriad of aspects that vinyl has to offer, whether it's owning tangible music or pure aesthetics. Vinyl may not be the most used form of music, the resurgence of records shows that physical music is here to stay. 
Wanna hop on the trend? Check out these local record stores:
Grady's Record Refuge: 2546 E Main St, Ventura CA

Jockamo Records: 522 E Santa Clara St, Ventura CA

Salzer's Records: 5777 Valentine Rd, Ventura CA 

Murphys Vinyl Shack: 977 Linden Ave, Carpinteria CA

American Pie Records: 2195 Ventura Blvd, Camarillo CA