Dragons show off their holiday spirit during Winter Week
As the holiday season progressed and excitement grew for winter break, Foothill Technology High School (Foothill Tech), embraced the holiday spirit with a festive winter spirit week. The Winter Week consisted of different holiday themes to dress for, while also adding some extra fun activities throughout the day. The week went from Dec. 12-16, 2022, run by the Associated Student Body (ASB).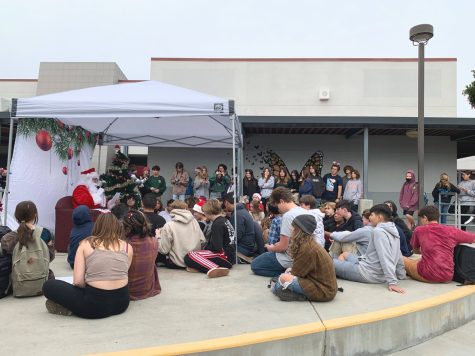 The week started off strong with a holiday pajama day, when students were encouraged to wear festive patterns and themes. In addition to wearing pajamas, students were able to go onto the stage and send a candy cane gram to anyone they might want to give a special message to before the break. 
The week continued with the theme "awkward family photo," where students dressed up as a family with their friends and took a photo up on the stage. ASB students set up a photo ares complete with a backdrop, props and a tripod. 
As the week progressed, more school spirit was seen throughout the school. The theme on Wednesday was "mad about plaid." Students donned their plaid shirts, pants or flannels, and a senior coffee bar was set up for the soon-to-be graduates. 
Though the seniors definitely appreciated the breakfast foods and drinks, not everyone was happy with the limited inclusion. When asking what can be improved about spirit weeks, Ryan Alderman '25 said, "Maybe incorporate the other grades, maybe incorporate juniors or anyone else, including everyone."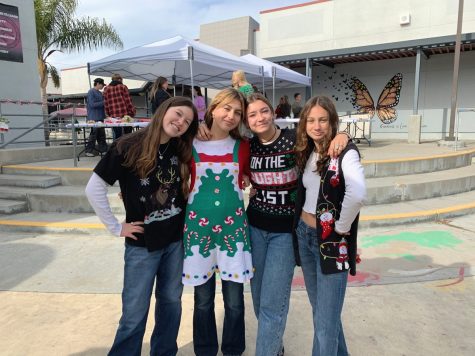 As the last days of school before the winter break proceeded, the students got more excited and festive with ugly sweaters and seasonal colors. Music played on the stage during every lunch, and on the last day of school a gingerbread building contest was held. 
The spirit week was a great way of connecting with other students and preparing for winter celebrations. Lots of people can connect with the different seasonal drinks, colors and traditions during the season. 
Kylie Burns '25 said spirit weeks have positive effects on the students, explaining, "I think it just makes everybody happy and for me it gives me something to wear for the next day, also it brings people together." Many students can agree with this statement as Emiliano Ferro '25 also said, "People are more involved with school with [spirit weeks]." 
As the school day finished and students left the school, excitement filled the air for the break. Students rushed out of the Foothill Tech hallways, and the spirit week could be seen as a major success as most students participated each day. Overall, the week was well spent, complete with seasonal clothing and traditions, and students can look back positively at the festive spirit week.