Foothill Tech's Día de los Muertos celebration brings families together to commemorate past loved ones
Students and families gathered to honor their past loved ones at Foothill Technology High School's (Foothill Tech) celebration of Día de los Muertos on Nov. 2, 2022. 
Hosted by the Be Heard club, the event included various fun activities such as Lotería games, dancing, face painting and more.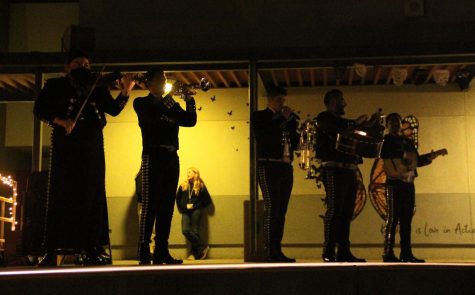 The main focus of the evening was to celebrate the lives of those who had passed. To do so, families brought pictures of friends and relatives who have passed away and placed them on the ofrenda, a table beautifully decorated with candles and flowers serving as an altar to commemorate their loved ones. It was evident that this night was very meaningful for the students and families in attendance. For example, Genesis Mayorga '23 shared that "It means a lot to me just because I've had a lot of people pass and it's just something to be able to keep their memories alive." 
This event was not only important to the families who attended. The celebration of Día de los Muertos serves as a beautiful representation of just one of the rich cultural traditions celebrated by the Latinx community. As Montserrat Elizondo '25 put it, "Ventura sometimes feels like a community where minorities are underrepresented, and especially in a school this size, it feels good to have an event focused around our culture."
In the quad there were tables set up for people to purchase gifts, snacks and refreshments. Tamales, arroz con leche, buñuelos, pan dulce and hot chocolate were some of the delicious items served that night. The Mexican flag was displayed on the walkway and papel picado (perforated paper) was draped all around the quad.
In addition to the colorful decor and delicious food, a talented mariachi band and folklore dancing helped to spice up the evening. A dancer performed on stage near the end of the night as the audience watched in admiration. 
Although this holiday is celebrated all across the world, Foothill Tech made it special for the students and families in the Ventura community and should feel proud of how loved ones were honored during this wonderful event.