Boys' water polo meets season end in CIF competition against Buena High School
The Foothill Technology High School (Foothill Tech) boys' water polo season has come to an end after a 15-5 defeat at the hands of the Buena High School (Buena) Bulldogs on Wednesday, Nov. 2. 
The boys' team was ready to go in their first California Interscholastic Federation (CIF) playoff match of the season against cross-town rival Buena, who they lost to earlier in the year by a score of 20-4. Foothill Tech went in hoping for redemption in playoff competition to keep their season alive, but their hopes were quickly dashed by the dominant Bulldogs.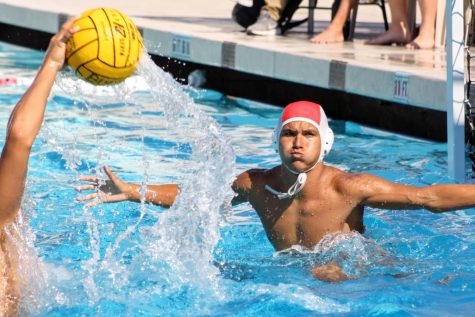 Despite the unfortunate end to the year, the team was able to celebrate their Senior Night back on Oct. 20, crushing Villanova Prepatory School (Villanova) with a dominant score of 19-5. 
The senior roster lined up with Nathan Buehner '23, Thomas Blanchette '23, Thomas Chadbourne '23, Ryder Hart '23, Ryan Webb '23 William Barnum '23, Pascal Hayward '23, Shawn Gerk '23 and Brennan Font '23.
Gerk commented on playing one of his last games as a senior, "It feels a little disheartening that I won't be able to enjoy another season with my team."
The emotions going around after the game were strong, arms wrapped around everywhere, smiles and congratulations going around. The Dragons were happy to secure a strong win and to move past the league level onto the CIF playoffs, but sad to see that it was one of the seniors' last games with the team.
Gerk described the emotions of approaching the end of the season, "Everyone was enthusiastic and happy we secured another win and we are glad to have such a great bond."