A spooky feel drifts into Foothill Tech during Halloween-themed Renaissance Rally
Beneath a gray, cloudy sky, Foothill Technology High School (Foothill Tech) embraced the autumn season with the school year's first Renaissance Rally and Spirit Week from Oct. 10 to Oct. 16, 2022.
As colder weather approached, Monday brought a wave of sweaters, keeping with the day's theme of Sweater Weather. On Tuesday, grades faced off in a color war: freshmen in white, sophomores in gray, juniors in black and seniors in red.
On Wednesday, the halls were flooded with Dodgers clothing and other jerseys for Sports Team and Jersey Day. Thursday was Ties vs. Tie Dye, with many students dressing in full formal wear for the theme. On Friday, Halloween Costume Hints had some subtle clues about students' costumes, while others chose to simply wear their attire for the day. 
"
As freshmen, it encourages us to be involved and participate in school activities.
— Jelisa Rivera '26
Renaissance rewards students for maintaining a certain grade point average (GPA), or for improving it by a certain amount. For the first quarter, the rally was open to all students as a way to welcome freshmen and encourage students to perform well academically for the remainder of the school year.
On Oct. 14, Foothill Tech students were greeted with various Halloween activities at lunch, organized by the Associated Student Body (ASB). Holiday music played from the stage, with songs like "Calling All The Monsters" by China Anne McClain and "Monster Mash" by Bobby Pickett elevating the seasonal feel.
The area was decorated with gravestones, spiderwebs, skulls and other Halloween decorations in preparation for the Hallows Eve dance.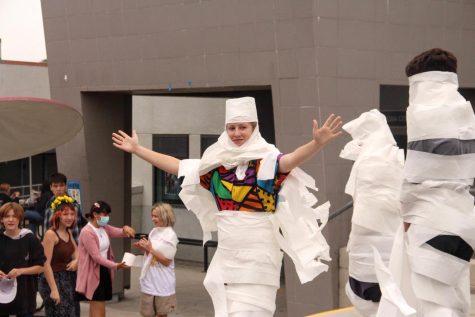 On one side of the quad, a "witches' brew" tent was set up, offering a red concoction for students to enjoy. Along with it, a face painting tent was set up, attracting a large crowd of eager students.
A large, inflatable, spooky tunnel with a sign reading ¨welcome mortals¨ led to the other side of the quad, which was filled with games for Dragons to play.
Air hockey tables quickly filled with friends loudly competing. Next to them was a table with arcade-style games and a Pop Shot Basketball game. Most popular, however, was Fear Factor, a game where blindfolded players stuck their hand into containers filled with creepy textures like wet spaghetti and gelatin. 
Digging through them, a player's goal was to find plastic snakes or spiders. Grimacing and shrieking through the process, players sent the contents of the buckets flying when they flinched.
On the stage, a toilet paper mummy contest was announced. Gaggles of groups flocked to the stage, excitedly choosing who was going to be wrapped. As the one minute race started, the crowd encouraged the teams as people were swaddled into mummies.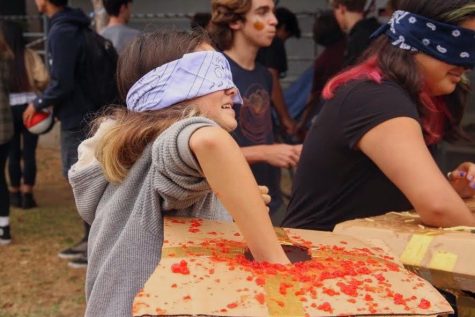 To decide on a winner, the audience had to cheer for the mummy they thought was best wrapped. One by one, the mummies burst out of the paper, leaving a trail of toilet paper in their wake.
Camila Jaurigui '26 reflected on the event, expressing that, "it's really special because it brings the school together and gives us something to bond over." 
In a similar hope for stronger bonds, ASB member Angelina Hernandez '24 addressed the tension between administration and students amid the changing schedules controversy. "We hope to see more communication and understanding within the Foothill community," she said. 
When the bell rang and ASB began cleanup, Foothill Tech students went back to class with decorated faces, red lips and plenty of holiday spirit.