Foothill Tech students exhibit their interests and talents at Club Rush 2022
On Sep. 16, 2022 students at Foothill Technology High School (Foothill Tech) enjoyed Club Rush, an annual event in which students gather to learn about the many clubs available during the school year. Students had the opportunity to join a wide variety of clubs to become a bigger part of Foothill Tech's community.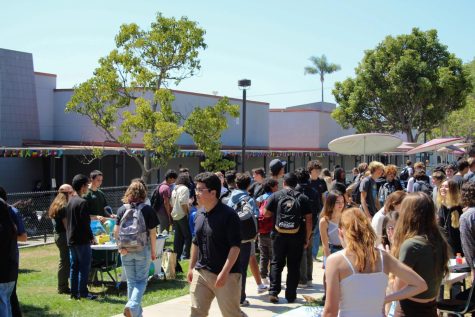 The unique interests of Foothill Tech students were on full display. Whether it was Disney, knitting, chess, film, or speech and debate, there was no shortage of clubs from which to choose.
At lunchtime, a large crowd of students filled the quad as club representatives attempted to recruit new members by explaining the purpose of their club or interest group. Great information was provided to students, not to mention the added bonus of candy and sweets! 
Associated Student Body (ASB) sophomore president Rhea Gill '25 commented, "The purpose of club rush is (A) to get people involved in clubs and to build school community, and then (B) to get people to meet each other because this event as a whole is very interactive and you get to talk to so many new people."
In the background, music was playing, creating a lively atmosphere for the event. There were more than a dozen clubs of various kinds included, and many of them were able to attract enough members to fill full roster pages.
"
Club rush can help students feel like they are a part of something.
— Ashlynn Weaver '25
When asked the question "What is the purpose of club rush?", Rebecca Trauner '23 answered, "To get kids and especially freshmen really interested in joining a club and a sense of community. That is what Foothill is based on." 
Being only the second year out of distance learning, the importance of creating a sense of belonging on a school campus has never been more important. Club Rush is an activity aimed at directly improving the student body's connection with each other and the school itself.  
It was clear walking through Foothill Tech that the sense of community inside was alive and ready to expand.