From Madonna to Taylor Swift: The MTV Music Video Awards' most memorable moments
Leading into the rush of awards season, the annual MTV Video Music Awards (VMAs) was hosted by rappers Nicki Minaj, Jack Harlow and LL Cool J on Aug. 28, 2022. With performances from stars such as Eminem, Snoop Dogg, Fergie (paired with host Harlow) and Conan Gray, the night was continuously filled with the classic award show routine. However, some particular moments captured at the VMAs throughout the years have been able to display the essence of the performers, to be talked about in the moment and for years—even decades—to follow.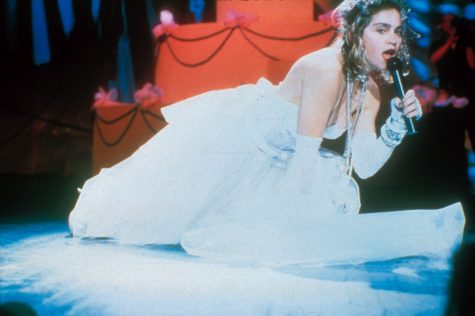 Opening for the 1984 VMAs, pop icon Madonna made her imprint on the annual award show with her infamous rendition of "Like A Virgin." Leaving numerous media outlets with a plethora of opinions regarding Madonna's "scandalous" attire and provocative dancing, she began her long-lasting reputation as truly unpredictable. The persisting impact of this performance was enough to land herself in the Advanced Placement United States History (APUSH) curriculum. Regarding the impact Madonna had on the audience, Foothill Technology High School's (Foothill Tech) Dan FitzPatrick (Fitz), stated that she "blew away the VMA audience with her risqué performance […] and forever changed the lives of middle and high school students across the country." As Madonna's entry into fame was historic and buzzworthy, her recent VMA appearances have been nothing less than what is to be expected of the untamable star. 
Paying an homage to her 1984 performance, Madonna teamed up with Christina Aguilera, Britney Spears and Missy Elliott for a medley of her hit songs "Like A Virgin" and "Hollywood" at the 2003 VMAs. Hollywood surely remembered the performance, but not completely for the songs. Madonna boldly kissed Spears and Aguilera following their collaboration, continuing her streak of being the most talked about star regarding her appearance at the VMAs.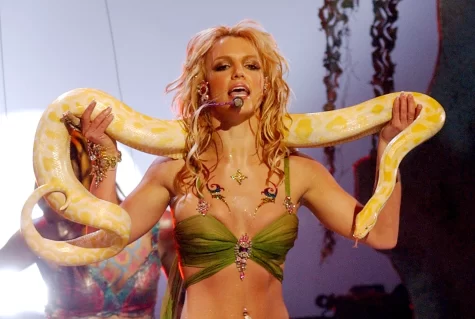 Similar to Madonna's untamed energy, the ex-Disney stars Britney Spears and Miley Cyrus publicly rebelled through their VMA performances. Spears had always been daring, but proved herself able of bringing her courage to a new level at the 2001 VMAs in singing her hit song "I'm a Slave 4 U" with a live python wrapped around her shoulders. While Cyrus had a human companion, Robin Thicke, for her 2013 VMA performance of "Blurred Lines," she was not any less daring. It was during this provocative performance where Cyrus brought popularity to "twerking." Though Cyrus was not the first to perform this move, she gets much of the credit because of this pivotal performance, kickstarting a cultural dancing transition that allows for more alluring dances to become normalized.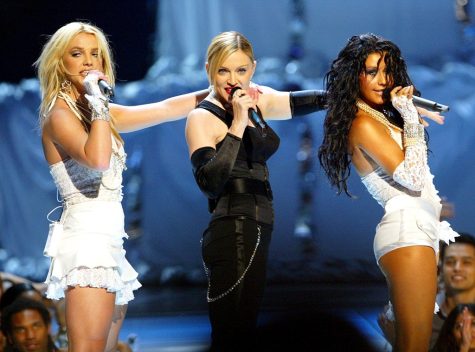 Arguably the most notable moment at the VMAs was in 2009, when Taylor Swift was awarded "Music Video of the Year" for her hit song "You Belong With Me." Upon receiving her award, rapper Kanye West interrupted her speech to voice his opinion that, although he was "happy" for her, "Beyonce had one of the best music videos of all time."  The interaction was brought back into the conversation when West released his song "Famous," in which he used Swift's name only to say that he "made her famous." Though Swift was stunned at the abrupt interference in 2009, she was able to voice her pent-up frustration in her 2017 album, "reputation". Though the interaction was a topic of much discussion for the following years, Swift has been able to rewrite her reputation of award show appearances, particularly with her most recent appearance at the 2022 VMAs. 
Swift's reception of "Best Long Form Video" for her short film "All Too Well: The Short Film" at the 2022 VMAs shocked crowds as she announced her tenth studio album "Midnights," which is to be released on Oct. 21, 2022. Containing thirteen songs, students and teachers of Foothill Tech alike anticipate the arrival of the upcoming album. Regarding the surprise announcement, Fitz shared that he "will definitely give Taylor Swift a go."