The Lost City: A comedic adventure that is worth the watch
Loretta Sage (Sandra Bullock) is a reclusive romance novelist whose books have become old news. Although her novels once shot her into the spotlight, she is now out of touch with the public and has no desire to adapt to the modern world. As a desperate attempt to help her maintain her fame and fortune, her manager, Beth Hatten (Da'Vine Joy Randolph), arranges a book tour for Loretta and her dashing cover model, Alan Caprison (Channing Tatum), to generate publicity for her newest novel.
When things don't go as planned for her big comeback, Loretta storms out of the studio, only to be kidnapped by the billionaire Abigail Fairfax (Daniel Radcliffe), as her extensive knowledge on archaeology has made her the perfect translator of ancient text. Driven by a need  to win his fathers approval, Abigail brings Loretta to the Lost City on a remote Atlantic Island, so she can decipher a map to the fabled Crown of Fire.
After finding out about her kidnapping, Alan is determined to find her and bring her back to safety. However, although he portrays the heroic "Dash" of Loretta's novels, he is nothing of a hero himself. So, he recruits an old friend, Jack Trainer (Brad Pitt), to help rescue Loretta. Although the rescue runs quite smoothly at first, things quickly go astray and Loretta and Alan find themselves alone in the jungle, on the run from Fairfax's men.
"The Lost City" was incredibly charming, as it was both suspenseful and hilarious. The film is constantly leaving you on the edge of your seat, with plenty of scenes in which the characters are either being chased or are trapped in dire situations. There were many moments where I thought that the characters wouldn't make it out alive.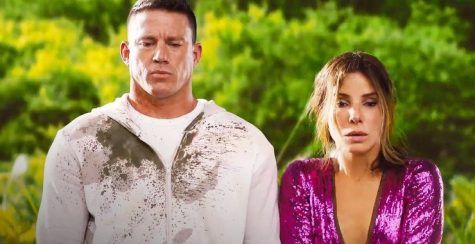 Tatum, having done films like 21 Jump Street, is brilliant at delivering comedic lines. The clumsy attributes of his character are hilarious to watch, especially when paired with Bullock's sarcastic comments. Bullock is brilliant at capturing the very essence of her character, as she perfectly expresses the discomfort her character feels when in the spotlight, yet also displays the genius and caring side when she is in her element. Radcliffe's character is also quite captivating, as he is your over-the-top, classic movie villain.
While there are both the comedic and adventurous aspects of the movie, there are also some really romantic and sweet moments. Unspoken moments such as the dancing scene really cement the chemistry between Bullock and Tatum.
Overall, "The Lost City" is an entertaining film that is guaranteed to leave you smiling. Even though it only received a 6.6/10 on IMBD and a 77% on Rotten Tomatoes, it gave my friends and I a few chuckles, which is definitely worth something. I would recommend it to anyone who thoroughly enjoys comedy, especially if you are in need of a good laugh.