Ghostbusters: Afterlife Movie Review
"Ghostbusters: Afterlife", released on Nov. 19, 2021, created an intriguing follow up for the beloved '80s movie and sequel. 
It follows Callie (Carrie Coon), a single mother, as she takes her children, Trevor (Finn Wolfhard) and Phoebe (Mckenna Grace), to Summerville, Oklahoma. In response to being evicted from their apartment in the city, Callie and her children take residence in the rickety home full of unique gadgets that her father left to her in his will. His death took place a few weeks before their move. 
STEM-obsessed neurotic, Phoebe, enrolled in summer school in which she met her beloved friend, "Podcast" (Logan Kim), and teacher, Mr. Grooberson (Paul Rudd), who informed her of the original Ghost Attacks in NYC in the 1980s, and that her grandfather, Egon Spengler (Harold Ramis), was one of the original "Ghostbusters." 
As anticipated due to the title and franchise, ghosts are released into Summerville and Phoebe, Trevor, Podcast and Mr. Grooberson embark on a quest to destroy the evil that lurks in their town. 
The new "Ghostbusters" brought in serious scenes, which featured the hardship placed on the kids while moving to a new town and facing eviction. The writers did an exceptional job of providing heartfelt scenes that didn't come out too cheesy. 
Grace stole the show while portraying the lead protagonist in "Ghostbusters: Afterlife". Her witty lines and engaging physical and emotional gestures brought the sci-fi film to life. 
Not only was it nice to witness incredible acting, it was fascinating to see the hero as an incredibly smart young woman who was highly invested in STEM. Phoebe embraced her smarts, and I believe her character shows young girls across the world that being smart and educated paves the road to success.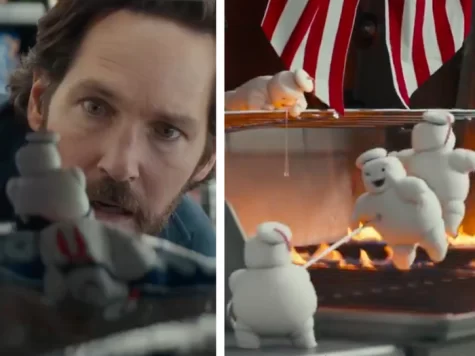 In addition to bringing in a good cast,  some delightful throwbacks were added to create nostalgia. One throw-back scene was when Puft Marshmallow demons reappeared, causing whispers of recollection to disperse throughout the theater. Paul Rudd's fear in response to the itty-bitty marshmallows made for an incredibly entertaining scene. The demons were hilarious and caused fans to reminisce about the time when they first saw the original. 
 Another iconic moment was when the sheriff spoke the familiar phrase: "Who you gonna call?" It instantly brought connection to the "Ghostbusters" song. The words are a household name.
To place the cherry on top,  the cast members of the original "Ghostbusters" made a special appearance in the new movie. 
Nostalgia bursted through the screen as Bill Murray, Dan Aykroyd and Ernie Hudson appeared, along with a tribute to Harold Ramis, who passed away in 2014. Producer Jason Reitman wanted to make sure that he made Ramis's character, Egon, a part of his film, so he chose to make the movie center around Egon's family and the life he left behind. Although it was majorly beneficial to have the original characters in the film, the writers left out some important parts of the storyline which made it unenjoyable at certain points.
 Plot gaps affected the believability which created a sense of skepticism. The Summerville home, had possessed all of the perfectly-working weapons and cars from the original movie.  It was simply unrealistic given how easily the new cast accessed all of these perfectly-working resources.
How were the 37-year-old machines still able to function, or how were the original cars able to be operated and fixed by a 15-year-old boy who had probably never worked on a car in his life? It was as though the writers were so desperate to bring nostalgia, that they didn't fully cover background information. 
It felt like an awkward jump into a movie with the plot instantly revolving around "demons" who had no background. Critic Hannah Strong described it perfectly in a review with the words, "..a generic-looking demon who wants to destroy the world for some reason." In order to enhance the movie, there needed to be more information and depth about the antagonists. Although there was more background information that needed to be included, the film was very enjoyable to watch.
"Ghostbusters: Afterlife" made for a fun watch for people of all ages. With Mckenna Grace and its overall hilarity shining throughout the movie, it was easy to drift away from the unbelievable plot lines. I'd give this 7.5 Paul Rudd screams out of 10.