Hot or Not: Students reflect on the decades themed Spirit Week
As the holiday season approaches, the Foothill Technology High School (Foothill Tech) Associated Student Body (ASB) organized a Decades Spirit Week to prelude the much anticipated Thanksgiving break.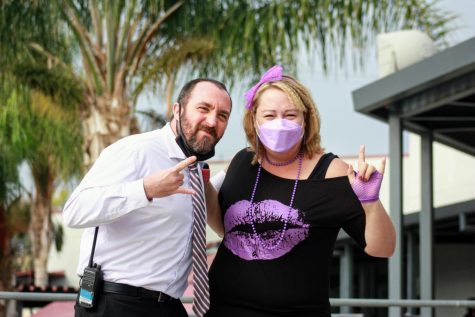 The spirit week was announced via the Foothill Tech ASB Instagram page, and was set to take place from Monday Nov. 15 through Friday Nov. 19, 2021 and outlined the theme schedule as follows: Monday – 50's/60's, Tuesday – 70's, Wednesday – 80's, Thursday – 90's and Friday – 00's. 
Foothill Tech is known for its abundance of individualism expressed through unique student style, so the theme seemed on point to attract large amounts of student participation. However, the participation turnout was abnormally low, due to a combination of potential factors such as the frenzy of Winter Formal ticket sales, social media advertisement and other school events. 
Upon interviewing students, many were surprised by the knowledge of an ongoing spirit week yet it was announced during morning announcements.
 "I wasn't aware but I probably would have done it if I knew," said Elissa Pyle '23, a regular participant in spirit weeks. She added, "I don't really think anyone knew about it."
The low participation did not go unnoticed by Foothill Tech staff including Heather Ferris, a Health and AP Psychology teacher.
 "Staff was notified via email on two occasions […] so I was well aware of the spirit week themes. Unfortunately, I saw significantly less participation by students and staff than I expected to see," Ferris explained. 
"
It would have been fun to have a lot of students and staff dressed up in the themes for each day
— Heather Ferris
In the past, ASB has posted an abundance of photos of students and faculty who participated in spirit weeks on their Instagram story, but for the decades spirit week, less than half a dozen themed-photos were featured on social media. 
ASB representative Clare Duganne '22 stated, "due to the combination of a multitude of working parts, advertisement was not on its top game and could have admittedly been a little more persistent […] but @fthsasb does have over 1,000 followers, so it should be safe to say announcements reach a majority of the student body."
Duganne also provided multiple reasons for ASB's last minute choice to host a spirit week including numerous student requests and a universal interest in vintage fashion. She also mentioned that since it was a last minute decision, that is a likely reason behind low participation. 
Spirit weeks often require a specific clothing item or prop not readily available to every student, and many students feel anxious at the thought of standing out in a crowd. This spirit week was the second of the school year and was subjected to less general excitement or "hype" than the previous. 
"
It does take courage to put on a juicy couture sweat suit in the morning and hope others at school also dressing 00's
— Clare Duganne '22
Editor's Note: A previous version of this article claimed that the spirit week was not announced over the school's loudspeaker. This information was corrected at 7:43 a.m. on Dec. 1.