Fashion at Foothill Tech: Under the layers of clothing
As a full campus of students fill the halls of Foothill Technology High School (Foothill Tech), they showcase an abundance of unique styles that were previously hidden behind computer screens. From thrifting to putting personal twists on trends, individuals today portray themselves through fashion as a creative outlet and a form of expression. We take a glimpse through a window of this personal expression at Foothill Tech, as we feature five students and unearth the linings of their outer personas. 
"My go-to is just thrifting because it's cheap and affordable, and it's easy to find basics," Elissa Pyle '23 states as she sports low rise jeans and a striped sweater. Describing her style as 2000s with a more muted color palette, she lists Lily-Rose Depp and Avril Lavigne as her influences. Pyle also reflects on the relationship between style and character, noting, "[my style] usually reflects just how I'm feeling…but I like my personality to be [out] there more than what I'm wearing."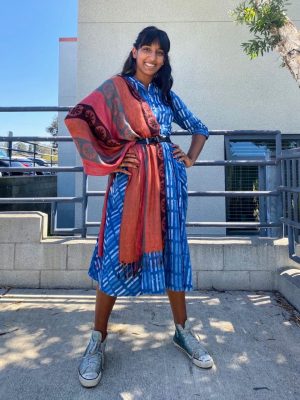 Modeling her outfit after Pauline Fleming from the 1988 movie, Heathers, Treya Desai '22 rocks a belted, funky dress. Along with finding inspiration from different movie characters, she grew up idolizing her aunt's sense of style, and she values her hand-me-downs. "I like timeless classics," Desai shared, "I love the Edwardian, Victorian big skirt and tiny waist kind of thing, and I do love Indian clothes." 
Clothing is versatile, and Desai incorporates this idea into her interpretation of what she wears. "Sometimes I just like to pick something crazy. I don't really have an aesthetic because I guess my aesthetic is different everyday. Honestly, I feel like everyday is a different part of me coming out through my clothes," she says.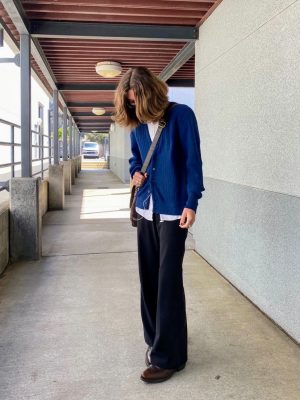 Nathaniel Herbert '24 supplies his look with complexity, layering a blue cardigan over a white button down, worn with dress pants and topped off with a messenger bag. "I just try to find things that fit a silhouette in a very put-together kind of fashion, but then I can also distort it," he explains. 
Second hand shops, charity shops, antique shops and the occasional Grail purchases are the resources that make up his wardrobe as well as sewing clothes on his own. Drawn to art, Herbert comments, "I don't think I take influences from specific people. I really grew up on avant-garde, jazz and a lot of new wave, so I just took inspiration from that." 
He shares his introspective view on being confined to a fixed category, expressing, "I don't like to keep labels [on style]. I just think it's hard to live as yourself if you define yourself as one specific thing."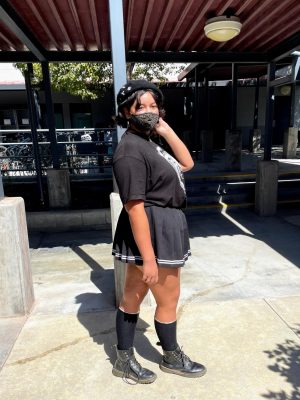 Avery Ranola '25 walks out of their FIRE classroom wearing a schoolgirl skirt, a graphic tee of Edgar Allen Poe and a beret. Berets are one of little details that Ranola incorporates in their ever changing style. "There's this little shop on the outskirts of little Tokyo called Popkiller. It has a lot of berets. That's where I first got a beret, and ever since then, I've been building up my collection. I think I have like ten berets now. It's a problem," they joke. 
Ranola's style may change by the day, but from cottagecore to Japanese fashion, they base all their outfits on a choker that belonged to their grandmother. Ranola does most of their shopping online; they're fond of a virtual Kawaii boutique called Kokopie and like most teenagers, they also thrift.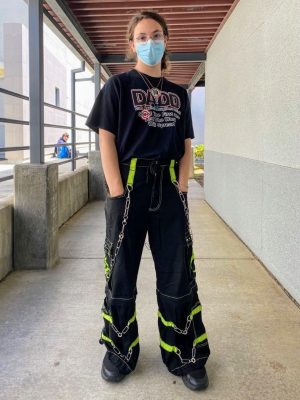 "I got really bored of wearing athleisure throughout middle school," Nathan Turner '24 describes the evolution of his style, as he stands in Tripp NYC pants and a shirt that adversities 'Dad's against daughters dating.' Over lockdown, Turner turned his creative instinct towards developing his own unique style, and found that aesthetics and labels can be limiting. 
"I've become more of a creative person, and I don't really want to look at what everyone else is wearing. I just want to be like 'oh, I like that so I'm gonna get it'," Turner said with the same sense of individuality that he radiates when you talk to him. 
Like most fashion-inclined teenagers, Turner understands the value of thrifting, but there are certain items he likes to get elsewhere, specifying, "I prefer to get pants and statement pieces from actual brands or small businesses that make their stuff, and then I get shirts and some accessories at thrift stores." 
There may be some recognizable style patterns at Foothill Tech from baggy jeans to baby tees, but the true overall trend is that this community is still a place for self expression through style—if not more so now than it was in previous years.