ABBA's new album sparks nostalgia and transports us back to the '70s
ABBA is a Swedish pop group whose songs go back to the early '70s. Known for hits like "Dancing Queen" and "Chiquitita", they have created unique music that once dominated the music charts, particularly in Europe. Although their music has since been overshadowed by the current mainstream society, it's time for many old listeners and new future fanatics to get excited about the band all over again. 
Their first album came out in 1973 and was named Ring Ring. Their music encapsulated all things disco and since then has been featured on many TV shows and movies. Most notably, Mamma Mia featured ABBA's music in its hit soundtrack. Although the band had been broken up for years, their old songs connected with many and gave past fans some much-needed nostalgia. The musical was based around songs from ABBA which allowed a new generation of kids a chance to enjoy the band's music and put them back on the radar. 
Although ABBA hasn't been in the limelight for years, they never officially broke up. Many people were devastated that no new content was being released to the public, but there was still hope that one day they would reunite. Fans' dreams came true after the recent announcement of a new album coming out 40 years after their last release. 
On Sept. 2, 2021, ABBA released two songs that would later be featured on their new album. One of the songs, "Don't Shut Me Down", rose to number nine in the UK charts, while their other song, "I Still Have Faith In You", placed at number 14.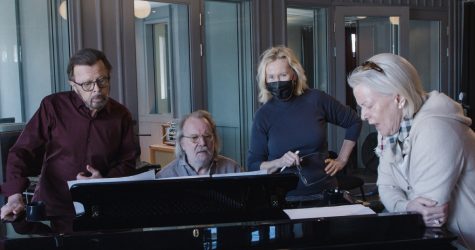 The album, Voyage, came out on Nov. 5, 2021. Although their music is much different than the songs shown off on many teenagers' playlists today, its distinctive sound and dreamy feeling makes it hard to ignore and easy to appreciate. Their new songs are much like their old which is good news to their fans who have followed them from the start.
It has been revealed that this album will most likely be the band's last release. This is sad news for a lot of people, but it gives other listeners a chance to enjoy ABBA's new music for the last time. 
ABBA did announce an online concert to take place in the spring of 2022. They say that the show will blend their new songs with the old and the young with the not-so-young. Many are curious and excited to see what this means. 
The album is available on all music streaming platforms, and social media is embracing it with open arms. ABBA's song, "I Still Have Faith In You", already has 22.1k videos to the song on Tik Tok, and the album's Instagram page has 160k followers. 
I would recommend to anyone who hasn't already—take a look at their new album and form your own opinion on them. Even though this album may represent the end of their very long career, their legacy will go on and their songs will continue to touch the hearts of many.