Cross country enjoys another triumphant day at TCAA League meet
Jenna Ostrom

The sunlight filtered through the leaves at Camino Real Park as the Foothill Technology High School (Foothill Tech) cross country team paced their way through the course on Sept. 17. Camino Real offers the terrain necessary to post some of the best times of the year due to the nature of the course, and the Dragons did not fail to capitalize.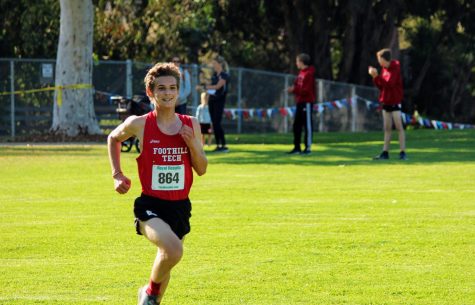 The league meet saw the Dragons take five of the top six spots in the varsity boy's race giving them a first-place finish overall, and third and sixth in the varsity girl's race led them to a second-place team finish. Cate School took first for the girls, but Foothill Tech beat out La Reina High School, Thacher School and Laguna Blanca High School, respectively. The boys were victorious over Thacher School, Cate School, Laguna Blanca High School and Santa Clara High School.  
Stalwart runner Jonah Billings '23 blew past the competition, placing first with a resounding time of 16:06.6. Kai Bensen '23 placed third (164:48.3) and was followed by three Dragons in a row; Frank Stilwell '22 in fourth place (16:57.4), Jacob Walker '22 in fifth place (17:02.9) and Owen Teehee in sixth place (17:16.7).
Bensen noted the improvement the program has made at Camino Real, saying, "when I was a freshman,
this course was an up and down for us, we weren't really too happy with what we did as a team, but this year it felt good, it had a lot of effort put into it, I felt good, my team felt good." 
In the girls' race, Becca Walker '24 led the Dragons with a third-place finish (20:07.3) and was followed by Sofie Prieto '22 in sixth (20:43.6) and Kiersten Falat '23 in 11th (21:35.1).
Although the varsity girls as a team placed second in their race, Walker was upbeat about her team's effort, saying, "we excelled, it's the beginning of the season, we have more room to grow, but I am super proud of all of the girls and I think they did amazing."  
Coach Jason Dinkler voiced similar optimism, mentioning, "based upon what I saw today, we're going to have, obviously, some areas where I'd like to see some growth, but there was a lot of good performances today, so I was very happy." 
The Dragons will compete in their next meet on Sept. 24 at the Raider Invitational at College Park, Oxnard.