WandaVision breathes new life into the MCU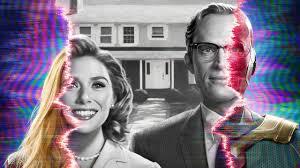 At the beginning of 2020, it seemed as though Marvel had pretty much hit its ceiling. Avengers: Endgame had become the highest-grossing movie of all time, and we had seen almost every major character in the Marvel Cinematic Universe (MCU) on screen together, at the same time. Thanos was defeated, the universe was saved. The story is over, we thought. There's nowhere to go from here. Right? In response, Disney+ and Marvel gave us the brand new show WandaVision as exhibit A of how incredibly, horrifically and incalculably wrong we were. 
WandaVision, set mere days after the events of Avengers: Endgame, begins as a '50s sitcom starring Wanda Maximoff (Elizabeth Olsen) and her artificial intelligence (AI) husband, Vision (Paul Bettany). Sound like a strange format? It is, especially considering that Vision had been killed not once, but twice in previous Avengers movies. Things are quickly revealed to be not as they seem, and a group of government agents (along with the viewers) are left to piece together the clues and theorize what could be causing this strange phenomenon as the sitcom, and the town it takes place in, are separate from reality.
As you may have guessed, WandaVision's plot is relatively complex, but like most Marvel productions, this complexity creates an incredible ride of twists and turns and invites wild fan speculation. This show is a seasoned MCU fan's dream, but if you aren't very experienced with Marvel and its movies, you may have a tough time keeping up. I would recommend watching the rest of the Avengers movies at the very least before watching WandaVision. However, if you are familiar with the backstory of Wanda Maximoff and Vision, you will have an absolute field day with the intricacy of this well-written plot and the subtle connections it makes to the rest of the MCU and beyond.
At first glance, the most striking thing about WandaVision is its unique format. Each episode is modeled after different eras of sitcoms, and the attention director Matt Shakman puts this aspect into every detail of the setting, wardrobe and dialogue which makes the cinematography impeccable. Not only is this interesting setup entertaining and full of references to history's most popular sitcoms, including The Dick van Dyke Show, Bewitched, The Brady Bunch, Family Ties, Malcolm in the Middle, Modern Family and The Office, but it also adds an element of mystery. Viewers are left to speculate what is causing each setting change and why. 
The acting in WandaVision is beautifully well done. One of the most interesting things about this show is that it contains almost no massive fight scenes or huge battles. Instead, WandaVision dives deeper than most Marvel films into issues like mental health, grief and loss, but this facet of the story would be lost without fantastic performances from Elizabeth Olsen and Paul Bettany. That being said, the real award for best performance should go to Kathryn Hahn, making her MCU debut in the role of Agnes/Agatha Harkness. Overall, WandaVision's theatrics and casting were very strong but seemed a bit forced at times, especially in the rare action scenes. Since battle plays such a small role in the plot, however, we can forgive the occasional misfire and focus on the masterful performances that are plentiful elsewhere in the show.
All the cinematics aside, WandaVision plays an important role in bridging the gap between Avengers: Endgame and the future of the MCU. By introducing new heroes, villains and shaping compelling connections to upcoming movies, this show has found a way to take a relative dead end and extend it into a wealth of enticing new paths for Marvel to take. WandaVision itself was fantastic, but the new era of the MCU it has created promises to be even better.