Way too much fun: The career and impact of Ken Reeves
For the past six years, Foothill Technology High School (Foothill Tech) has been lucky enough to be on the receiving end of head cross country coach Ken Reeves' skill as a coach and a mentor. Unfortunately, the Coronavirus-induced reduction of temporary teaching jobs around Ventura Unified School District (Ventura Unified) led Coach Reeves to step down before the beginning of the school year. 
While Coach Reeves is no longer coaching at Foothill Tech, the impact that he has made on the athletic department is undeniable, as is the incredible amount of success he has brought to the cross country program in a short amount of time. In a span of six years, Foothill Tech's cross country team went from nonexistent to one of the top teams in California. 
Coach Reeves has almost 50 years of coaching experience, working in soccer programs for over a decade before becoming Nordhoff High School's (Nordhoff) cross country and track and field coach in 1985. In his 20 years there, the Nordhoff distance program was an absolute juggernaut, winning championship after championship until he stepped down in 2001. 
However, he wasn't ready to call it quits just yet. In 2014, Coach Reeves came out of retirement to guide the brand new Foothill Tech cross country program after stints of coaching at Ventura High School and Ventura College. However, Principal Joe Bova didn't have an easy time convincing him to take the helm. "Eventually, I think [Bova] had me come in five times," says Reeves. "Four times, I said no thank you. The fifth time, after we discussed a teacher/coach position, I said I would try it for a year." Unsurprisingly, he picked up right where he left off, taking the boys team to the state meet that very same year (the girls would follow shortly after in 2015). 
Coach Reeves was inducted into the Ventura County Sports Hall of Fame in 2016, solidifying his status as one of the greatest running coaches in California. "In my opinion, there are very few people that have the experience that he has, the depth of knowledge of the sport but also the skill as a coach to understand how to motivate, how to get championship efforts out of his athletes, and how to really create a winning culture," said Coach Jason Dinkler, new head cross country coach and veteran track and field coach at Foothill Tech.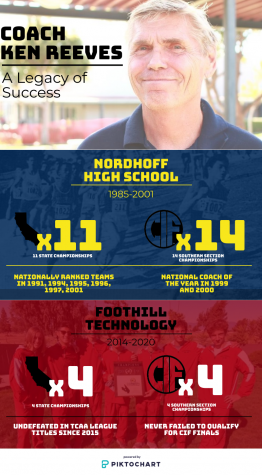 While winning championships was important to Coach Reeves' teams, it was never the main goal. Instead, the focus was placed on performing at the highest level possible for each athlete, regardless of what that threshold was. "I don't think you can control whether you win championships or not," says Reeves, "sometimes you can have a 'championship' quality performance, but another team is just a little bit better that day. I think, regardless of ability, the goal is to strive for that championship quality performance."
This effort-centric approach to coaching is perhaps the most important facet of Coach Reeves' philosophy, as it allowed him to not only improve his athletes as runners but also to motivate them to become better people. "The qualities I have always strived to help develop are loyalty, consistency, integrity, punctuality, passion and responsibility," says Reeves. 
If you want evidence of the effect this philosophy has had, look no further than the athletes Reeves has taught here at Foothill Tech. "He showed me that being a great athlete is important but being a good character is just as important," said Finn Blacker '21. "Talent helps, but determination and hard work help a whole lot more."  Foothill Tech alumna Gretchen Scherrei '20, who ran under Coach Reeves all of her four years, shares Finn's assessment. "He helped me realize my worth as a person, even more so than as an athlete."  
Over the course of his long and illustrious career, Ken Reeves has won championships and impacted lives in staggering numbers. During his tenure at Foothill Tech, he helped build a winning culture in Foothill Tech athletics that will be part of his legacy for years to come. However, when asked what he hopes will be his lasting impact on Foothill Tech, Reeves focuses on what students can take with them long after their high school years are over. "I would hope that my legacy is that students learned the basic principles of training and will continue to be actively involved with aerobic exercise for the rest of their lives," he says. "You don't need a cross-country course to go out for a run. It is something you can do each and every day." 
About the Contributors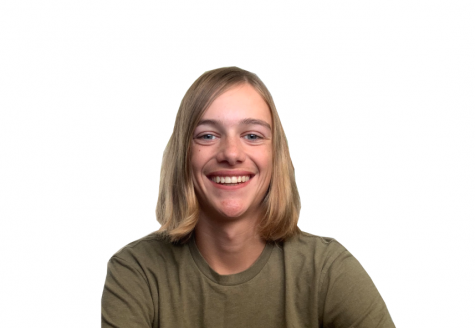 Jonah Billings, Copy Editor
I'm a sophomore who loves all things outdoors. I just want to write about cool stuff.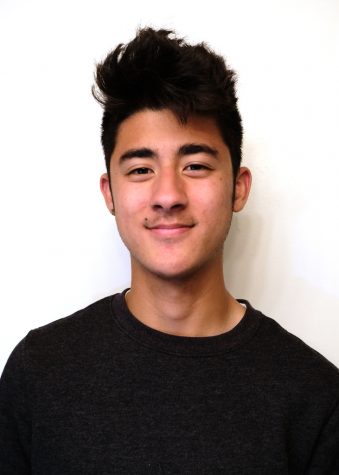 Zen Li, Writer





Hello. My name is Zen. I'm a senior at Foothill Tech, and my life is a bizarre adventure.. Anyway, I like nature, running, and your garden variety...