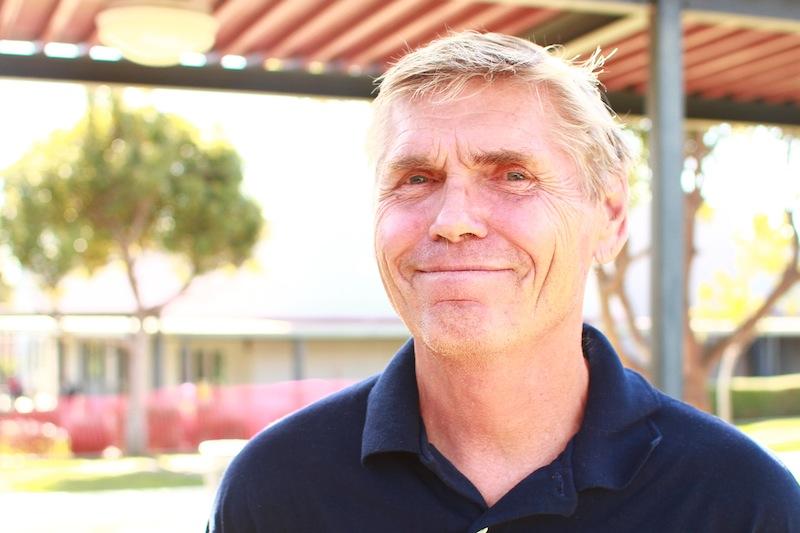 Cross country coach Ken Reeves will put his 30 years of coaching experience to good use when building Foothill's first cross country team. The veteran coach has headed teams from the middle school to NCAA Division I level.
Reeves has also spent years coaching at the high school level. He took Nordhoff High School's cross country team to 11 state championships and 14 CIF championships. Additionally, he coached for Ventura High School for several years.
Reeves is an ardent supporter of high physical fitness standards and wants students to look forward to coming to practice every day.
"I don't want your high school career to be highlight of your life as far as your physical activity because the majority of the American population is not fit," said Reeves. "You don't punish with exercise, exercise should be a reward."
Reeves also sees Foothill sports as a benefit to student-athletes, who will have to miss less class time to commute to either Buena or Ventura High Schools.
Reeves wishes to promote three goals to the runners on his team. First, he aims to encourage good fitness habits. Second, he hopes to push his runners beyond their usual limits. Finally, Reeves aspires to make running an enjoyable activity.
"The philosophy is, 'Work hard, but enjoy what you're doing,'" said Reeves.
[soundcloud url="https://api.soundcloud.com/tracks/149900815″ params="color=ab0a0a&auto_play=false&hide_related=false&show_artwork=true" width="100%" height="166″ iframe="true" /]
Reeves also plans to make his practices a safe and positive place for his athletes by encouraging runners to always be supportive of their teammates.
"The athlete's job is to build up their teammates, to help each other be better […] It's the same as in an AP class where everybody's working together," said Reeves. "Cross country is the ultimate group project and it becomes due at the end of the season."
Athletics Director Emily Stevens has confidence in Reeves' ability to build a strong team for Foothill.
"[Reeves] will really set the bar for all other programs. He brings such a welcome experience and knowledge, and he will create a program that is ready to go right out of the gate," said Stevens.
Reeves enjoys seeing students who didn't think they would succeed at cross country become skilled athletes. Over the years, he has coached many intellectual students who didn't see themselves as typically athletic.
"I've had tons and tons of students like that just have tremendous success because they took all those skills they had in academics and they applied it [to cross country]," said Reeves.
Additionally, Reeves has helped students overcome physical limitations to become great athletes.
"I had a runner named Tommy Smith who was one of my favorite all-time who ended being the national champion for the Special Olympics. When he first came out, he couldn't run a 100 meters, but by the end of three weeks, his teammates had him running three miles," said Reeves. "He had some physical limitations […] and he just became an icon. He was way too much fun, but just about every team has a success story of somebody just exceeding what they could do."
Sophomore Nyssa Torres chose to join Foothill athletics in order to be coached by Reeves.
"I wanted to switch because Coach Reeves is one of the best coaches in the state, and I wanted to be a part of the first year of Foothill sports," said Torres.
For Stevens, Reeves' dedication is what makes him such an effective coach.
"I knew right away he was intense, and completely dedicated, hardworking, thorough," said Stevens. "He works 20 hours and sleeps four. He's completely committed to his task."
Tryouts for cross country will be over the summer, and practices begin on July 14. During the school year, practices are scheduled to begin at 2:30 p.m. An athletics interest meeting will be held on June 16 at 6:30 p.m. in the Media Center for prospective players and their parents.