Valentine's Day treats that will make you fall in love!
As we all settle into 2021, Target has begun to remind us that Valentine's Day is right around the corner, with the subtle pink decor and hearts showing up whenever I just need to hit the store to restock on paper. Although 2021's Valentine's Day may seem like another COVID holiday ruined by stay-at-home orders, it may not be as bleak with these Valentine's Day treats! Here are some simple and delicious Valentine's day treats for your close friends and family (or even just yourself) to share.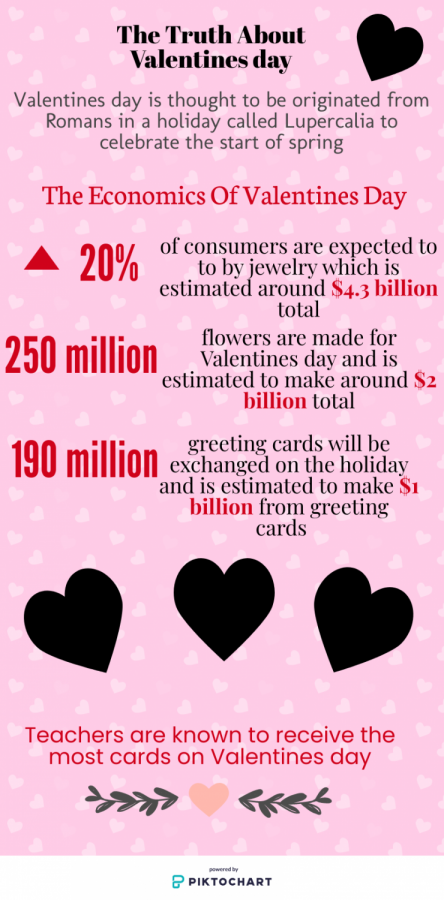 Sweet Sayings Cookies
One of the most stereotypical Valentine's Day treats are the little candy hearts and shapes with slogans like "Be Mine" or other heartfelt quotes. These sweet saying cookies are a replica of the little candies, only bigger and better! I personally use premade dough, but you can make your own sugar cookie recipe if you want to! Also, this process is all about creativity, so feel free to pick whatever color or shape you want. 
Ingredients:
Premade cookie dough or your own recipes

Colored icing (you will want multiple different colors)

Piping bag 

Spatula 

Heart candies (optional)
Procedure
Step one: Cut cookies dough into shapes (preferably hearts or circles)
Step two: Bake for the time and at the temperature that your cookie dough requires 
Step three: Let cookies cool
Step four: Place base icing on cookies with spatula smoothly
Step five: Use an icing bag with a small tip and different colored icing to write your sweet note!
Heart Rice Krispies
Rice Krispies are a household treat for many families, usually only containing three ingredients. Valentine's Rice Krispy treats are essentially the same recipe with just a few more festive twists. I shape them as hearts for an extra Valentine's Day look, but you can shape them into any shape you'd like. 
Ingredients:
6 tablespoons of unsalted butter

16-ounce bag of mini marshmallows (preferably pink)

1 teaspoon of vanilla extract

6 cups of Rice Krispies cereal

Red food coloring (if you can't find pink marshmallows)

Your choice of Valentine's Day themed sprinkles

Pink and red M&M's
Procedure
Step one: Melt butter in a large pot over medium heat
Step two: Place marshmallows in the same pan and stir until incorporated and until gooey (if using white marshmallows place red food dye and stir until it is pink)
Step three: Mix Rice Krispies until fully combined
Step four: Mix sprinkles until fully combined
Step five: Place mixture into a greased pan untitled cooled
Step six: Cut into hearts or whatever shape you want
Lovely Chex Mix Treats
Chex mix is traditionally a savory snack you bring on a road trip and is not usually connected to the flamboyant holiday Valentines Day. But with these sweet and heartfelt twists, the snack will turn candied and delicious. Chex mix is a great snack to share with your immediate family while you are in your house for another COVID holiday!
4-6 cups of Chex cereal

18 ounce bag of pink white chocolate melts (or just white then add red food coloring when melted)

Red and Pink M&M's 

Valentines Sprinkles
Step by step procedure
Step one: Place chocolate into glass bowl and place in microwave for 30 second increments until fully melted (can add shortening and if using just white chocolate place red food coloring in now and mix)
Step two: Place chex mix in large bowl
Step three: Place melted chocolate onto chex mix and mix until the cereal is fully covered and place on plate
Step: four: Sprinkle M&M's and sprinkles on top
Although Valentines Day may not be the same without the candy grams or giving friends, teachers or loved ones presents in person, a bit of a sweet treat might help raise your spirits!