Rising to the challenge: Amy "Yamamoto" Callahan vs. Jackie Moran for Ventura Unified School District's School Board
While the majority of many voters' attention is focused on the 2020 Presidential Election, more is happening in our neighborhood than we may realize. This year, Area 3 for the Ventura Unified School District (Ventura Unified) School Board is up for election. The two women on the ballot for Area 3 are Amy "Yamamoto" Callahan who will be running against the incumbent for Area 3, Jackie Moran. 
In 2018, the Ventura Unified school board unanimously voted to move to the district (area) election method, which follows a four-year cycle. Here is a map of the Ventura Unified areas provided by the Ventura Unified website.
The only area up for election this year is Area 3. Sabrina Rodrigues (District 2), Matthew Almaraz (Area 5), Dr. Jerry Dannenberg (Area 4) and Velma Lomax (Area 1) will continue their service as Ventura Unified school board members. For biographies and more information on these members: visit this website.
Below is a summary of the positions from each candidate and what they believe is best for Ventura Unified. 
Amy "Yamamoto" Callahan- Educator, Mother and Businesswoman
Amy "Yamamoto" Callahan has been an educator for over 20 years, is an alumna of the Ventura Unified school district, a parent of a Ventura Unified student, the current Senior Account Executive for a global K-12 education company and the Chief financial Account Officer for the Center for Leadership, Equity, Access and Research (CLEAR), according to her candidate statement in the Ventura County voter information guide. 
She states that she will use this experience to work with school communities to embrace "diversity and inclusion, equity, and access, and social justice tolerance," according to her statement in the Ventura County voter information guide. 
Callahan stated that she wants to, "address [Ventura Unified] COVID Pupil Learning Loss' Student Achievement and Opportunity Gaps," when asked what one of the most important issues in Ventura Unified.
Callahan plans to tackle this problem by, "evaluat[ing] where we are at with the implementation of our Learning Continuity Plan." She plans to evaluate what else is needed for this plan to have "viable solutions." She wants to use the remaining CARES [The Coronavirus Aid, Relief, and Economic Security Act] Total Funds, CDE Low Performance Student Block Grant (LPSBG) funds and Ventura Unified CDE Learning Loss Mitigation Funding,"  to accomplish this goal.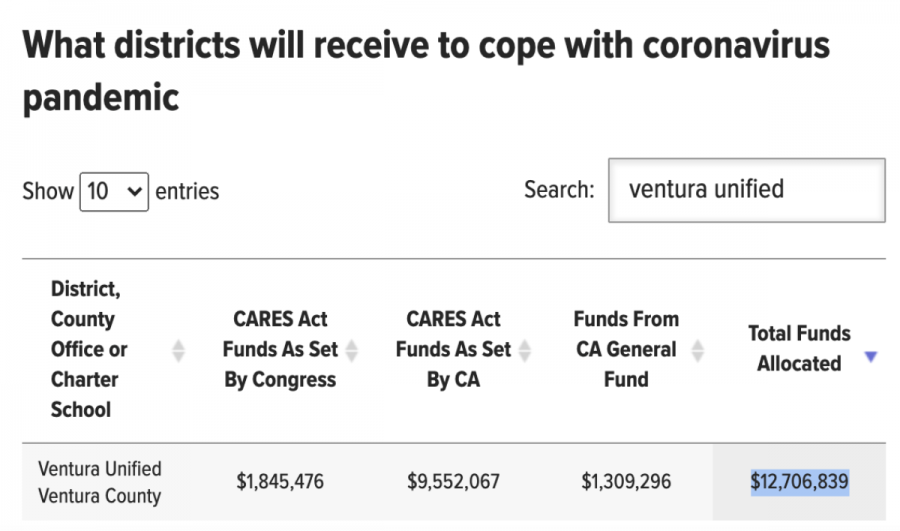 Being an educator and a Ventura Unified alumna, Callahan was motivated to run for this election. She added that she truly believes to "give back to where [she] came from and as an educator, as well as a civic education proponent and advocate, there is no better time than now [for her] to serve as a trustee for the Ventura Unified School District where [her] husband and [her] went to school and where our [their] daughters now attend."
A final comment Callahan made is "together we can. Our community supports public education and believes our district will grow and reinvent education as we know it during this time."
For more information on her campaign visit her website or follow her campaign on Facebook. 
Jackie Moran- Incumbent of the Ventura Unified School Board, Businesswoman and Parent
Moran is the current Ventura Unified Board of Trustee for Area Three and has spent four years representing "the PARENT'S PERSPECTIVE and voice in every aspect of education," according to her statement in the Ventura County Voter information guide. 
Moran is extremely passionate about education for the families of Ventura Unified, especially those with "special needs, illness, and learning disabilities," according to her statement in the Voter information guide. 
When asked what is a pressing issue in Ventura Unified, she responded that "getting our students back on campus, with their teachers and peers is an overarching issue at this moment."
Due to the COVID-19 pandemic, many students struggle getting the resources they need for a successful education. Moran would like to focus on getting resources for teachers to help "at-risk" students navigate in-class instruction, which "will create a student centered approach that will provide assistance to students," stated Moran.
She aims to make college and career readiness more accessible, by finding a way to "fit student choice into our required courses," which would allow students to have the opportunity to explore different subject areas that will benefit them in their college and career future, explained Moran. 
Moran decided to run for this election because she believes in making "a difference in the lives of our students, their families, our staff and community." She wants to continue to work hard alongside the school board "in an equitable direction with ethnic studies, restorative justice practices, and increased awareness around mental health issues," continued Moran.
Some programs she is enthusiastic about are the STAY FLEX FOCUS High School Program, "our new K-8 schools starting 2021-22 school year, the new Farm/Agriculture Program (brought in with a grant) that will be located at Pacific High School and will be integrated and accessible as a program for all of our High Schools," which she has helped assist in installing. 
On a final note, she concluded that "as a community, we have weathered the Thomas Fire, civil unrest, racial tensions, and COVID-19. We will get through this pandemic. It takes a village and [she is] so proud to be a part of Ventura and Ventura Unified School District"
For more information on her campaign visit Moran's website. 
With this information about each candidate, use your informed mindset to go vote! Click here for more information about each candidate, and for how to vote in the 2020 election.