A tale of two candidates: Donald Trump vs. Joe Biden
As the 2020 United States (U.S.) presidential election approaches, citizens are preparing to decide who they will choose to support as the next commander-in-chief of the United States of America. However, in these unprecedented times, many first time voters view this as a much bigger opportunity and responsibility than past generations.
This year, the two major party candidates are current U.S. President Donald Trump, who is running for reelection as a Republican alongside his Vice President, Mike Pence and former U.S. Vice President Joe Biden, the Democratic candidate running alongside Senator Kamala Harris. Both candidates have very different policies and have attracted polarizing bases.
At Foothill Technology High School (Foothill Tech), some students will be eligible as voters this year and are preparing to vote for the first time in a general election. 
Marie Bell '21 believes that during this election a variety of controversial issues have arisen and that "there will be a lot more people voting in this upcoming election than the previous elections because of our current situations and the division in our country."
"[Voting] is one of the ways in which we have the power and the ability to make a difference for our future," says Bell. She described that the younger generation has a "desire for change," and hopefully this election will showcase that. 
At age 18, Bryshaun Blanson '21 is very eager to vote in the upcoming election and encourages everyone who is eligible to vote and make well informed decisions. "We need everyone to vote, and everyone's voice to be heard," Blanson states.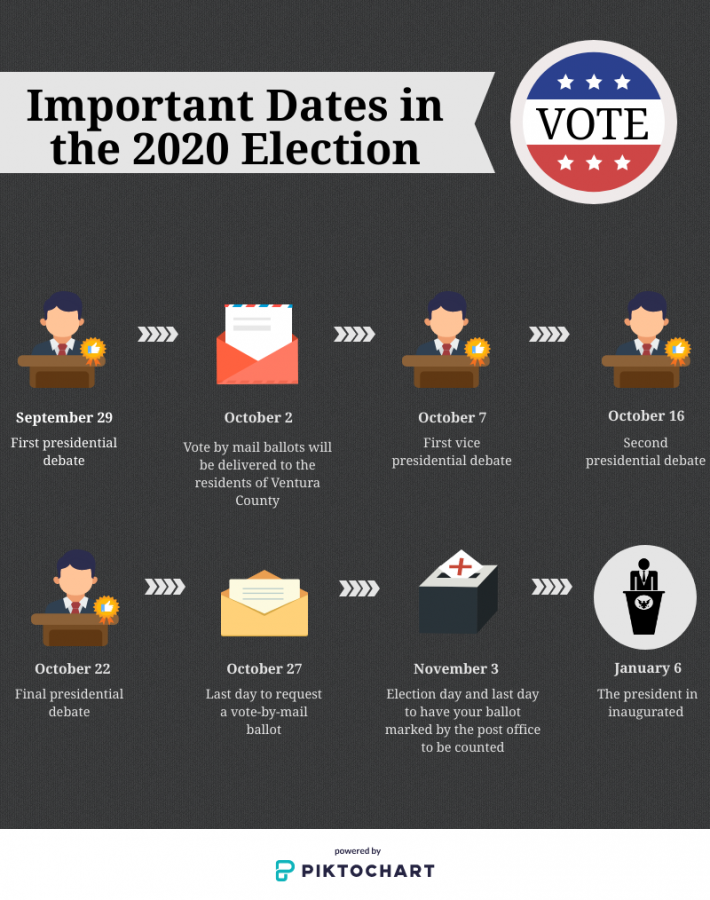 Foothill Tech teacher Cherie Eulau also gave her insight on the importance of policies and voting during a presidential election. When asked what topic she thought would most influence young voters, she specifically brought up the environment and climate change. She mentioned how young people across the globe have taken to the streets in recent years to protest the lack of environmental laws, regulations and plans to combat climate change before the damage becomes irreversible. 
Using this logic, Eulau explained, "Young people are more motivated, and more creative thinkers, and take it more seriously across the board."
Now that many people in Generation Z have reached eligible voting age, the demand for more climate action could finally be enough to sway legislators to act on their promises. Eulau reinforced the point that if people want their legislators to listen to their concerns, they must vote to get those representatives' attention. "If younger people started voting in a bigger percentage and closer to their eligibility age, politicians would listen to them more often," claimed Eulau.
Due to the overwhelming amount of policies and issues discussed in this election, the following is an extensive list of the views and actions of each candidate.  
Environment/Climate Change:
Joe Biden (D):
Former Vice President, Joe Biden, has made it clear from the start that his administration will focus on the climate crisis and sustainable solutions to combat it. He introduced the Clean Energy Revolution, his plan to reduce carbon emissions to zero by 2050 while maintaining a fully clean energy economy. Biden also supports the newly proposed Green New Deal, composed by several members of Congress. He also drafted the Build Back Better plan to create jobs that would contribute to an eco-friendly society. While he favors many environmental plans, he has also stated that those plans would not affect or include fracking and nuclear power plants. 
Donald Trump (R):
U.S. President, Donald Trump, has enacted and revoked many policies regarding the topic of environmental preservation, restoration and climate change. For example, Trump withdrew from the 2015 Paris Agreement, the global initiative to combat climate change signed by the leaders of 197 countries worldwide. He did so due to concerns that the American economy and people would suffer if we continued as a member of the agreement. Trump has also enacted partial and full rollbacks on certain policies concerning pollution, infrastructure, oil drilling, etc. In early 2020, it was announced by his administration that the U.S. would also join the One Trillion Trees Initiative, a program to promote better air quality and reduce carbon in the atmosphere.
Immigration:
Joe Biden (D):
Biden created and supported a variety of immigration programs and bills during his time as Vice President, including the unsuccessful Reform Plan of 2013 and a policy in 2014 that provided 750 million dollars in relief aid to minors crossing the southern border. He also strongly supports the immediate granting of citizenship to Dreamers under the Deferred Action for Childhood Arrivals (DACA) program.  Biden has planned to overturn many of the immigration policies enacted under the Trump administration if he were to be elected in the fall. However, during his time as a senator, he voted for several bills that allowed authorities to jail those with undocumented employees as well as patrol Sanctuary Cities closer than before. 
Donald Trump (R):
When running for office back in 2016, Trump became known for a variety of statements and policies including his plan to build a wall along the border of Mexico and the U.S.. Since then, he has declared a State of Emergency as well as built several hundred miles of concrete wall in order to limit illegal immigration from the south. Illegal immigration numbers have decreased in past years due to tighter restrictions and new qualifications being introduced, but his recent attempt to dismantle the program known as DACA was blocked by the Supreme Court. His future plans for immigration include ending the visa lottery system and moving towards a merit based system. 
Education:
Joe Biden (D):
On his campaign website, Biden has listed several goals for students, educators and the school system. According to the policy outlined, one of his main goals is that a child's future will not be, "determined by their zip code, parents' income, race, or disability." Biden also believes that teachers should get the "pay and dignity" they have earned. "More opportunities at the high school level would lead to a better future for students," he further explains on the site. Biden has said there is a need to rid of the "gap between white and non-white districts" by funding, and plans to do this under his administration. 
Donald Trump (R):
Trump believes that school of choice should be a priority, which has been made clear by the budgets he has proposed. Trump has also expressed the "need to educate" by putting forth the Every Student Succeeds Act (ESSA). This was previously signed by former President Barack Obama in 2015. According to the Trump campaign website, his administration has reformed The Free Application for Federal Student Aid (FAFSA) to "make the program more accessible to students." This has made it easier for students to potentially receive federal student aid for their college education.
Which candidate do you feel would be the best option for the President of the United States of America?
Sorry, there was an error loading this poll.
Criminal Justice: 
Joe Biden (D):
Biden has made many criminal justice proposals as a part of his 2020 campaign and in his career as a politician. Biden has proposed a "$20 billion competitive grant program," in hope of urging states to move from "incarceration to prevention," according to his campaign website. He has also proposed a plan to "invest in educational opportunities for all," and mental health and substance abuse research and resources. According to his campaign website, Biden plans to "address systemic misconduct" in police departments by using the authority of the U.S. Justice Department. Biden has supported Juvenile Justice and offering second chances. While he does not support the full defunding of the police, he does support funding the resources needed to implement "meaningful reforms," as said in an op-ed for USA Today. However, in the past Biden has faced criticism due to his part in passing the Violent Crime Control and Law Enforcement Act in 1994. Critics have said that this act laid the framework for the mass incarceration that is still present today.
Donald Trump (R):
Trump wants to continue "working with local law enforcement to protect American communities," as stated on his campaign website. He also believes in "confronting organized crime" and "protecting the rights of all Americans." President Trump recently stated at a press conference that he "strongly oppose[s] the radical and dangerous efforts to defund, dismantle, and dissolve our police departments, especially now when we've achieved the lowest recorded crime rates in recent history." As a response to recent protests and unrest sparked by police brutality and a call for justice reform, Trump has signed an executive order for safe policy for communities. This executive order calls for "safe policing for safe communities," by adding additional federal programs and funding for the police.
Coronavirus Recovery: 
Joe Biden (D):
Biden lists several policies on his website regarding Coronavirus relief and recovery. He believes that all Americans should have access to "regular, reliable, and free testing." He also believes that providing accurate research and evidence is important for communities to manage the pandemic. Making the distribution of vaccines "equitable" for all is another goal listed on his website. Biden supports the theory that a national mask mandate is essential to containing the virus. 
Donald Trump (R):
Trump has explained what he has accomplished during the pandemic on his campaign website, including providing relief and a plan for recovery. He has provided "relief" for non-working Americans, student loans, renters and homeowners. The Trump administration has an agreement with U.S.-based Pfizer which states they "will produce 100 million doses of a Coronavirus vaccine. This also included another 500 million doses once it is developed." Under President Trump, $1.4 billion in funds were given to "certain children's hospitals to assist with the coronavirus impact." President Trump states that he will "stop at nothing to save lives and shield the vulnerable." However, according to an article published by the BBC, Trump has denied downplaying the seriousness of COVID-19 "despite admitting in a recorded interview to having done that."
Healthcare: 
Joe Biden (D):
According to the Biden campaign website, he is proposing to uphold and build upon the Affordable Care Act, instead of replacing it with the Medicare for All system. According to his campaign website, by doing this he would like to give "Americans more choice, [reduce] health care costs, and [make] our health care system less complex to navigate." He also plans to "put a stop to runaway drug prices," and the drug industry. The Biden Plan for Healthcare plans to have a tax penalty that will be imposed on the manufacturers of drugs when they "increase the cost of their brand […] over the general inflation rate."
Donald Trump (R):
On the Trump campaign website, he discusses his proposal to continue "[improving] access to affordable quality health care." The Trump administration has increased access to the Association Health Plans (AHP). This plan allows "small business to pool risk across states." Trump has also issued an extension of six years on Children's Health Insurance Program (CHIP), which will help in funding healthcare for nine million people. According to the Trump campaign website, the Food and Drug Association has produced one of the "largest number of generic drugs in history."
Being informed in one of the best tools you can wield in a democracy; this information may allow you to be more knowledgable when choosing who you believe should be the next President of the United States of America.
Here is a list of current polling locations and ballot drop box locations in Ventura County. For those that wish to vote by mail, it is a safe and secure solution and you can find more information here.