Rocking the vote: A guide to making your vote count in 2020
On Tuesday, Nov. 3, 2020, the day of the 2020 U.S. Presidential Election, many voters will be casting their votes either in person or via mail. The majority of voters view this day as a vital opportunity to make change possible in our daily lives. Due to the COVID-19 pandemic, many voters are wondering how, when and where to vote for the Nov. election.
Registering:
In order to register to vote in California, a person must be 18 years or older on election day, be a United States citizen and a resident of California. A person must also not be currently in, "prison or on parole for the conviction of a felony," or, " found to be mentally incompetent to vote by a court," according to the state of California's voting rights website. 
The deadline for registering to vote online and by mail is Oct. 19, 2020. A person can also choose to register to vote on election day and in person on Nov. 3. A person 16 or 17 years old may also choose to pre-register to vote, having met all the requirements to register to vote, listed above. By pre-registering to vote, a person will be automatically registered to vote by the time they are 18.
Voting by Mail:
All Ventura County registered voters were mailed a vote by mail ballot on Oct. 2. Each vote by mail ballot included postage which will allow voters to cast their ballots via mail, or by dropping off their ballot at one of the 33 drop box locations in Ventura County. All drop box locations will be available to drop off ballots beginning Oct. 6, 2020 and until Nov. 3, 2020 at 8 p.m.
The current 24-hour drop box locations are the Ventura County Government Center, Camarillo City Hall, Oxnard Public Library, Simi Valley Library, Ojai City Hall, Fillmore Library, Santa Paula City Hall, Thousand Oaks City Hall, Port Hueneme City Hall, Moorpark City Hall and Ventura City Hall.
In order for your vote by mail ballot to be counted, it must be "postmarked on or before Election Day and received by your county elections office no later than 17 days after Election Day," according to California's vote by mail website.  
A new feature added this year is the ability to track your ballot. The ballot tracker will include a variety of helpful information, including when the ballot has been received by the county, if the voter's ballot is returned as undeliverable and whether the voter's ballot was accepted. A voter can track their ballot using this website. 
In-Person Voting:
Ventura County voters can also choose to vote at an in-person voting location. All in-person voting locations are subject to change due to the COVID-19 pandemic. Here is a list of current polling locations that is updated frequently. The polling locations will be open on Saturday, Oct. 1 from 10 a.m. to 6 p.m., Sunday, Nov. 1 from 10 a.m. to 6 p.m., Monday, Nov. 2 from 10 a.m. to 6 p.m., and Tuesday Nov. 3 from 7 a.m. to 8 p.m, to allow flexibility for all voters.
Voters will not be assigned to a specific polling location and can choose to visit any location in Ventura County to cast their vote. In-person polling locations will offer voter registration, updating voter registration, language assistance, curbside voting and ADA (Americans with Disabilities Act) touch screen voting devices, according to the information sheet provided in all vote by mail ballots.
The voices of Foothill Tech students:
A few of Foothill Technology High School (Foothill Tech) students will be voting for the first time in the upcoming election. Some have chosen to vote by mail and some have chosen to vote in person.
Cameron Wilcox '21 is very excited to vote in the election and will be casting her vote through mail. Wilcox believes that voting by mail is the safest option because of the COVID-19 pandemic. Wilcox stated that she, "doesn't want to put [herself] in a situation where [she] could contact the virus." Wilcox is also casting her vote by mail because being a new voter is, "intimidating, and [by mail, she] will be able to vote whenever [she'd] like."
Contrary to Wilcox, Julia Ippolito 21' has chosen to vote in person. Ippolito is especially excited to receive her "I voted" sticker because it is her "materialistic way of becoming an adult." Ippolito is also concerned about the "scandals [surrounding] mail-in ballots," and will vote in person to "make sure [her] vote gets counted."
Despite voting method preferences, both Wilcox and Ippolito believe that voting is an extremely important part of democracy. Wilcox encourages people to vote because "the only way for things to change is to vote." Ippolito believes that while "your vote may not directly elect the president, it joins a collection of others that undoubtedly matter."
About the Writer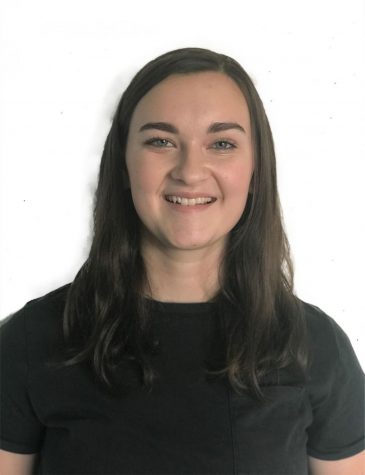 Nicole Stidham, Reporter
First year journalist with a passion for thrifting and spreading kindness.