"My Favorite Murder": Girly murder-mystery fanatics and serial psychopaths make for a disturbingly lively podcast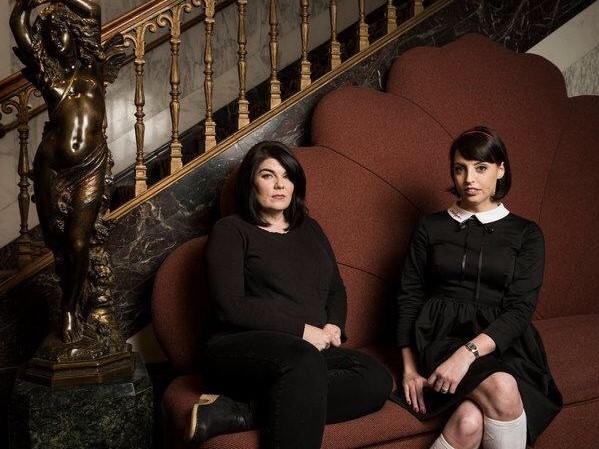 When you are settling down after a long day of school or work, listening to a mind-boggling murder podcast sounds like anything but relaxing. However, "My Favorite Murder" perfectly executes an unusual saga and creates a peculiarly comforting pastime. Hosted by Karen Kilgariff and Georgia Hardstark, this podcast unravels true cold-blood killing occurrences that seem like a fabricated movie plot. These longtime friends and crime story fanatics have been releasing episodes of identical structures weekly since 2016 and they continue to keep the episodes intriguing.
"My Favorite Murder" opens with a protracted conversation infused with the latest details of the girls' lives—ranging anywhere from their vacation in paradise to an amazing restaurant they attended. As they jump into the murder scene, Kilgariff and Hardstark's filterless crime conversation brings humor to a dark situation, without disregarding the gravity of the subject. As each host alternates telling their twisted tales, many gasps, side comments and questions are followed as the other host takes a journey in hearing the story for the first time alongside the listener. During their talks, they intentionally and sensibly avoid the abhorrent and graphic details of the scene. Rather, their candid chats bring out the raw reaction to situations like these: the heaviness, the insanity and the seemingly unreal. These ladies tell the unknown murders of the stories that deserve a second in the spotlight, all while comedically encouraging their audience to "stay sexy and don't get murdered!"
With hundreds of fascinating episodes to listen in on, it becomes hard to choose one that will catch your ear. Depending on what tickles your fancy, here are some of the most popular, unusual and jaw-dropping episodes to give you a good place to start on a potential binge.  
"Investigateighteen Discovery" is my favorite episode to date, and cuts into the intense stories of the victims of Lawrence Singleton and Franklin Delano Floyd. These situations seem too outrageous to be true, as limbs are lost and deep desperation rises to the surface in these literal life or death situations. Their impromptu survival strategies leave the audience on the edge of their seat, in shock that these stories are true occurrences. The story saga begins at 19:20.
"Funky Diva" is one of their most popular episodes, and definitely deserves the recognition it's receiving. This episode features the story of Lord Lucan and the mystery of the Summerhill Road Murders as they take the trip of traumatic events. With a series of unfortunate circumstances, disappearances became common in the Lucan house, including one murdered and one missing, but were these just a coincidence? These unbelievable tales begin at 27:37.
"An Albert Fish Production" revises the girls' trip gone wrong in Starved Rock State Park. Kilgariff and Hardstark dive into how the murderer leaves his signature twine at each site, yet he leaves each case with bloodless hands. Following that story is the mysterious ongoing kidnapping case of Sherri Papini and the seemingly unstoppable pedophile. The drama unravels at 28:13.