Smallpools' "LOVETAP!" a spirited addition to the indie genre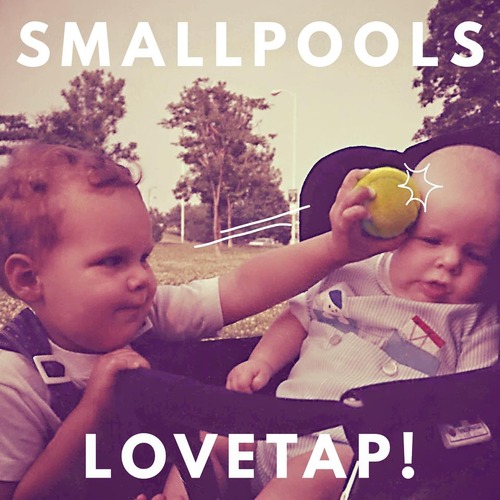 Smallpools' debut album, "LOVETAP!" exudes a quality of effervescence that renders the album instantly likable and compulsively listenable. The first full-length album from the band was released on March 24. It consists of fourteen indie-pop tracks, including music from their previous self-titled EP.
Similar to the synth-pop sounds of bands such as Passion Pit and Walk the Moon, Smallpools have produced an album that rings familiar, yet is entirely their own. The album is complete with unique vocals and lyrics that set them apart from other such bands.
In multiple interviews, lead singer Sean Scanlon described the song-writing process as a sort of multi-step, open-ended creative process.
"We kind of create a skeleton of a song with some tentative melodies and chords," he told Interview Magazine. From there they fill in the blanks by piecing together lyrics and the remaining aspects needed to complete the song.
This process seems to be going well for them, as their single, "Dreaming," reached number one on the Hype Machine chart, and can be heard on the radio occasionally. This track compels one to turn the music up and roll the windows down. The lyrics of the song however, are disconnected to the overall feel of it. The upbeat rhythm masks the somewhat darker lyrics of the song, with the the chorus repeating, "Oh, no. Please, god, tell me we're dreaming."
In an interview with Fuse, Scanlon describes the song as when "[…] you think you have everything figured out, but it all goes haywire, and there's this moment of 'Oh crap,' and you're hoping it's a dream sequence."
Outside of this song, the lyrics explore many unique concepts and situations by not simply following the typical outline that a great number of songs follow.
The album cover and title came together serendipitously according to an interview with the band. One night, while playing a show with not enough material, lead singer Scanlon improvised with a tune in which he included the lyric "lovetap." A while later, their producer showed the band a picture of himself as a child hitting his brother in the head with a tennis ball, a sort of "lovetap." Following this, everything fell together, and the basis of the album was established.
More behind-the-scenes content regarding the production of the album can be located at Spotify's The Drop.
"LOVETAP!" is lyrically diverse and maintains an overall sense of continuity while simultaneously exploring many different sounds across the album. Whether you're headed on a road trip, having a solo dance party, or simply hanging out at home, "LOVETAP!" will have you singing along and feeling invigorated.
Creative Commons Background Photo Credit: Mrs. Gemstone on Flickr