Mr. Foothill creates enjoyable tradition that brings laughter
Toby Pflaumer '21 crowned as this year's Mr. Foothill.
On the night of Feb. 22, 2019, seven Foothill male students gathered in Spirito Hall to entertain an audience with talent, outfits and questions to various answers. With the audience's eyes glued to the stage, the curtains were opened and Mr. Foothill, a spin of female beauty pageants, began in all its glory and humor.
After its successful showing last year, Mr. Foothill, put on by the Associated Student Body (ASB), has gratefully returned to Foothill with as much joy and laughter as it brokered the year before. With an assortment of male students from various grades, Mr. Foothill delighted the audience by showcasing the talents and comedy of Patrick Bello '19, Raine Hagerty '19, Toby Pflaumer '21, Ryan Sequeira '19, Bradley Silvernail '19 and Darren Wu '19. 
Once the curtains opened and the event began, each contestant entered the stage to show off their swimwear which included a variety of wetsuits, board shorts, pool noodles, flippers and goggles. With the background blaring with their individual theme music, the competitors paced around stage dancing and acted out the playing of a guitar while a brief introduction was read aloud by the coordinators of the event, Claire Renar '19 and Ceci Goncalves '19.
Goncalves believes the importance of Mr. Foothill is that it "shines a light on kids that normally wouldn't get attention" and "it's a really great way to have fun with the gentleman on campus."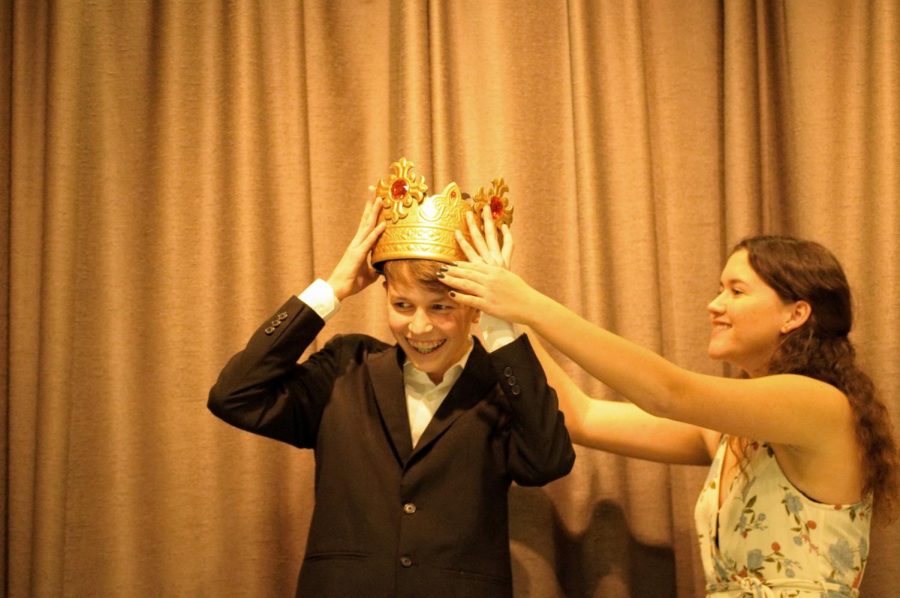 When the introductions came to a close, the students entered the talent portion of the night. McClain manned the piano and microphone while playing a song; Bello performed an interpretive dance to Sia's " Bird Set Free" that caused great delight and applause; Pflaumer enthralled the audience with 'bad' magic tricks which fulfilled the task of energizing the audience as well as creating a mass amount of laughter which in turn became a standing ovation at the end; and Hagerty, Wu, Sequeira and Silvernail took over the room as they performed "Sweet Victory" with Hagerty on guitar, Wu on drums, Sequeira on piano and Silvernail on vocals.
Following the exhilarating performances, the contestants filed back on stage in formal wear while being brought out by their escorts. Once on stage, the boys waited to be asked questions by the judges which included history teacher Dan FitzPatrick, Spanish teacher Josiah Guzik, student Jill Vallance and art teacher Justin Frazier. Some questions were ones such as: What are five inventive things to do with a brick? What is your favorite color and why? And how long can you hold a one-armed plank and can you perform the task here?
With the questions being completed, the top three contestants were called back on stage: Pflaumer, Wu and Hagerty. They were then asked three questions which would prove to cause the males to make an acronym out of their first name, impersonate their favorite teacher and show off how they would dance at the end of prom.
After the deliberation of the judges, it was announced, with the background of immense celebration and cheers, that the winner of Mr. Foothill 2019 was Pflaumer who was then crowned as the victor.
As Pflaumer was reflecting upon his experience he commented that Mr. Foothill "is a great opportunity for men to not deny their masculinity but to instead have a space where they are comfortable expressing more [of their] performing sides."
"It's a place to have fun," he continued. "There aren't a lot of negative outcomes to it."
Goncalves also commented on the idea of Mr. Foothill and said that she "just hopes that this year went well and it will encourage next year's class to do it again."
Editor's Note: Jill Vallance and Claire Renar are staff members of this publication; they were not involved in the reporting or publishing of this article.