While "The Collection" in Oxnard has been growing in popularity for its nice movie theater, unique shops and beachy atmosphere, it recently added a new food court into the mix. Similar to the Grand Central Market in Los Angeles, there is a wide range of unique flavors and tasty cuisine. From pork peanut butter and jelly sandwiches to peanut butter acai bowls, click through the tabs to see our top picks from "The Annex."
Known previously as a food truck filled with sizzling, savory flavors that make your mouth water and your taste buds dance, Scratch opened up its first storefront within the Annex. Walking in from the side entrance you are immediately beckoned by tempting scents and a flashy sign announcing that good food can be yours within minutes. The tempting flavors are matched with excellent service; they are more than willing to suggest different options and help you figure out what best suits your flavor palate. On the menu includes not only the classic burgers and fries amped up a level with a "signature scratch sauce," but unique flavor combos, including a burger with half beef half bacon, pastrami fries and tempting salads. Knowing I had to stick to a classic, I decided to order the Scratch Burger, which is made with a ground beef burger patty, lettuce, the Scratch ketchup, grilled onions and American cheese. I also knew that I couldn't pass up on the unique flavor combination of the Smoked Pork PB&J: smoked pulled pork, white cheddar cheese, chipotle peanut butter and a strawberry jam. To go with the delicious grub I ordered a side of cheese fries, because isn't everything better smothered in cheese?
When it came to the taste, I was in awe. Who knew such a simple-sounding burger could pack in so much flavor? The juicy patty, crispy bun and tangy yet slightly sweet ketchup created such an exquisite combination that was unlike any other burger. Although seemingly daunting, the smoked pork PB&J was actually a subtle enough balance of sweet and savory that created a uniquely perfect sandwich. The peanut butter was almost unnoticeable, but it added the tiniest kick to the perfectly cooked pork. The strawberry jam added a touch of sweetness that when combined with the toasted bread seemingly combined the flavors of a morning delicacy and a backyard barbecue. When it came to the cheese fries, the taste description is simple: crispy fries, melty cheese, perfection.
If you want a classic burger taken up a notch, or a crazy combination that somehow works together, Scratch is your place to be. With tasty food, friendly service and reasonable prices, it is truly an Annex essential.
-Julia Fickenscher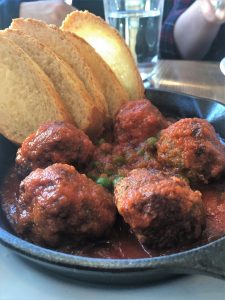 Though the Annex mainly consists of little take out food stations, Gasolina takes a slightly classier level to the unique venue. With the ability to be a sit down restaurant and full of unique flavors and tasteful drinks, Gasolina creates a fine dining environment. When walking through the front entrance, you immediately see an LED sign and a cute gas tank that defines the soon-to-be extravagant experience. Friendly waiters and waitresses guide you to their small yet spacious seating area. Upon glancing at the menu, it was clear they had quite the variety of fancy choices. Not only were there many options for both alcoholic and nonalcoholic beverages, but there was a wide variety of "tapas," or small plates to split amongst the table. I decided to order the "Pilar's Albondigas": veal and pork meatballs covered in a spicy tomato sauce and served with thin slices of toasty bread, as well as the "Tortilla Española": an egg dish filled with potato, onion, piquillo pepper and pan con tomate, or bread with a tomato sauce spread on top.
Both dishes were extremely unusual in flavor, but increibly tasty. The meatballs were tender and flavorful, and the tomato sauce added just the right amount of kick. The egg dish was packed with flavor; the potatoes and onions mixed with the egg complimented the bread and spread perfectly. The dishes were a bit pricey; the two plates cost about $19 in total. However, for the quality of food and the friendly service, it was well worth it. If you are scoping out the Collection but want a slightly finer experience, Gasolina is definitely the place to check out.
-Julia Fickenscher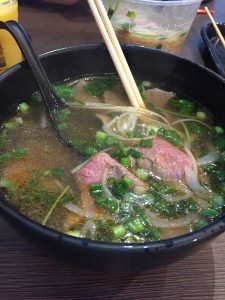 An authentic Vietnamese meal steaming from an abyss of warm soup—hands down, Love Pho served me the best pho to ever touch my lips. As you step up to the register you are greeted with soft spoken workers who are very personal and kind. Since I didn't know where to start, I took a long time deciding what I wanted to eat and the workers patiently gave me their opinions on what to order.
First, I ordered the most popular pho noodle soup, the "Ð," or also known as the number one. The wait was longer than five minutes but shorter than ten minutes, and soon after I was met with a beautiful bowl. This was a more savory, brothy flavor with three different types of meat that were well-done, and perfectly cooked rice noodles. This meal was large enough for two people, possibly even three, and only for $9.25.The next bowl I ordered was the "Love Pho Signature" soup or the number three. This bowl was more a tangy spice broth paired with two types of meat again with the rice noodles. If you like a more complex flavoring, this is the bowl for you.
My mouth was instantly watering when both bowls were set before me. Amazing flavors, great service and awesome prices for a large bowl of deliciously replete, cultured Vietnamese pho. I barely scraped the the bottom of the bowl with this place. There are so many more dishes and drinks they have to offer and I can't wait to dig deeper into Love Pho.
-Sophia Parker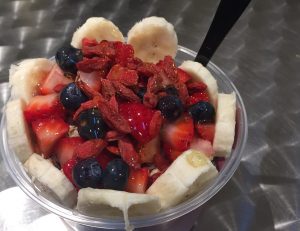 So fresh. So good. After eating this blend of fruits and oats, I felt renewed and ready to conquer the world. The employees were easy-going and polite. It took about four minutes to make an açai bowl, and I was happy with the speed and efficiency. I ordered the Peanut Butter Berry Açai Bowl and was ecstatic as I put the first spoonful into my mouth. The base was an açai, peanut butter, banana, strawberry and cashew milk blend, topped with granola, banana, strawberry, blueberry and honey drizzled along the top. I'm not a huge fan of honey; I would rather not have it, but all the flavors play equally important roles and tie together beautifully. The peanut butter base and the honey create a smooth mix that is both savory and sweet. This sixteen ounce bowl was $9.95, which is pretty pricey, but this açai bowl is very filling and could feed two. I would highly recommend this place for a warm day.
-Sophia Parker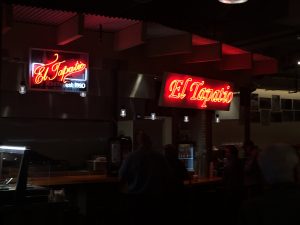 I would say this food tastes like your typical Mexican food truck food. The service was nothing special, but not bad. They were a little slower than I would like and it definitely took longer than it should take for three tacos to be made, although there were simple aspects of the food itself that separated the meal from regular food truck meals. The tacos were not greasy and tasted more fresh than an average taco. The meat was cooked to perfection; not too soft nor too fried. The meat was topped with cilantro and onion with a green or red sauce which created an arrangement of savory decadence. I ordered three street tacos and it came to a total of $9.27, which is a little pricey for smaller sized tacos. This place is great to try out if you like traditional Mexican food.
-Sophia Parker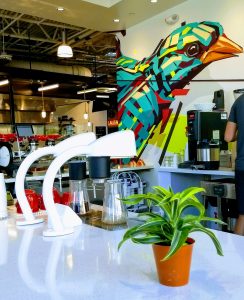 At the front and center of the Annex stands a humble yet efficient pourover bar that serves a fleetingly delicious pressed roast. Along with various pastries and morning beverages, the pair of servers also delivered something special—a personal touch that distanced the atmosphere from that of a chain coffee house and made it feel more homely and quaint.
The Guatemalan Finca de Dios (House of God) roast was something of a homemade appeal. It had a subtle but enticing aroma, a fresh balance of sweetness and acidity (although the cup went flat pretty quickly), and an earthy, assertive aftertaste that proves its quality as an authentic Guatemalan microlot.
It's a shame that the large multi-institutional space clashes with the humility and simplicity of the bar, but the coffee speaks for itself.
-Riley Bangs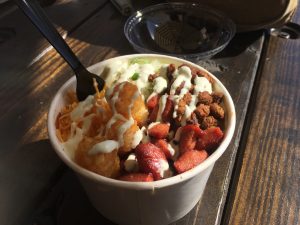 There's a certain art of balance and composition that is lost from the roll to a sushi bowl; something more classical and less efficient is forgone to create a large blend that aims to be more of a filling meal. This is not to say that Poke Ceviche fails to deliver fair service and good food. The fish was a standard but appetizing cut, while the "seaweed salad" offered a great flavor that is somewhat unique to the bowl method. Included with the meal was a complementary miso soup, which was also nothing special, but tasty nonetheless. In the selection of what appeared to be original draft sodas, the cola had a great homemade flavor with hint of vanilla, while the fruit-based drinks were sometimes completely flat, or fell flat to deliver the advertised fruit flavor. All in all, Poke Ceviche has a fair balance of pros and cons; while it appears to cater to a wider audience, it loses the properties which make a truly great sashimi.
-Riley Bangs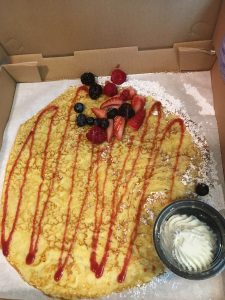 Pancake is where any breakfast connoisseur wants to be. Though the dishes aren't technically pancakes since they have a crepe-like consistency, they do have classic pancake flavors and combinations. I had the "Nom-Nom," which was a classic sweet pancake with fresh berries, berry sauce and whipped cream. It was a pleasant blend that included ingredients that complimented the pancake base. However, the mixtures don't just stick to the status quo. With savory options, the dishes can be enjoyed throughout the day so you don't have to be confined to only enjoying Pancake in the morning.
The flavors weren't the only praisable aspect about Pancake. They also had delightful service that was friendly and provided your dish quickly. This service was compatible to the atmosphere of the business since it was a cheerful and happy environment that provided a enjoyable place to enjoy your pancake.
-Emma Yakel