Xielo Artisan Desserts serves up authentic treats to sweeten your day
Everybody needs a sweet treat sometimes. There are days with dismal skies and cloudy rain, and all you want is a warm cup of hot cocoa or a freshly baked brownie. There are also days where the sun is scorching down and the world feels as if it is melting, and all you want is some cold, decadent ice cream. 
However, there are also days where you want something sweet but want to stray away from the classics. Xielo Artisan Desserts, featuring drinking chocolate instead of cocoa and authentic shaved ice instead of ice cream, serves up authentic Mexican cuisine and pastries like no other.
After its opening on February 25, Xielo Artisan Desserts has been a bustling business. They are a family owned bakery, influenced by their grandparents' passion for creating delicious food. Each recipe is decades old and unique in flavor.  
Located in downtown Oxnard, the bright red outdoor border beautifully contrasts with the grey sky, making it hard to miss. The interior was equally exciting, displaying their fresh pastries, bright menu and hot crepe station.  
Grabbing some dessert at @XieloDesserts #XielolsHeaven #Oxnard pic.twitter.com/jjsJbR51m8

— City of Oxnard (@CityofOxnard) March 18, 2017
Upon walking in, I was immediately greeted by the happy owner. Free samples were ready for tasting, and after trying some sort of apple tart treat, I was extremely impressed. The workers proceeded to show off everything on their menu, excited about the work they were presenting to their customers. Their menu varied from shaved ice with syrups imported from Mexico, crepes with both sweet and savory fusion fillings, Mexican coffee and hot chocolate, as well as baked goods such as cactus bread and pecan blossom cookies.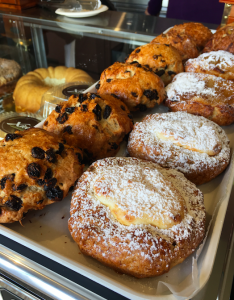 Based on the quality of their free samples, I knew I would "need" to try quite a few desserts. After much deliberation, I ended up ordering a strawberry banana Nutella crepe, a cup of Spanish drinking chocolate, a cream cheese scone and a guava de empanadas.
The crepe batter was poured onto the hot pan fresh to order, and while I was watching the chef work, he excitedly explained all of the fillings, ranging from Dulche de Leche to a corn and squash mix. My crepe was stuffed with a warm banana strawberry compote, folded delicately, drizzled with Nutella and garnished with a strawberry that was carefully cut to look like a rose.  While the crepe was warm and delicious, the real star was the filling. It was warm, sweet and perfectly fruity, and the Nutella drizzle on top added just the right amount of chocolate.
When it came to the Spanish drinking chocolate, it was exciting to see it swirling away into the machine behind the counter. The deep color and light steam along with the decadent aroma made me extremely excited to take a sip. It was extremely rich and felt like liquid velvet going down my throat. The cocoa was super sweet and so decadent.

The cream cheese scone featured a golden surface with a pot of cheesy filling in the center, then dusted with powdered sugar to finish. The scone was soft yet dense, slightly sweet and super tasty. The cream cheese center added just the right amount of flavor and creaminess, and the extra sweetness from the powdered sugar dusting was small but perfectly complementary.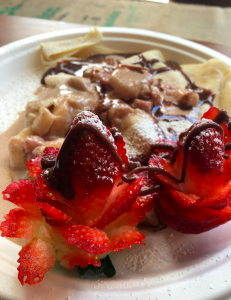 The guava de empanadas featured a soft shell surrounding a guava filling, and was also dusted with powdered sugar to finish. It was light, doughy (in a good way) and filled with just the right amount of fruit. It was sweet, tart and very tasty.
While I was feasting on delicious treats, the owner once again came out and offered fresh chicken noodle soup on the house. It was a special family recipe, and it was so flavorful and fresh, as well as a nice contrast to all the sweet I had just consumed.
When it comes to the prices of everything, I was once again pleased. Everything I had purchased was under $20, and each item ranged from $1.50 to $8.  
Xielo Artisan Desserts serves up a delicious flare to authentic Mexican desserts. The extremely friendly service and cheap prices, combined with the unique and delicious flavors make it worth the trip to downtown Oxnard. Whether it's sweet or savory items, Xielo Artisan Desserts is sure to please.