The Harvest Cafe serves fresh and feel-good food
Every new year nearly everyone tries to be "healthy." However, people often stereotype healthy foods as unappetizing and bland. The Harvest Cafe, however, proves that healthy food can taste just as flavorful as the indulgences, simply without the guilt. From sweet and satisfying smoothie bowls to the ever-popular avocado toast, The Harvest Cafe serves up serious feel-good food.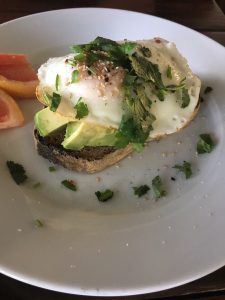 Next to Jai Rhythm on Ventura Avenue, the Harvest Cafe recently opened for business in autumn of 2016. Simply by the outdoor appearance, with a wood sign and greenery growing around the premises, you can tell it's a unique "health and wellness" joint. When walking in, the theme stays the same. The dark wood tables, tin cans filled with succulents, and composting bins along with the usual trash and recycling show an environmentally friendly side that is extremely appealing.
One of the key factors that makes this cafe unlike any other is that it feels good for your own health, as well as the communities well being. The Harvest Cafe is a farm-to-table restaurant, with organic, local produce delivered fresh daily, and all vegetarian (and mostly vegan) options.
The menu ranges from sweet to savory, and from lighter foods to more hearty flavors. They are open most days from early morning to early afternoons and serve both breakfast and lunch. There are several smoothies, all of which can be turned into bowls, as well as coffee, juices and lattes available for beverages. Breakfast options include egg and avocado "smorgas" (toast), vegan waffles and house-made nut butter toast. Lunch has a variety of soups, salads and a warm quinoa pasta salad (which includes a vegan alfredo sauce).
Enjoyed the vegan tacos, vegan buckwheat waffles, & cacao smoothie at Harvest Cafe in Ventura #Whatveganseat #veganuary pic.twitter.com/H6RydpBqVb

— Lala Leyva (@Lala_Leyva) January 17, 2017
The service was very welcoming and friendly, and allowed us to take our time figuring out what we wanted. I decided to get their freshly squeezed OJ, which tasted exactly as expected: fresh, citrusy, and served in a mason jar, which I personally believes adds to the effect.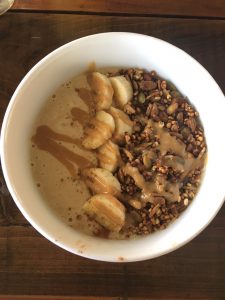 I also tried a sip of someone's Cashew Date Latte, which is full of cashew milk and sweetened with dates. Even though I'm not the typical coffee fan, this had a natural sweetness with a hint of nutty flavor that I thoroughly enjoyed.
When it comes to actual food, I decided to get the Maca Bomb Smoothie Bowl. This concoction is filled with bananas, peanut butter, dates, cinnamon, maca powder and cashew milk, all blended together then topped with more bananas, a drizzle of peanut butter and your choice of housemade granola or a superfood mix. Being a granola fanatic, the crunchy pieces were an obvious choice. The bowl was extremely sweet, almost to the point of a banana and peanut butter milkshake. Having a sweet tooth, I loved the overall flavor, especially since the maca powder almost adds a toffee kick to it. The granola was crunchy and sweet and complemented the bowl perfectly.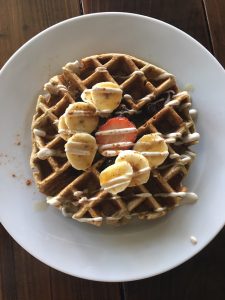 I also had the opportunity to try a few other dishes. Their egg and avocado "smorgas" was served on Sourdough bread and garnished with light greenery. Although I prefer the bread to be toasted, it was still a simple and tasty dish, served with heaps of avocado (which is always appreciated).
The banana oat waffle was topped with tons of fresh fruit and a drizzle of cashew cream. The waffle was sweet and packed with banana flavor, but be sure to keep in mind that an "oat" waffle results in a grainier texture. Although some don't mind it, their buckwheat waffle may be a better option if you aren't a fan of unusual textures.
The cafe also has a display of energy balls and vegan desserts, and while a lot of their products weren't available, I grabbed a few energy balls to go. I tried the peanut butter millet ball, the cacao cacao ball, and the "super" ball. The peanut butter one was nutty and crispy from the millet, making it a great light snack or tasty treat. The "super" ball was the fruitiest of the bunch, with sweet but unique flavors. The cacao cacao ball was my personal favorite; it was incredibly rich and chocolatey, making it perfect for a dessert any time of day.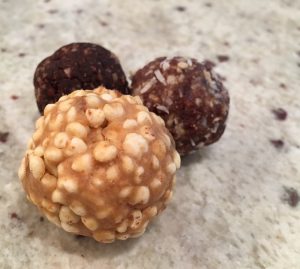 While the food seems flavorful and feel good, it does come at quite a cost. My smoothie bowl ended up being $9, which is a bit pricey. However, it was incredibly tasty and provided lots of energy throughout the day, so it all depends on what is worth it to you.
If you are truly looking for an indulgent breakfast, I would not necessarily recommend this as the place to go. However, if you are craving a treat but want to eat healthy and feel good after, this is definitely the place for you. The service is friendly and always willing to cater to your needs, proving they are truly happy with what they do and what they are serving. Despite a few personal preferences and slightly higher prices, Harvest Cafe is a truly unique dining option in Ventura, and definitely worth a go.
The Harvest Cafe can be found at 175 S. Ventura Avenue. 
Mon

7:00 am

–

4:00 pm

 

Tue

7:00 am

–

4:00 pm

 

Wed

7:00 am

–

4:00 pm

 

Thu

7:00 am

–

4:00 pm

 

Fri

7:00 am

–

4:00 pm

 

Sat

8:00 am

–

5:00 pm

 

Sun

9:00 am

–

3:00 pm