Cafe Nouveau: Flamboyant food in an enchanted environment
When scoping the outskirts of Ventura for unique breakfast joints, it can be hard to find the perfect balance of delicious sweet and savory dishes, a unique ambiance and a positive experience. Cafe Nouveau, one of Ventura's greatest gems, serves up creative California cuisine in an enchanted environment unlike any other.
The captivating restaurant was built in a renovated Spanish bungalow in the 1920s. Tucked away on Thompson Boulevard, the cafe's diverse cuisine is supposed to represent California's wide-ranging heritage and strong, sunny climate.
Cafe Nouveau Near Ralston Courtyards in Ventura: Don't Miss the Beignets https://t.co/5wr59rWM9u pic.twitter.com/5jXbSRBQuS

— Ralston Courtyards (@ralstonapts) February 13, 2015
The bright sunflowers, greenery and clearly displayed signs immediately capture your attention. Because we dined earlier in the morning, we were seated instantly.
They offer both indoor and patio seating, and since it happened to not be crowded at that time of day, we were lucky enough to experience the "lush Mediterranean gardens" and calming fountain the beautiful outdoor patio had to offer. Because you are surrounded by strung lights, nature and friendly faces, the simple "breakfast date" becomes a unique experience that you simply cannot find anywhere else.
When glancing at the menu, they had a balance of everything; from the French Quarter Beignets, to the Vegetable Pesto Frittata, to Peanut Butter Bacon Banana French Toast sandwich, it was clear there was something to satisfy everyone's taste buds. Not only was there a balance of both savory and sweet choices, but there was a balance between classic combinations and more creative concoctions.
We decided to start off with their famous French Quarter Beignets. Covered in powdered sugar and dipped in their popular housemade vanilla caramel syrup, the crispy pastries were exceptional. Not only were the beignets perfectly fluffy, but when paired with the warm, sweet, incredible syrup that was delicious enough to eat by the spoonful, it was the perfect combination.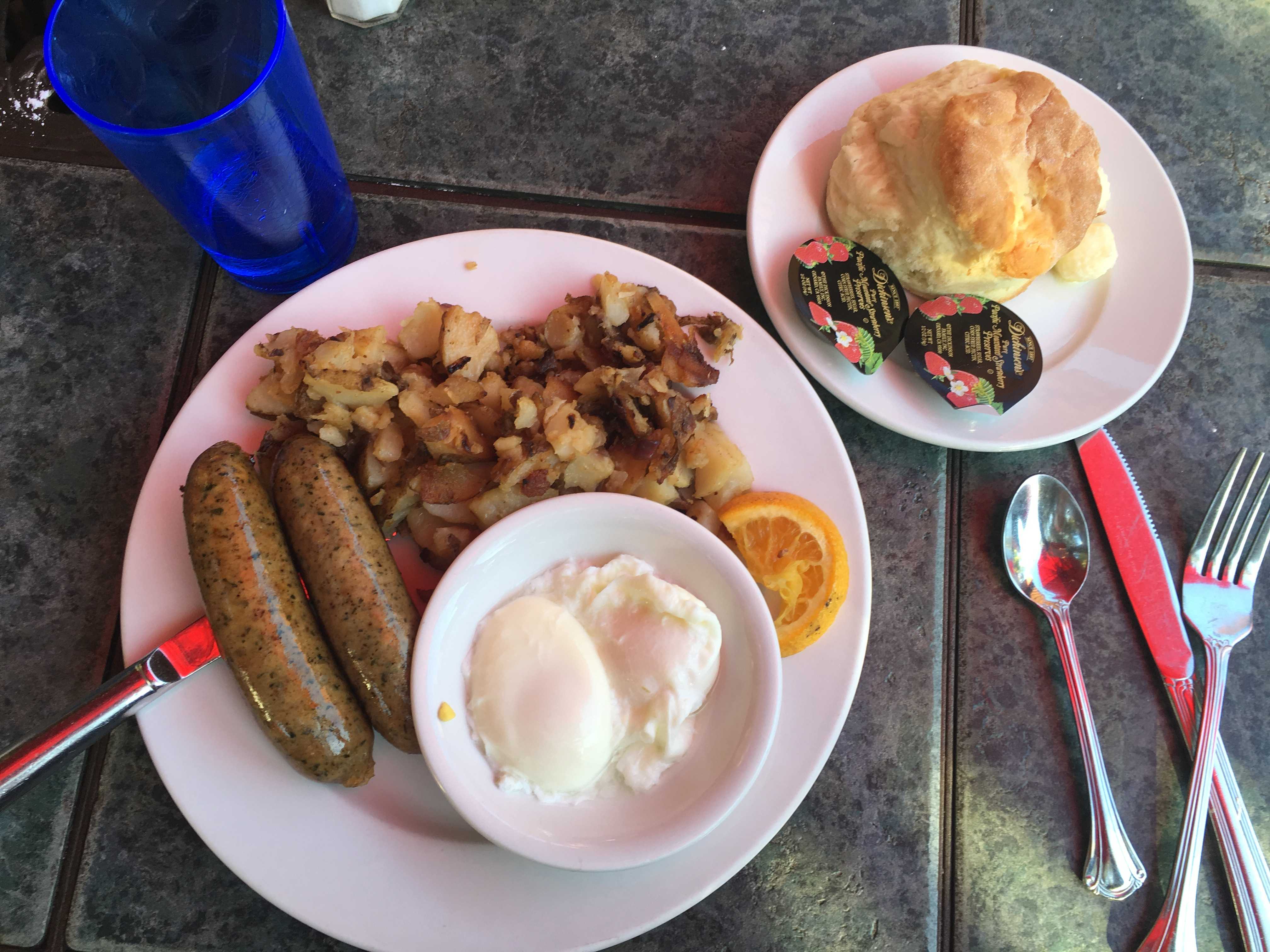 When it came to our actual meals, we decided to order the 2x2x2 and the Chicken Sausage and Eggs. The 2x2x2 plate came with two large buttermilk pancakes, two eggs cooked in the style you request and either bacon or sausage. In the mood for a more traditional meal, I stuck with two pancakes, scrambled eggs and bacon.
The bacon was extremely delicious, crispy and bursting with flavor. The scrambled eggs were very pleasurable; fluffy and salted, cooked to perfection. I spread butter and poured syrup on the pancakes, excited to take a bite.
While the pancakes were decent, they were too sweet for my liking. However, those who have a serious sweet tooth might find them more enjoyable.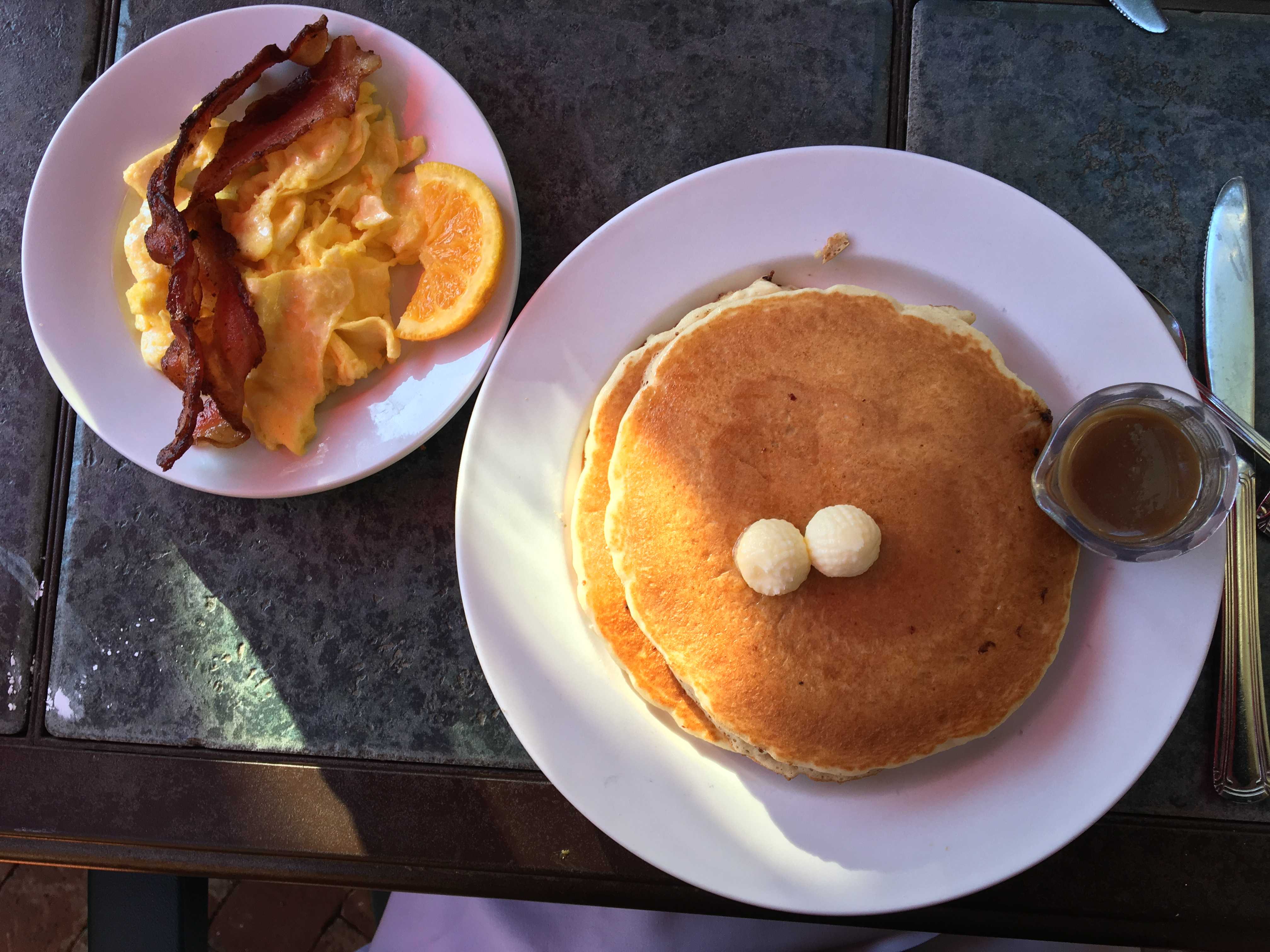 The Chicken Sausage and eggs came with two sausage links, two eggs of your choice, your choice of either hashbrowns, au gratin, or sauteed potatoes and either toast, a sweet potato biscuit, a housemade biscuit, or a blueberry corn muffin.  I decided sauteed potatoes and the housemade biscuit sounded the most appealing at the time.  
Rather than being like your typical breakfast sausage, the Chicken Apple Sausage was similar to Bratwurst; it was thick, but flavorful and had the perfect kick of sweetness from the apple. The sauteed potatoes were bursting with flavor; the saltiness and spices added were extremely tasty. The eggs I had were poached, cooked to perfection and adding the perfect extra-something to the meal. The biscuit was light and fluffy and super tasty as well.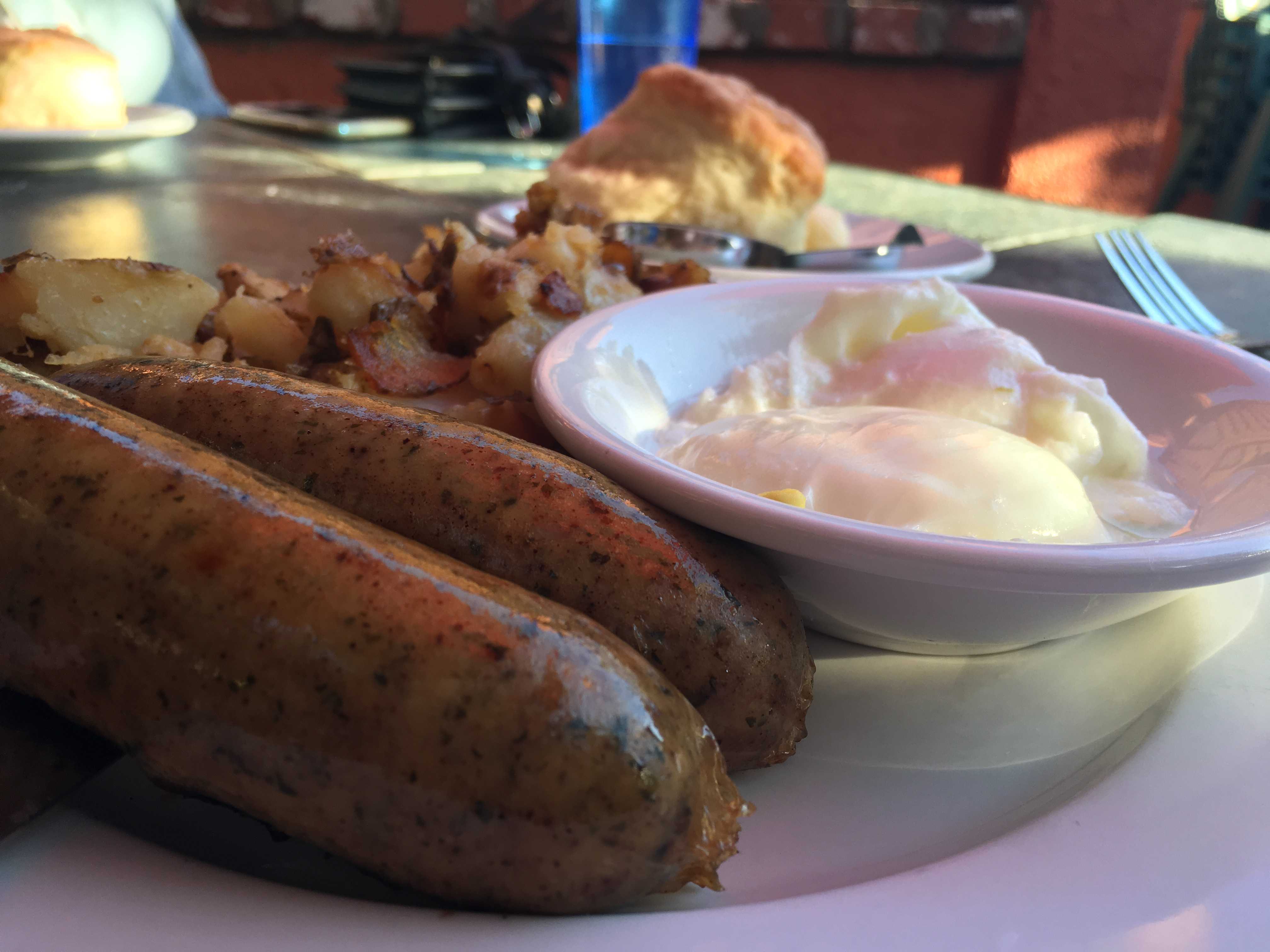 The pricing for each delicious item ranges typically between $7 and $13. Although it may not be the cheapest breakfast, the amount of food and time put into crafting each flavor is well worth it. The service is also more than willing to accommodate to every request or problem you may have, making the overall experience worth the cost.
Between the cute renovation of a classic home, the unique and mystical scenery, the tasty food and the service with a smile, Cafe Nouveau is perfect for all your breakfast, lunch, or dinner needs. Whether you want a classic breakfast or something more unique, the restaurant is perfect for any of your cravings.  So next time you want not just some delicious food but a unique environment and incredible experience, give Cafe Nouveau a go!